Know What Will Happen to Your Google Gmail Account After Death
Google's presence in our day-to-day life is growing fast. It started with the simple search engine and now, no single day passes when we do not use Google product. But have you ever thought that what will happen to your Gmail, Google Drive, YouTube, Google+ accounts, etc. after you die. This is something you want to think as more of your data lives online Google digital assets.
Therefore, Google has launched Gmail Inactive Account Manager on the Google settings page. It sets out to set up a system, which permits you to tell Google "What you want to do with your Google Gmail Account After Death or no longer access your mailbox."
Now, the question comes up how Google Inactive Account Manager work. Read on to know in details about "Gmail after Death".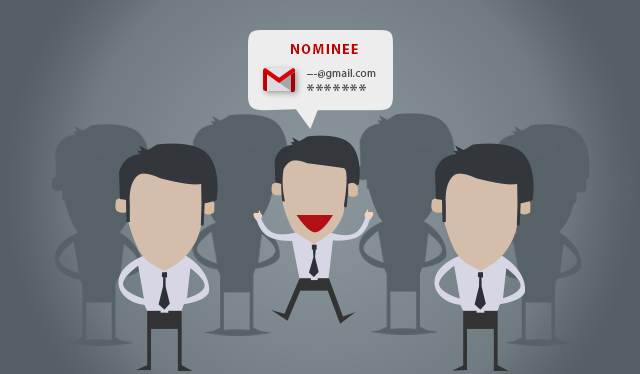 How Can you Close Gmail Account after Death with Google Inactive Account Manager Tool
It allows you to add the trusted contacts with whom you need to share all your mailbox data. After that notify them after your death or even your Google account becomes inactive.
Using the account manager you can simply set up a time period for your Google Gmail mailbox. This time-period is time for which your mailbox will remain active after that you presume it to be inactive.
One month before completion of this time period, you can get the proper notification. If you were able to sign into your Google Gmail mailbox within that month period, your account will continue active.
If you did not log in to your account then, after completion of time period Google will simply make your account inactive. All the trusted contacts will get notifications to simply download your Gmail data.
You will also have an option to delete your Google Gmail account automatically once it turn out to be inactive and all request actions get accomplished.
Note: After your mailbox exceeds your time period, your trusted contacts will get notification about your inactive Google mailbox account. Along with all the instructions to simply download deceased person data.
How to Let Some Access your Google Digital Assets when you Die?
You can follow mentioned steps to delete / access Google Gmail Account After Death after you pass away.
On Web
Sign-in to your Gmail account then, go to My Account >> click on option of Personal info & privacy.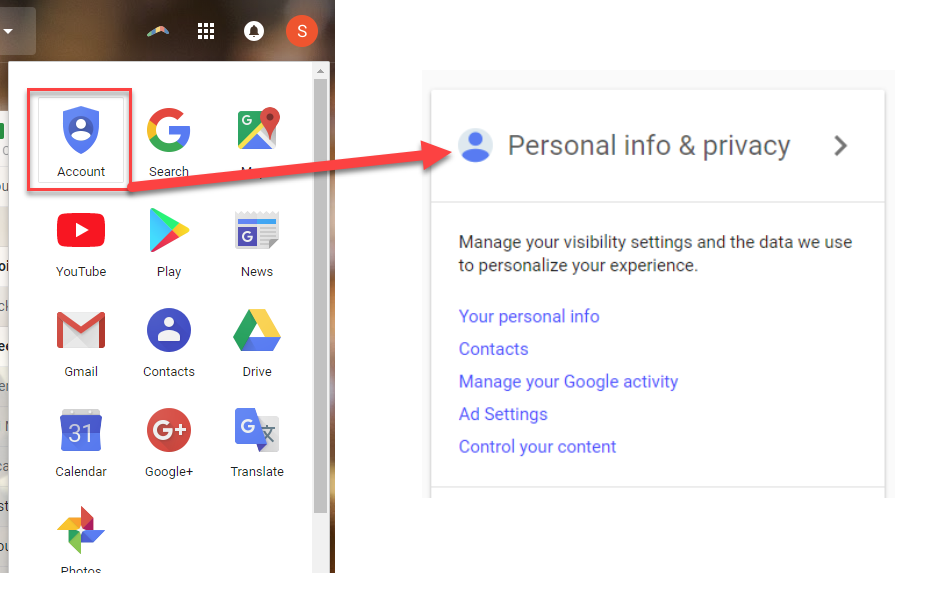 Scroll down to find out the option of "Inactive Account Manager."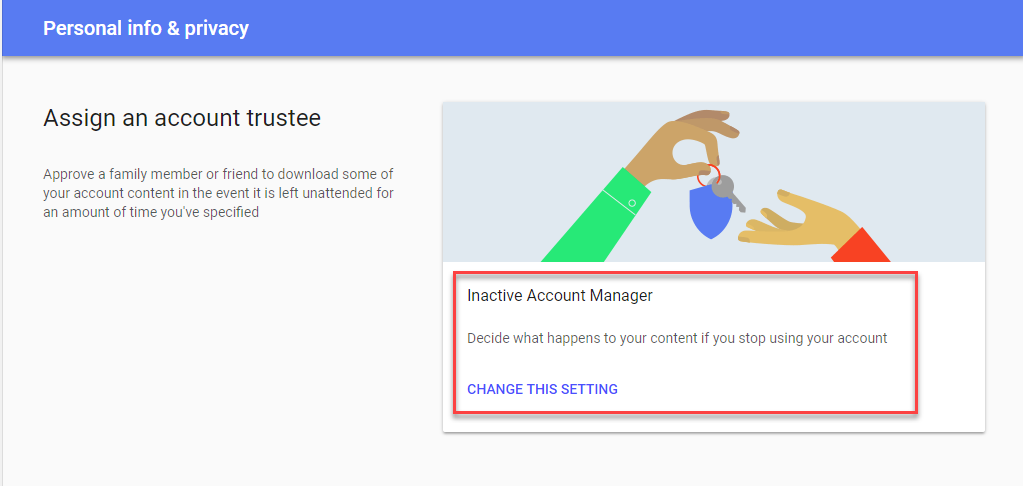 Now, click on the option of Change This Setting.
After that, click on Start to initiate the procedure of the auto-deleting your Gmail account.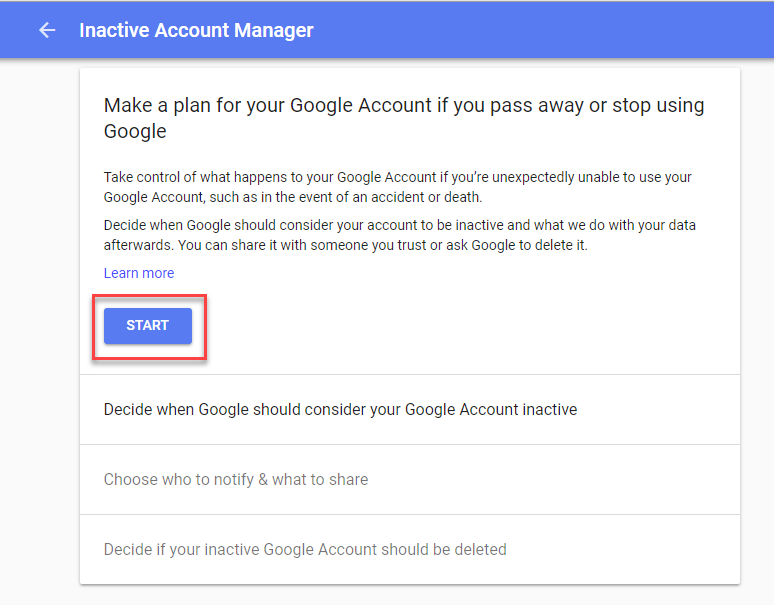 Your beginning step is to select the time period after which Google will consider your Google account inactive. The time period can be 3 months to 18 months. Along with this, you need to provide the complete details like phone number, email address, etc.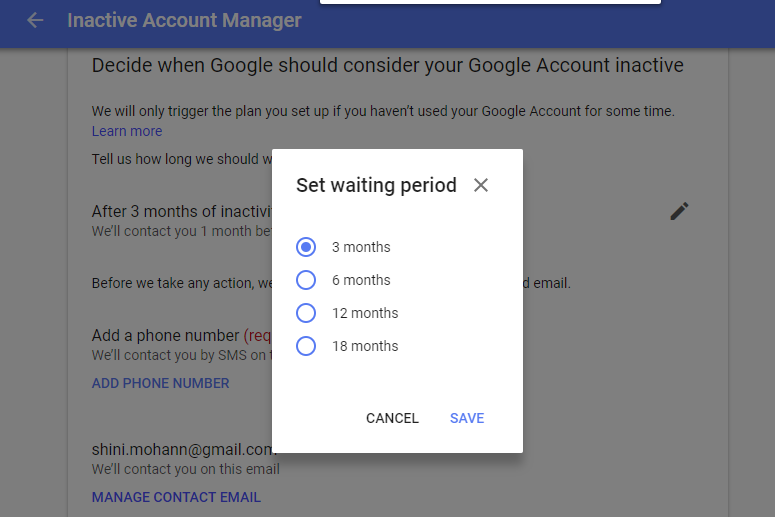 Click on Next to continue the process.
You can select up to 10 trusted contacts who will be notified. You can let them download your Google Data. You can also set up automatic replies for people who send you email during the inactivity period. These settings are optional.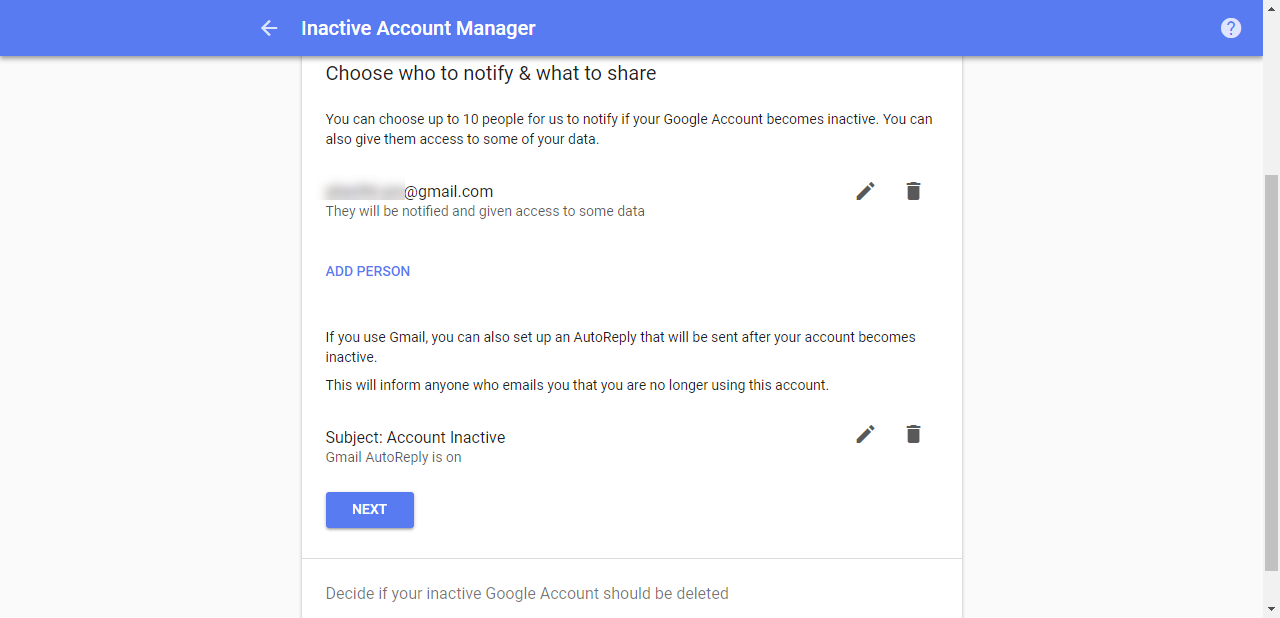 After that, click on the Next button.
The last but the most important step is to configure your Gmail account for auto-deletion. Simply, turn on radio button, which says "Yes, delete my inactive Google Account."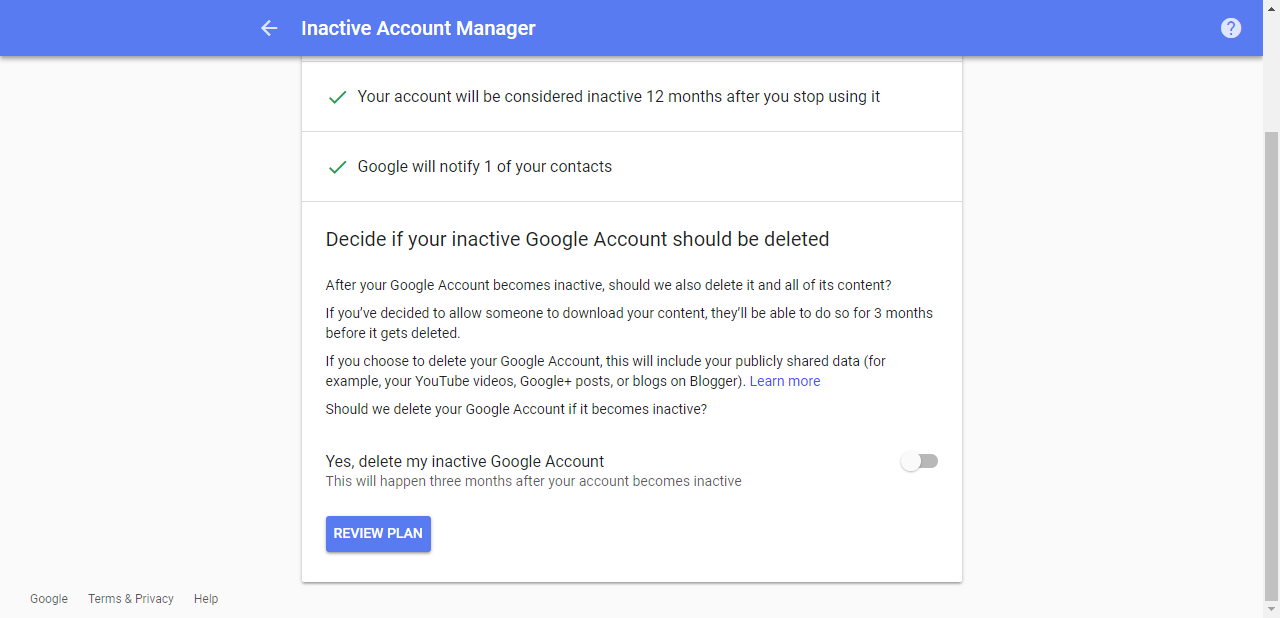 After that, just click on the Review Plan.
Just take a look at your inactive account settings. Then, click on the Confirm Plan to create it permanently.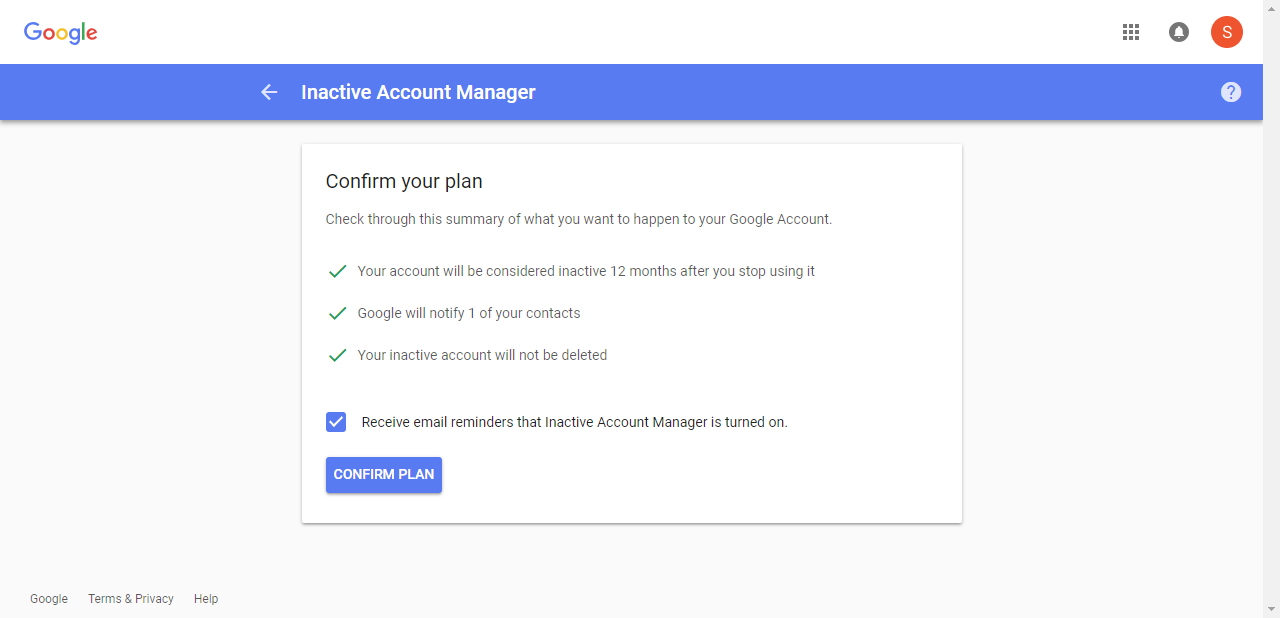 Google will contact you just before a month before your mailbox is about to become inactive. Your Google Gmail account will be automatically deleted just after three months from the day it is marked as an inactive.
On Android
The same settings to access Google Gmail Account After Death can be used on your any Android device. Just follow the given steps to simply configure Gmail inactive account manager:
Go to the Settings >> click on Google.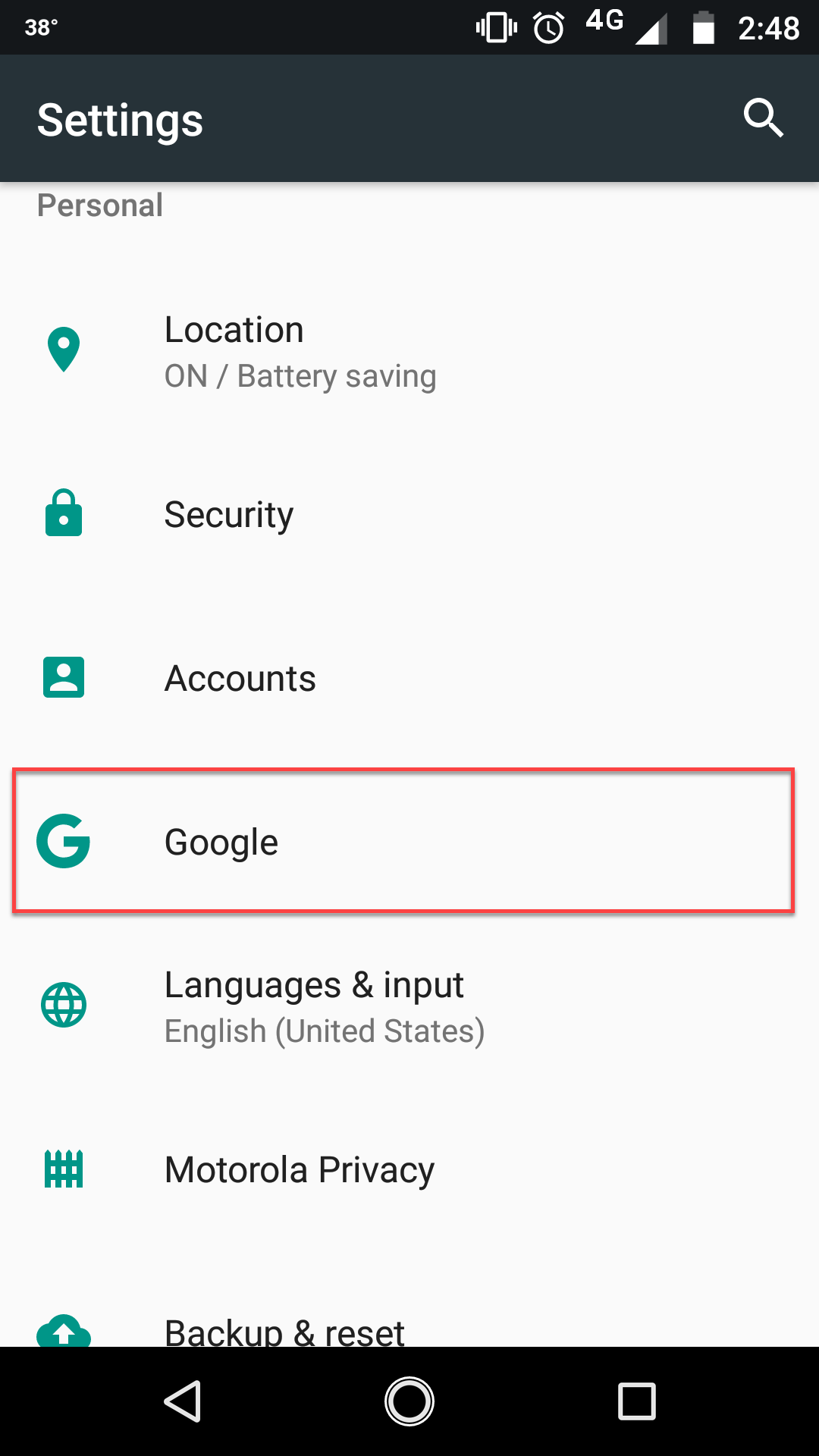 Just tap on the Gmail account >> go to the tab of Data and personalization.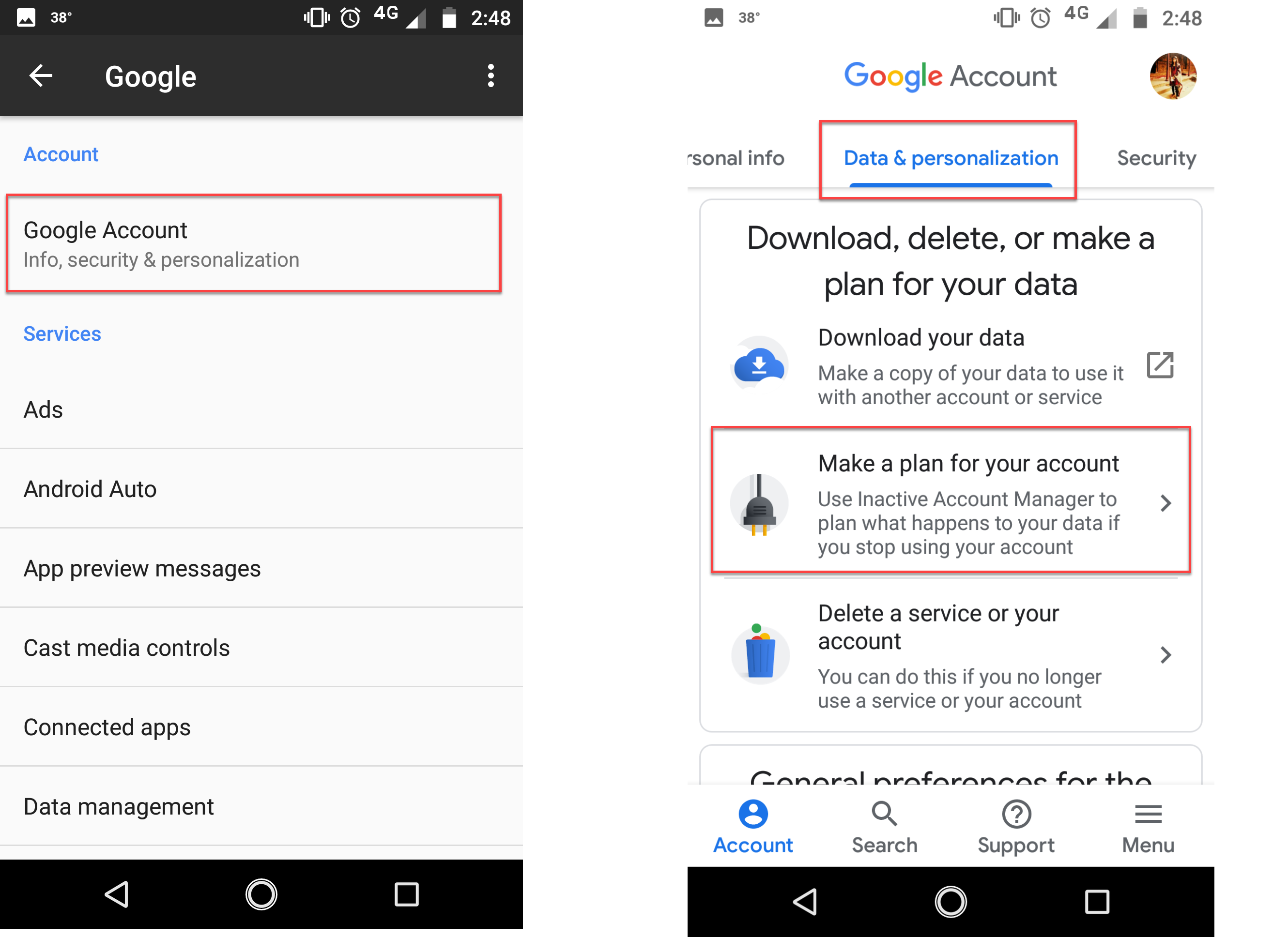 Simply scroll down to just find "Make a plan for your account".
Once it is done, follow the same options that are discussed above.
In Summation
It is always important to pre-plan all the things in a way to be secure and safe. Similarly, Google is also thinking for us by providing the best option to secure Google Gmail Account After Death in a way to manage all your online data safely. As data security is the first step to be secure in this online world.