Know About Office 365 Groups & Create Office 365 Groups for Dynamics 365 !
What is office 365 groups ? Office 365 Groups are used to share workspace for email, files, events, meetings notes, and conversations. The Groups can be used to collaborate with your teammates when writing documents, working on project plans, creating documents etc. across your company. This blog will help you to introduce what are groups and its workloads & how do you create Groups.
What is Office 365 Groups ?
Office 365 groups are the service of Office 365. It is an object which is created in Azure Active Directory with a list of people in it. Office 365 Groups have some inbuilt workloads such as a SharePoint Team site, Shared Exchange mailbox, Yammer Group, Power BI, OneNote, and Planner. You also have an option to add or remove member to the Group. Basically, Office 365 Groups are available with Exchange online that offers a new environment for collaboration. As for example, in a company when a sales team requires input from several people who are not using Dynamics 365. In this situation, they create Office 365 Groups and it provides a single location to share documents, conversations, meetings, and notes.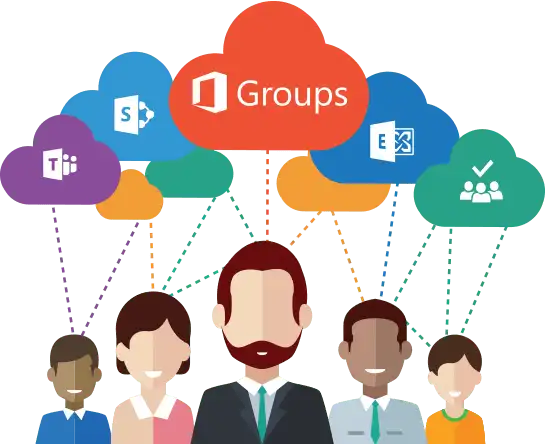 Which Office 365 Plans Include Groups?
Office 365 offers many plans and every plan has different services. Now, we are are talking about which Office 365 plans have an option to create Groups. Actually, Groups are supported by any Office 365 subscription plan that has Exchange Online & SharePoint Online. It also includes the business essentials, business premium, & the enterprise E1, E3 and E5 plans.
How to Create Office 365 Groups ?
After Understang what is office 365 groups Let know How to setup office 365 groups. By following these steps, you can create Office 365 Groups:
1. First of all, go to the record that you need to create a group for. For example, Go to the Sales >> Accounts.
2. After that, choose an account.
3. Now, on the nav bar, select the drop-down menu next to the account name.
4. Then, click on the Office 365 Groups.
5. Finally, in the Welcome to Office 365 Groups for Dynamics 365! section, click on the Create Office 365 Group or search for an existing group to join.
Workloads Along With the Office 365 Groups
Conversations:
The Conversations helps users to have email conversations within the team by sending or receiving an email to the Groups.
Files:
It allows users to upload all the files related to their project or team. Once files are uploaded then it will be available for all team members.
Calendar:
You can schedule or view the meetings in the Office 365 Groups. And, you are also allowed to view your own calendar in the same tab of the Group.
Notebook:
Notebook of Groups is used to share the updates and meeting points with the whole team in the group. You can also create a new section which is password protected.
Planner:
You can create tasks, after that plan them using the planner. However, any tasks that you want to plan as a part of your project can be added to the Planner with appropriate deadlines.
Site:
Sites can upload documents and create new pages, web part, InfoPath form, etc. So, when you click on the site, then you can use this for document collaboration & other SharePoint related tasks.
Conversations Can be Done in Multiple Way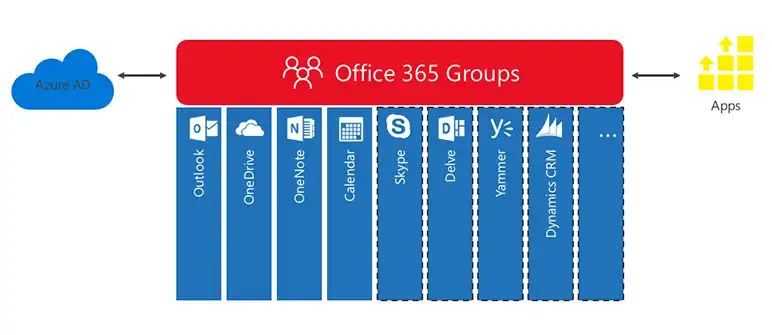 1. Outlook Conversation
When an organization creates an Office 365 Group, then a mailbox is also generated for it. This mailbox gives an option to send and receive an email address through MS Outlook and enables the team members of the Group to communicate by using email message as a conversation mechanism.
2. Microsoft Team Conversation
Microsoft Team conversation gives an option to create chat-rooms or live & persistent conversations. Within these Microsoft Teams chat-rooms, team members allow to make a channel for isolate some specific conversation topics. The interface of this Team is well integrated especially the navigation of Microsoft Team conversation.
3. Yammer Conversation
As we know, MS Outlook Conversations are for emails, Microsoft Teams conversations are used for live chat. Same like that Yammer is used for the forum that means it is for threaded conversations. However, Yammer conversations are a little different, because it is not always available with the Office 365 Groups. To get an Office 365 Group with Yammer Conversations, people have to create it from within Yammer and Yammer only.
Summing Up
In this blog, we have discussed what are Office 365 Groups, their benefits & How to Create Office 365 Groups in Dynamic 365. In this current era, every organization has av large number of people and teams. And, they need to communicate with each other. In this situation, Office 365 offers an option to create Groups. These Groups are very useful for collaborating with teammates.