Is It True that My @verizon.net Email Will Not Work Anymore?
Verizon is shutting down the @verizon.net email address is one of the common rumors spread among the users. Regardless of what you have listened, Verizon is not forcing you guys out of their @verizon.net email address. No doubt that Verizon has disappointed users a lot in the way it has handled the situation. It left users in numbers of unanswered queries like " my verizon.net email is not working ", "cannot access verizon.net email " which makes them worried about their data. But the fact is that they are just shutting down the email servers and letting users move their account along with the address to AOL or Yahoo. Thus, it will work like users can use their email address but it will be managed by a server other than Verizon.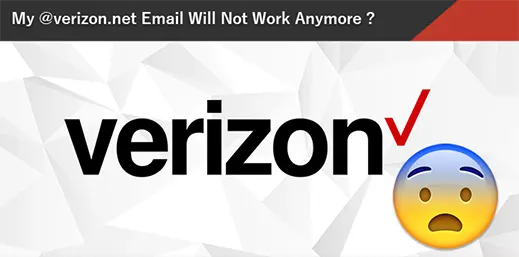 What is Actually Going On With Verizon?
Yes, it is true that Verizon has retired the email service and have sent the notification about the same to the users. They are no longer allowed to extract and move their data to some other service provider thereby leaving users with queries: verizon.net email not working, cannot access verizon.net email . But, the best part is that they are providing users an option to move to AOL or Yahoo Mail by keeping @verizon.net email address. It means users are allowed to use the same email address if they choose this option.
If a user has decided to move to AOL or Yahoo Mail, they are providing @aol.com or @yahoo.com address. However, in the case of the already existing email account in Yahoo or AOL, it will create a separate email account for @verizon.net.
What If I Do Not Switch to AOL or Yahoo ?:
Verizon.net email not working ? The reason being, Verizon will close @verizon.net email address, if a user has not migrated the verizon.net email, calendar and other data to AOL or Yahoo Mail before the deadline. After 180 days of continuous no activity, the Verizon will delete the account data from their servers & users cannot access verizon.net email.
Why Verizon is Quitting the Email Business?
The justification that Verizon has given for discontinuing the email service is:
"As the years passes, we have realized that there are many other platforms available, which are more reliable and capable. Considering such type of factors, we have decided to get out of this email business and focus on the areas in which are best like internet and TV experience. However, email business is not our cup of tea."
Apart from this, there are many other reasons also due to which it is good to hear that Verizon is stopping the email service. Have a look at all such reasons:
Most of the users have found that Verizon is not at all a reliable email service. However, not all email services like AOL is best in the reliability but still, they are far better than Verizon.
The Verizon most of the times deny the connections due to many reasons. For example, strange technical bugs that might confuse the email program and let them ask users to type your password when it is entered correctly leaving the users stranded where they cannot access verizon.net email .
As Verizon uses a POP protocol that does not synchronize so a user will receive the copies of the email sent to both devices. It means that a user has deleted the emails from each of the device separately. On the other hand, AOL and Yahoo Mail both supports IMAP protocol. It means that all emails are fully synchronized across every device. There is no need to delete emails from all devices.
Still Having an Issue?
Even after switching to AOL or Yahoo Mail, a user might still face an issue with verizon.net email not working. For example, AOL server is not that much reliable. Moreover, sometimes AOL users face problem in send or receiving emails also during server downtime. Thus, considering all such problems even after migration, users are worried about their data as they cannot access verizon.net email. Therefore, they need to look for some solution like backup messages from AOL, Verizon email or Yahoo Mail to computer.
What Else A User Can Try?
It completely depends upon the choice of users whether they want to move to AOL or Yahoo Mail when verizon.net email not working. But, to keep their data safe and secure always, it is advised to download Verizon email on the PC. After that, the very first question asked by the users is how to save Verizon emails to computer. In order to have reliable and trustful solution, a user is advised to try third-party solutions.
AOL Backup and Yahoo Backup tool are the most popular applications that a user can use to download emails from AOL and Yahoo Mail in just few simple clicks. Both the application are easy and simple to use. Moreover, there is no risk of loss data during backup process. Apart from all this, one can install and launch these applications on any version of Windows OS.