Verizon AOL Email is Not Working ? What Next When You Cannot Sign in to AOL Mail
AOL is the web-based email service and it was acquired by Verizon in 2015. Besides this, an Oath is a new media division of Verizon that runs both AOL and Yahoo, has integrated its privacy policies and email providers around the world. A privacy policy, which you can access here, gives Oath permission to collect, process and share crucial data. Emails and instant messages might be scanned, data might be collected and shared by Verizon or partners. However, when users try access AOL emails, they are unable to do so. Thus, in the upcoming section we will discuss a complete procedure to fix " cannot sign into AOL email" problem. Before that, let us explore some user queries to understand this issue more clearly.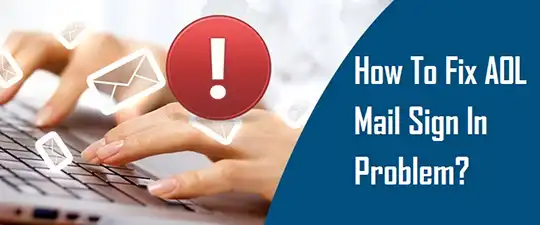 User Problems Logging into AOL Mail
Go through the following scenarios that are taken from the forum site. Let us have a look:
"Yesterday, I tried to sign in to my AOL mail and I was not able to access any of them. Even I tried to log in AOL mail account too many times, but it might be an issue with the browser or AOL email is not working . Please can someone suggest me a reliable solution by which I can resolve this issue?"
 "I am having an AOL account, but when I tried to access my emails all of a sudden it is not working & I cannot login to AOL email . I want to know that is there an outage with Verizon AOL email? Kindly advice me a reliable solution that will help to fix "AOL mail problems"?
 "All of sudden my Verizon AOL email is not working . Till yesterday, it was working absolutely fine. But, now I am continuously getting an error message "Cannot Sign in to AOL Mail . I can neither send nor receive the email messages. I am kind of stuck at this point. Please help me to find the solution."
Manually Fix "Cannot Sign in to AOL Mail Account" Issue
There are multiple ways that will help to resolve AOL mail problems : cannot sign into AOL email or Verizon AOL email is not working . Here, we are going to discuss all such measures in brief:
Method 1: Trouble Signing In
Here are following steps if you are having Problems Logging into AOL Mail account. If you are getting one of these alerts while accessing AOL Mail i.e., "We detected unusual activity," or "Your Username or Password is incorrect"? Then, you need to reset your password to protect your AOL mail account and get back your previous data. If you are receiving either of the alerts above when you try to log in, it might be a problem with your browser. Now, there are two things to attempt:
Set the browser's security setting to default
a) Firstly, determine the web browser version that you are using
b) After identifying your browser version, you need to reset your browser security settings to the default level
c) Now, you should try to sign in again
Clear all browser cookies, history, cache, & footprints
a) Clear all the browser cookies, cache, history and footprints to free up your hard disk space
b) Next, you must try to login again
If you barely have time to clean out your closet, so why to delete cookies, cache, history and footprints in your browser? There are a few reasons to consider putting in order:
1) Websites, save temporary files and cookies on your machine in order to memorize you for return visits. On your behalf, such temporary files and cookies may cause problems with your e-mail.
2) If the browser history settings call for your history need to be recorded for a long period of time, then the file size becomes very large. Clear out this list to free up space on your computer system & oversome error Cannot Sign in to AOL Mail.
Method 2: Update your password
If you have recently changed your AOL mail password, you should update it in an email client that you use. Navigate to your application's "Email Accounts" or "Account Settings", choose the AOL Mail account and, then update your new password.
Method 3: Use IMAP to check mail settings
If your AOL mail account is not sending or receiving email properly, you need to be sure that your IMAP or POP settings are correct. Even though you might be prompted to select either IMAP or POP, we suggest using IMAP as it can work best with AOL Mail.
Method 4: Update your mail client application
If you are using a previous version of your email client program, it might be outdated and no longer compatible with current security settings. We highly recommend updating it to the latest version of an email application, then removing and re-adding your AOL email account. However, if this process takes much time to access email messages, thus you can opt for a reliable third-party tool. Out of them, one such application is AOL Email Backup. It is designed in such a way to export AOL emails to different platforms like MS Outlook, Thunderbird, Windows Live Mail, etc. It has a simple, user-friendly interface that even a novice user can understand its layout without any data loss.
Wrapping It Up
Nowadays User are facing problems Logging into AOL Mail , users may encounter an error messages like "Cannot Sign in to AOL Mail" or Verizon AOL email is not working. To resolve this issue, we have discussed both manual and automated solutions in a proper way. Thus, users can execute any of the workarounds and can resolve this issue easily.