How do I Continue with Emails After Verizon Email Retirement Announcement ?
There are many people who use the Verizon email service; they need to make an imminent decision about their Verizon.net email address. Because Verizon announced Verizon email retirement date, there is a risk of losing access to the Verizon account and associated data items.
As Verizon declared in February 2017, it is retiring from its email service. From April 12th, 2017, Verizon will no longer offer the email application as part of the business and will declare Verizon email address retirement. Hence, Verizon.net users are required to either migrate their account to AOL Mail or close their account completely. There are approximately 4.5 million @verizon.net email addresses that will have a very short period of time to migrate their email account to AOL Mail or Yahoo due to Verizon Yahoo email retirement. If a Verizon user does not take any action, he or she will no longer be able to access their email service, and it will become undeliverable.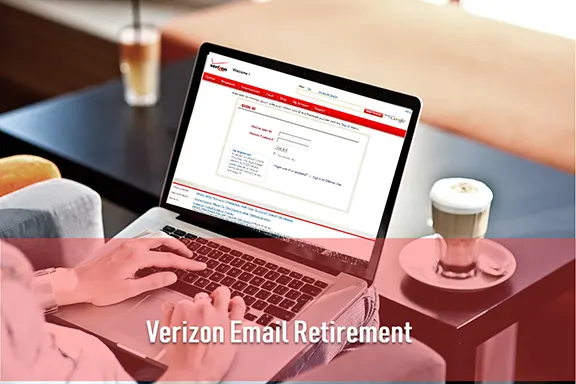 Why is Verizon Retiring from Email Business?
With the passing of years, Verizon has realized that there are more capable email applications available in the market. As a result, they made an announcement for Verizon email address retirement to get out of the email business and make use of their energies in providing users with the best internet and TV experiences.
Few Announcements during Verizon's Email Retirement
There are some important points that have been given at the time of Verizon email retirement and migration announcement:
The @verizon.net email domain will continue to live on. Do not remove these records from your list.
Once notified of the requirement to migrate, users will have only 30 days to do so after Verizon Yahoo email retirement. If they do not take action within 30 days, the Verizon account will be locked. After 90 days of inactivity, the Verizon email address will be deleted permanently.
We expect to view an enhancement in invalid rates from the Verizon.net email address within the next 90-120 days.
Proactive marketers might select to isolate their Verizon emails & send a special campaign requesting an alternate address.
What to Do after Verizon Email Retirement?
It is a fact that Verizon.net has stopped their email service and they will no longer allow access to their data after Verizon Yahoo email retirement. But, they have an option to migrate their Verizon.net account to AOL or Yahoo Mail. After that, users can use the same email address after choosing this option. Once they have decided to move Verizon.net to AOL or Yahoo Mail after Verizon retirement, they have either @AOL.com or @Yahoo.com address. Also, there are chances that users have already an existing email account in Yahoo or AOL Mail; in this case, it will create a separate email account for @Verizon.net.
What's the Worst That Can Happen?
During the migration, a Verizon subscriber may face an issue at the time of sending and receiving emails because of server downtime. Sometimes, it is possible that users are neither able to terminate their Verizon account nor migrate into AOL or Yahoo Mail. Let's understand it with the help of one scenario.
"I was using a Verizon email account for sending or receiving emails but no longer have it. The host name was incoming.yahoo.verizon.net. All of sudden, I was receiving my Verizon email on my iPhone via yahoo mail server. Then, I entered my user name of Verizon email account. I have gone to yahoo's termination page and it will not allow me to stop the account. It just displays an error message "Opp's something went wrong". Please tell me how I can overcome from this situation."
What Can I Do to Alleviate this Issue?
In order to resolve this Verizon problem after Verizon email retirement, users are looking for an appropriate effective solution. Because Verizon's data may be important for users they are afraid of losing it. In such a situation, it is better to create a backup of Verizon email or messages from AOL or Yahoo Mail to the computer. No matter, whether you choose AOL Mail or Yahoo email application, data safety will be an essential requirement of users after much chaos created during Verizon Yahoo email retirement. But, most of the time, they do not know how to save Verizon emails to the computer system.
A Solution to Keep Safe Verizon's Data on Computer
After Verizon email retirement it is necessary to create a backup of Verizon.net email address from Yahoo Mail or AOL Mail. For this, there are consistent and trustworthy solutions are available in the market. People can use professional third-party AOL Backup and Yahoo Backup tool to resolve their problems. These products are capable of downloading emails from AOL and Yahoo Mail within a few seconds. Apart from this, both tools are simple, fast, and free from errors, along with that, one can use them without requiring expert supervision and guidelines.
Commonly Asked Queries
Q1: What is Verizon Email Retirement?
A1: It refers to the process where Verizon Communications discontinues its email services and encourages users to migrate their email data to other platforms.
Q2: What do I do with my "@verizon.net" email domain after the discontinuation?
A2: Verizon communicates that the "@verizon.net" email domain will continue to live on, thus, users shall not remove these records from their lists.
Q3: When will Verizon discontinue its email application service?
A3: In February 2017, Verizon declared that it would no longer offer the email application as a part of the business and would declare Verizon email address retirement.
So There You Have It
In this article, we discussed Verizon email retirement from April 12, 2017. We shared expert-suggested alternatives and solutions on how to continue after Verizon discontinues its email services. Along with that, we also shared the worst-case scenario that could happen after the discontinuation of Verizon's email application service. We hope you found this write-up insightful and catering to your queries.