SharePoint Vs OneDrive: A Complete Difference
In today's modern era, users use cloud solutions to store their data or files on a centralized server and access them using any devices and from anywhere. The two most popular cloud-based platforms, which enable users to save, share, and sync data or files between devices are Microsoft's OneDrive and SharePoint. These two applications are really hard to differentiate as both apps have lots in common and offer similar services. But the fact is that OneDrive and SharePoint are identical and the key difference between the two will help users make the more informed decision while choosing an application. Thus, to make it easy for the users or business owners, a complete SharePoint Vs Onedrive difference has been discussed. Along with this OneDrive for business and SharePoint migration is also covered in this post.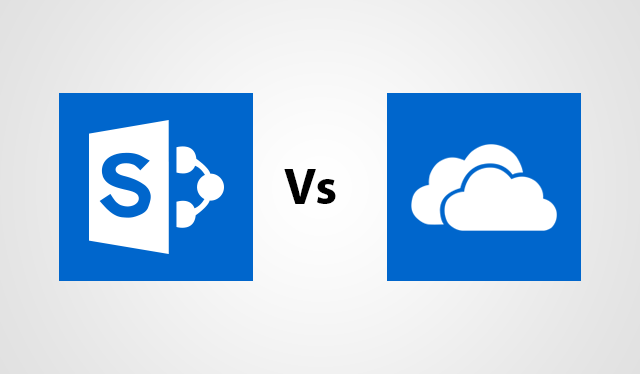 Overview of OneDrive
The main motive of using OneDrive is that it lets users store their important data in the cloud. One can easily access them from any device that contains local OneDrive folder, application, or sign in via an internet connection. All the files get synced automatically that a user can edit or update anytime. Now, there are two versions of OneDrive available: One is OneDrive Personal and another is OneDrive for Business. Both of the editions have the same name but do not offer same services.
OneDrive Personal or OneDrive allows users to save personal files like photos, videos, and other important documents on the cloud via their own personal account. In this versions, any action performed by the user totally depends upon the owner of that account only.
On the other side, OneDrive for Business is simply a business-oriented online storage system. It enables users to manage and handle all project documents and collaborate them with colleagues. However, the OneDrive Business account is totally controlled by the organization i.e. site collection administrators.
Overview of SharePoint
SharePoint is one of the popularly used document sharing and storage application. It enables users to collaborate files, documents, and projects. Moreover, it is prepared with an amazing range of task, lists, calendars, document libraries, workflows, etc. However, SharePoint also helps team members work together on a team-oriented platform. In SharePoint information is shared with all members and anyone can modify and create document it with proper access rights.
There are 3 deployment modes of SharePoint i.e., on-premises, cloud, and hybrid. And, each of these modes has a comprehensive set of pricing models and make SharePoint an ideal for all size of businesses.
A Detailed Comparison Between SharePoint and OneDrive
In order to know clear about SharePoint Vs OneDrive difference, refer the table given below:
| OneDrive for Business | SharePoint Online |
| --- | --- |
| It is a part of Office 365 Business Plan | Come as a part of Office 365 Business plans |
| It can easily be used as a stand-alone application and consumer version with the similar name is also there. | A user can use it as a separate service also. But there is no consumer version exists of this web-based collaborative platform. |
| Developed from a SharePoint Workspace 2010 service | It is a web-based edition of the SharePoint platform, which dates back to Office XP. |
| The core architecture of OneDrive is developed on SharePoint. | Its core architecture is made up or powered behind the scenes by of SharePoint |
| Can be used as the web-based version of My Documents folder on the local machine. | Can be used as an alternative to internal website or file server. |
| It is frequently considered or called as a storage location | It is considered or known as a team site |
| Capable to manage file or data with Metadata | Handle all file and data with its Metadata and versioning. |
| One can access it from either browser or local folder or application based on the user preference. | One can access it from the browser in order to use all its features. |
| In order to sync files of OneDrive for Business to the folder on the local computer, OneDrive Business sync application is used. | To sync SharePoint files with the folder on the local machine, OneDrive Business sync app is used always. |
| By default all uploads will remain private until a user decide to share it. | In SharePoint, all uploads by default inherit all permission from the folder. |
| One needs to sign in to their OneDrive account to access it without any shared interface. | A user can access SharePoint as an organization page that is managed by the admin and work as a dashboard. |
| Useful where a user needs to upload the private work that can be seen and access by the user only. | Helpful when a user needs to upload files that is to be shared with other users also. |
From the above SharePoint Vs OneDrive comparison table, it is pretty much clear that SharePoint and OneDrive are two different services offered by Microsoft. Therefore, a user can easily choose between them for their business depending upon the requirement of the organization. Most of the companies use SharePoint in order to have better project management sites. Moreover, to have a better-suited storage, OneDrive is always recommended.