Advance Search Option Provided By Viewer Application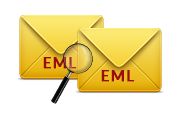 Search Option to Filter Emails from Bulk EML Emails Scanned!
Now a day, it is possible to get genuine software solutions online to view and open different file types even when user lack particular email platforms to read them. Different email clients have different email file types also; some of the common file types are EML files, MBOX files, OST file, PST files, EDB files etc. The peculiarities with these files are that they are they are platform specific and can be opened when the supportive applications are installed or running. Many software companies now offer freeware solutions to view and read specific file formats, so that user can break the barrier of platform dependency while exploring any file type. One eDiscovery tool is available to view EML files for free – EML Viewer Free Software. The facilities offered by this tool is quite advance that it serves all the basic need of user to view, read and search EML files. Much more features are added within the EML Viewer Pro version, which user can acquire with a simple up-gradation done. In this blog we are discussing the difference between simple search and advance search options provided in both the tools respectively.
Freeware: Even though the software is free of cost, it is one of the ample solutions suggested for any user who look forward to view the EML files when email clients are not available around. Outlook Express, Windows Live Mail or Windows Live like email clients supports EML file format but the relevance of free software comes when these EML supportive platforms are not available in the machine where EML file is available. In this situation user can get the freeware that is capable to open, view and read EML files when NO Outlook Express/Windows Live Mail/Windows Mail like application are installed. Tool will automatically load, scan and preview EML files and once preview is shown, the freeware tool offers one search option that help user to collect entire emails that have particular word or phrase added in the search tab.
Search Option in Freeware: Once the tool loads and scan the EML file, the option to search particular email with the specified word or phrase that user suggest can be seen. As shown in the image, the search item should be entered in the search tab, and then entering search option will give the emails that have the particular word displayed altogether. This option can filter the needed emails from the bulk emails scanned and shown in preview list. The feature to search EML files by specific word or phrases helps to save time and effort of user in analyzing EML files for free.
Search Option in Pro Edition: – As it is said, freeware can be updated to the pro version by placing a simple request to update it along with a nominal investment. Updated Pro edition of the freeware will have some more features added, such as faster EML file processing and once the EML files are previewed user can export EML file to PDF format. The option to export EML as PDF help users to get the file content to a much easy to handle file format, i.e. PDF. PDF file format is the legally accepted document submission format by Govt bodies, so this option will be a highlighted facility for forensic users with no doubt. Above all of this features, on the forensic point of view, what benefit most by upgrading freeware to Pro edition is the advance search option it provides.
Advance Search Option in Pro Edition: – The Pro edition comes with the advance search option that help user for an advance search for emails within EML files. The process goes like this: Software will load, scan and preview EML files in the system without Outlook Express installation needed. Once the EML files are scanned and preview is shown, user can go for an advance scan option that help to customize the email filtering wanted and unwanted emails. User can fix the customized search options to find the exact match of emails from the bulk emails available.
Once the tool is launched and EML files are browsed from the location it is saved, tool will ask if user want to index or search the file items scanned, on clicking Yes, the EML file scanning will start. Once the EML files are scanned, user will be provided with preview of EML files. To search particular data user can go through two ways as shown in the screenshot
Search Filters: Once search option is selected user will get the Window with advance search filters that include the option to search emails through the words available on the Subject, email id in To, From, and also the content from body, with the specification as None, Or, And.
Extra Mail Criterion: – User can search emails adding mail criterion that are provided extra. Other than the criterion as To, From, Subject and Body user can search EML files adding the extra mail criterion as Bcc, cc, modification date, received date, sent date also.
After entering the search word and confirming the criterion, go for search and the software window will display the entire list of emails with the search word available. It will help to save time and effort in filtering the emails.
From the searched emails, user can select particular email to be converted to PDF or go for a whole EML to PDF conversion process.
This is all about the normal search and advance search option available in the free version and Pro edition of the tool to View & Open EML Files.
Also Read