Outlook Currently Down or Frequent Email Outages – A Major Area of Concern
Where people have still not recovered from the cyber intrusions, the new problem came to existence i.e., outlook email outage or Outlook Currently Down. This issue shook many organizations backbone as most of the fortune companies have been inculcating Outlook.com as their mode of communication. The problem has captured a lot of eyes and has become major issue across the UK and European masses. Though Microsoft has released few hotfix to resolve the problem, but still it is a matter of concern as many organizations are in a lurch because of the Outlook Outage problem. Before, just jumping to any conclusion let's have a look on statements regarding the trending issue.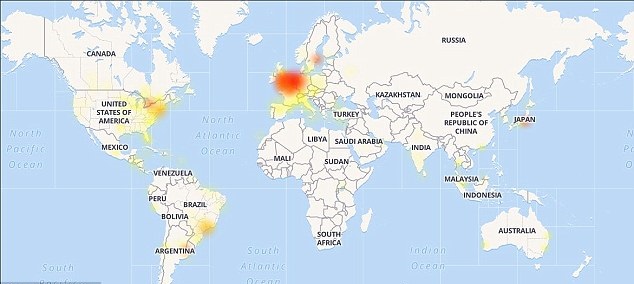 Few Persons on Twitter Claimed related to Outlook Email Outage:
"@Outlook: I am experiencing problems with #Outlook when I try to send an email."
"I am having troubles while sending an email via #Outlook. Who all are facing so?"
"Whenever try to send a mail from #Outlook.com, the messages get saved in drafts with an error message."
"I am trying to send an email via #Outlook from few hours. But, it is not delivering to sender."
Many European Citizens wrote to Microsoft's Official Site to when Outlook was currently down:
"I believe there is some technical glitch with Outlook.com. As, since Monday, 18th September 2017 whenever I try to send an email, it is showing an error and the messages automatically save to Drafts."
 "I am totally puzzled regarding what to do as my Hotmail account is not functioning properly from past few hours. I have been using Hotmail since ages but it never disappointed me to such an extent. My work is getting affected. I am really worried if the problem will not get solved. Please suggest something to resove this Outlook email outage and all the leads shall be highly appreciated. Thanks in Advance!"
Some Individual Complaints Section:
One of the articles by Evening Telegraph stated that the problem will last up to 24 hours. Though, it is yet to be reviewed by Microsoft and prove that the statement is authentic or not.
After few hours, another update by an individual blogger on downtoday.co.uk said that they spoke to Microsoft. And, it claimed that Outlook.com is down since Monday, but the problem will be solved in 24 hours. Despite the statement, Microsoft still has to approve the statement of the user.
Reasons/Consequences Behind The Outlook Email Outage Problem
The root cause of the problem: outlook currently down was that a subset of infrastructure was unable to process the requests as expected, which lead to general service availability to drop unexpectedly.
Though all the requests have been put forth to Alternate Infrastructure for service restoration and all the heads are monitoring environment till the time connectivity recovers.
Finally, after a couple of hours, Microsoft stated on few websites that the matter is fully restored and the users will not face Outlook Downdetector problem again.
Solution to Resolve Problem: Outlook Email Outage
After a lot of Huss and buzz regarding outlook currently down issue, Microsoft finally came in front and declared it on a website that Services dropped unexpectedly and the development team is working on it. Moreover, not all the account holders seem to be affected by the problem. Additionally, a Representative quoted that intermitted connectivity has affected some customers of European Countries and soon it will be solved. He added few more things that Outlook is inclined with Hotmail and Windows Live Hotmail Accounts and an Alternate Infrastructure is made functional till the time, services have been restored.
Now the main threat is listed below:
What if the Outlook Outages will Roam Again across Masses?
Despite of the fact that the problem is in Hotmail, and it is claimed to be fully solved, still there is a probability that the problem will occur again. In such circumstances, the user's first priority is to take backup of their Hotmail Account. After doing a lot of Research, we came across SysTools Hotmail Backup Tool and trust us the software will be of great help to the users in terms of this chaos faced by users due to issue outlook currently down, if prior backup is taken by users.
In Summation
The content serves the users with a proper workaround to resolve the Outlook email outage Problem. Moreover, they can follow the entire write-up and keep themselves updated as we keep on buzzing the solution of the recent issues.