How to Import Multiple vCard Contacts to Gmail or Outlook?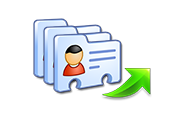 Our old account is full of contacts and is saved in .vcf files or we can say vCard. All our contacts are saved in separate .vcf file. Problem is how will you move these contacts to new account or how will you transfer your old iPhone to your Outlook. The situation makes you face in dilemma of not being able to move so many vCard's at once to either Gmail or Outlook. If you want to, you will have to import them one-by-one as there is no option of batch move of .vcf files available in either Gmail or Outlook. Don't even think about doing this as there are several such vCard and each file contains many details such as; contacts, phone number, email id, mail addresses, URLs, logos, photographs, and audio clips. Then how will you transfer your contacts to new email account? Well we give you smart technique which will definitely help you out. Unlike vCard, Microsoft Outlook or Gmail is an email client application that also supports contact lists. It is one of the most valuable email clients in the world and provides all the benefits that everyone needs. This is why many users want to Import Multiple vCard Contacts to Gmail or Outlook clients.
User Scenario
"I have over 1000 VCF contacts with me and I want to import them into Gmail or Outlook. Importing multiple VCF one by one into Gmail or Outlook is a really busy and time-consuming task. So, I get into the fact Unaware how. I handle more than 1000 contacts at a time? Is there any solution available for my problem? If yes, please provide me with a solution as soon as possible. "
Technique to Import Multiple vCard Contacts to Gmail or Outlook?
Method 1# Move vCard Contacts  File to Gmail Account
Combine vCard Files in One VCF Contact via Command Prompt
You can merge or we can say combine all your vCard into .vcf file using the command prompt in Windows and then you can import that file to Gmail. And from Gmail you can export a CSV file to Outlook.
For this first place all the .vcf files into a folder to the root of your C:\ Drive. You can place it anywhere you want to but take care of the command line where file resides, so let' assume that the file is saved in C drive and hence the command prompt will read as C:\ and the file name is MyContacts. Follow the steps:
 

Open up Command Prompt by hitting Windows key+ R and type "cmd" or you can directly type "cmd" at the start menu search program tab and hit "Enter".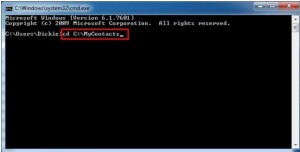 This gives path location as C drive.
 Now type
copy /B *.vcf all_in_one.vcf and hit "Enter"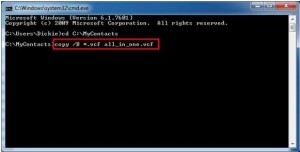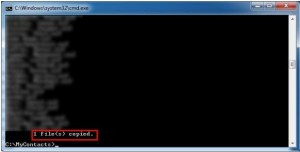 The all_in_one.vcf file will be saved in the root directory i.e. C drive and in My Contacts folder.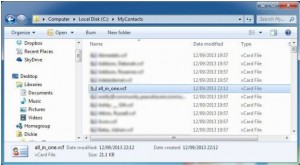 II: Import Generated VCF File to Gmail
Open your Gmail Account, and click on the drop-down arrow on "Gmail" and select "Contacts".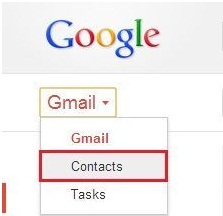 Then select the drop-down box on the "More" tab and choose "Import". This will open the "Import Wizard". Choose your file and provide the path where your new generated file is i.e. all_in_one.vcf file.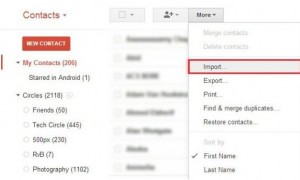 This will automatically import your contacts to Gmail.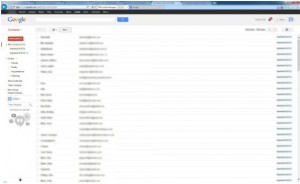 Method 2# Now to export these contacts From Gmail to Outlook
Follow the Below Steps: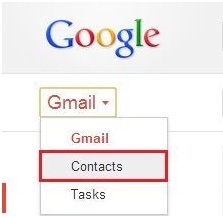 Since this time we are exporting, click on the drop-down box on the word More and choose the option "Export".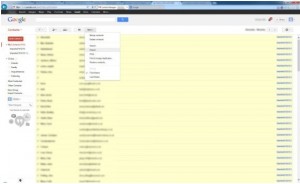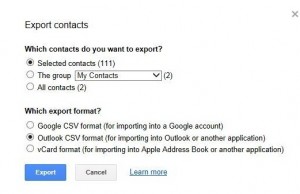 After you click "Export", Gmail will output a copy of the contacts you choose to export to a .csv file to your default download location chosen by you. Now you can export the newly created .csv file containing the contacts to Outlook.
Open Outlook and go File>Import /Export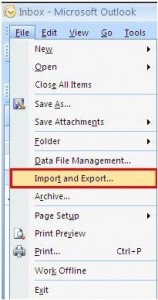 Select Import from another program or file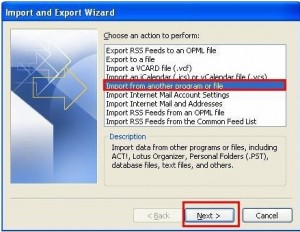 Next,

Choose Comma Separated Values (Windows)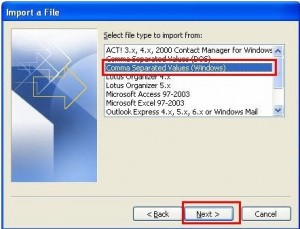 Now browse for the .csv file containing your contact information that Gmail created. I elected to not import duplicate items (contacts) but that is up to you.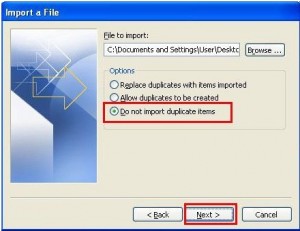 Now Outlook will want to know which folder the information will be stored in. As this is contacts, save it to the Contacts folder.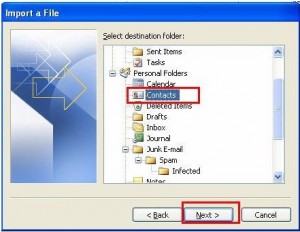 Now hit "Finish" and you are done.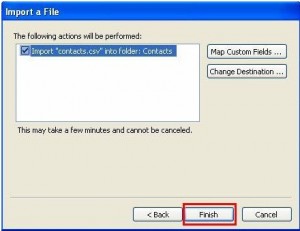 Disadvantages of Manual Methods
As you know, the manual method may have some drawbacks described below.
The manual method is very long, tedious and time consuming.

This is an unrealistic task for non-technical users as it requires technical knowledge.

Data integrity and security are not guaranteed. This process took a long time to complete.
Automated Solution to Import Multiple vCard Contacts to Gmail or Outlook Perfectly
To Import Multiple vCard contacts files to Gmail or Outlook with SysTools VCF Converter, the best solution to import vCard contacts for Outlook is given below. The tool can easily move vCard contact file into Gmail or Outlook. It is a hassle-free solution designed specifically for all domestic and commercial users. The tool allows you to convert vCard files to several formats. You can download a trial version of this program. Once you feel good about it. You can buy the full version.
Firstly, you need to convert the VCF file to Google CSV, then move the Google CSV file into Gmail
Solution 1: To Import Multiple vCard Contacts to Gmail
Step 1# Convert VCF File to Google CSV
Download & Run the Utility on your System.
Choose vCard files with dual selection options: Add File or Add Folder
Hit the Radio button for the Google CSV file, and select the "Browse" Option.
Select on the "OK" tab on the user interface of the Utility.
Click on Export to start the export process.
Step 2: Import Google CSV File into Gmail
Next, you need to move the CSV file into your Gmail contacts. To do this, log in to your Gmail account where you want to transfer the CSV file.
Next, open the Google Contacts box
Click the Settings icon and select the Import option
After this, the Contact Import Wizard will pop up. Press the Select File tab. Select Import
Solution 2: Solution to Import Multiple vCard Files into Outlook
The first step is to Install and Run this Utility.
Add a VCF File or Folder to the program
Select on the radio Option for the MS Outlook profile, and click on the "Explore" tab.
Click Outlook from the drop-down list. and Hit on the "Export" tab.
Conclusion
Today most people are experiencing problems with Microsoft Outlook or Gmail. This is why everyone wants to Import Multiple vCard Contacts to Gmail or Outlook. In this blog, we have described both techniques of how to transfer multiple vCard contact files to Gmail or Outlook. You can choose any method according to you.