How to Import Multiple VCF to Outlook? Verified Solutions
It is completely normal when our old account is full of contacts due to communication with many users. This becomes more triggering condition as all contacts are saved in separate .vcf file. The problem is how do you transfer these contacts to the new account. The situation leaves you with a dilemma to move or delete old contacts. But deleting contacts is not the solution to prevent a loss of an important user contact. So, here is the need to import multiple contacts to Outlook.
So, if you have vCard file in bulk and each file contains many details like; Contacts, phone numbers, email ids, mail addresses, URLs, logos, photographs and audio clips. How would you then transfer your contacts to the new email account? Well we are here to provide all the possible techniques which will definitely help you.
Microsoft Outlook is an email client that provides the facility to maintain contact lists of different users so that they can be communicated with. It is one of the most valuable email clients in the world and offers all the benefits everyone needs. That's why many users want to import VCF to Outlook 2021, 2019, 2016, 2013 or below.
"User Scenario – I have more than 1000 VCF contacts and I want to import them to Outlook 2021. To import VCF  to Outlook in bulk is really hectic and time consuming task. So, I am unaware that I can import multiple contacts at a time. How do I handle over 1000 contacts? Is there any reliable solution available for my problem? If yes, please provide me the solution as soon as possible." 
Quick Guide to Import VCF to Outlook in Bulk
Download the software on local system.
Tap Add file or folder tab from menu.
Preview added contacts, choose Outlook profile option.
Hit the Export option to start transferring of contacts.
Technique to Import Multiple Contacts to Outlook?
Launch the Outlook application of latest version on your desktop first. 
Now, tap the File tab from the menu bar of the application.

From the next screen, go to Open & Export > Import/Export option and move further.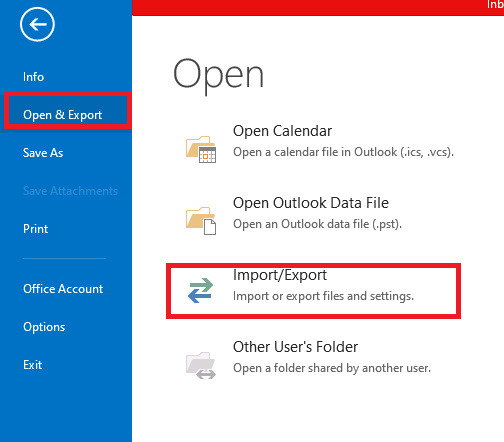 Now, from the Import & Export Wizard that appears on the screen, select the import a VCARD file (.vcf) option, tap Next.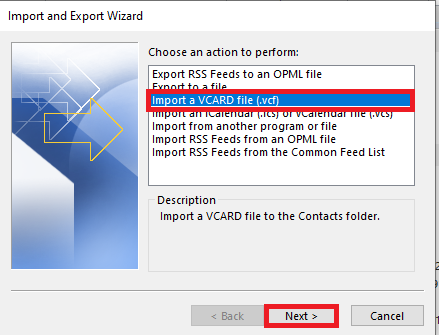 Then, select the VCF file from your local system and hit Open button. By doing so, your file will be imported into Outlook application.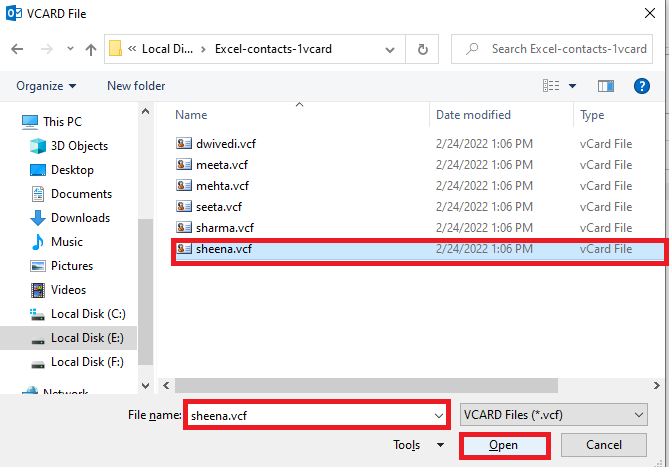 For multiple contacts to import, follow all the above steps again and again. Then, check out the contacts list in your Outlook application after completion of the process.
Disadvantages of Manual Method
As you know, the manual method may have some drawbacks as described below.
The major limitation of using the manual method to import multiple contacts to Outlook is repeating the whole process again and again. Since it allows you to import only one VCF file to Outlook at a time.
Moreover, the manual solution becomes very long, tedious and time-consuming.
This is an unrealistic task for non-technical users as it requires technical knowledge.
Data integrity and security are not guaranteed while in operation. This process took a long time to complete.
Automated Solution to Import Multiple Contacts to Outlook 
To import multiple VCF to Outlook with the Smart & Safe VCF Importer Tool is the best solution you can go for. The tool can easily transfer contacts file to any Outlook 2021, 2019, 2016, 2013 application. It is a hassle-free solution specially designed for all home and commercial users.
The tool allows you to transfer VCF Contacts files into multiple formats. You can download a trial version of this program. once you feel good about it. You can buy the full version.
Solution Steps to Import Multiple VCF to Outlook 
The first step is to Download, Install and Run the utility from above safely on desktop.
Add a VCF File using either Add File or Add Folder option to the program.
Thereafter, select the folder or all the required VCF file to import into Outlook, tap Open tab.
Now, preview the added contacts file or folders into the software, via horizontal or vertical view options.
Here, just select the radio option for the MS Outlook profile, and move further for the task.
Now, select the destination for the file from from the drop-down section.
At last, hit on the "Export" tab to begin the procedure on PC, the tool will start transferring the contacts. Tap OK from the notification message that tool after the completion of the process.
Conclusion
Today most of the people are facing problem in maintaining contact in different platforms. So, everyone wants to import multiple contacts to Outlook. In this blog, we have described both the techniques, i.e manual method or the expert suggested automated solution. So, you can choose any method according to you and perform the task to import multiple VCF to Outlook 2021, 2019, 2016, 2013.
Common Asked Questions
Q – Can I use this tool and import VCF with multiple contacts in Outlook 2021?
Answer- Yes, this tool is compatible to import multiple contacts to any Outlook version including Outlook 2021, 2019, 2016, 2013, etc.
Q- What if my contact data gets intercepted while using this tool?
Answer- This is an advanced software, it will always keep your contact information intact during the import process.
Question- I have Windows 10, does this software support it?
Answer- Yes, you can use this software to import VCF on any Microsoft Windows – 7/8/10 (32bit or 64bit), Windows 11 (64-bit), Windows Server 2008, 2012 R2, 2016, 2019, 2021 Can run Outlook.