COMPLETE GUIDANCE FOR IMAP EMAIL SERVER IS NOT RESPONDING
Is your IMAP email server not responding? Worry not! We had several users come up to us with the same query. Therefore, we have drafted this technical write-up to help to resolve the issue. So, without further ado, let's get started with the article.
If you are working with any of the following applications you must have an idea about IMAP Server
Outlook
Thunderbird
Outlook Express
Window Live Mail
Opera Mail etc.
You would have seen that IMAP Email Server is not responding while sharing and receiving emails in IMAP Server based application.
Before understanding the reasons that why the IMAP Email Server is Not Responding lets get acquainted with the IMAP server and why it is important for the functioning of modern email communication.
Whenever we talk about IMAP, we also discuss POP3. Both go hand in hand. It is the contemporary of IMAP. The main reason that IMAP is advance than POP3 that it allows multiple devices to have access to the mailbox. Unlike POP3 it doesn't delete email from the server without permission. Here are the major differences between them.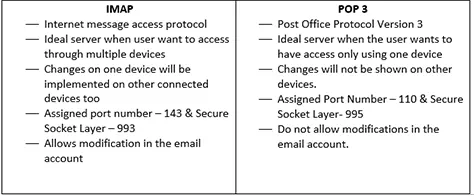 Possible Reasons For IMAP Email Server Is Not Responding
Internet or Wi-Fi Connection is not established
Temporary Server Unavailability
SSL setting is not done properly
Improper Configuration of Account.
Quick Solution: Users can opt for SysTools Mac IMAP Server Backup Tool to effortlessly backup IMAP mailboxes to PST and other file formats.
SOLUTION FOR IMAP EMAIL SERVER IS NOT RESPONDING
Fix Internet Connection
Temporary Server Unavailability
Configuration of SSL Setting

Why SSL fails to set up
SSL configuration in IMAP

Remove And Recreate IMAP Account
So, these are the top solutions to try out when your IMAP email server is not responding. Further in the blog, we are going to discuss and explain eash and every solution. so, let's continue with the following segments of the article.
1. Fix Internet Connection
The most common issue regarding IMAP Email Server is Not Responding is slow or disconnected internet. You can refer to fix the Internet connection issue.
2. Temporary Server Unavailability
IMAP constantly needs an internet connection and an active Server to keep it functional. Though there is no solution to fix the Email Client-Server, you can keep backup of your emails in tragic conditions like IMAP Email Server is Not Responding and unavailability of the server.
3. Configuration of SSL Setting
Before enacting the SSL configuration, Lets understand about SSL (Secure Socket Layer)
Encryption-based internet security protocol.
It provides an encrypted secure connection between application like between Web server and Client
Developed by Netscape in 1995
Uses TCP (Transmission Control Protocol) for an end to end encryption.
Why SSL fails to set up
Improper Configuration of SSL certificate during Installation
Incorrect details in the SSL certificate. To check the configuration reach to SSL Checker free services of Qualys SSL Labs.
The trusted certificate chain is broken due to the expired root CA or it could not verify.
Mismatch of domain names while accessing before the issuing of a certificate from CA.
SSL configuration in IMAP
To establish a connection using SSL, please use these ports
IMAP Port No – 993
Outgoing Server (SMTP) – 465
It will resolve the issue regarding SSL configuration
4. Remove And Recreate IMAP Account
Sometimes the account is not configured properly. So you need to remove and re-add the account. Follow these steps to solve the issue of IMAP Server is Not Responding Outlook.
Open Control Panel then select the Mail from the available options. Click on the Email Account tab to open.

Select the account and by clicking on Remove you can remove the account from the Account list.

Then click on the New option to recreate the profile.

In the new Add New Email Account window, you would ask to fill in details of Name, email address, and password in it.

You can checkbox Manually configure server settings >> Next. It will open a new window. Select Internet E-mail account then Next

Choose either POP3 or IMAP to set up an account. Fill the domain details in the mail server space.

Click on More Setting >> Advanced tab and fill the Port for IMAP and SMTP

By default, IMAP protocol carries these ports
Incoming Server (IMAP) – 143
Outgoing Server (SMTP) – 465
You can keep the same, or if you want to establish an SSL connection then use these port
Incoming Server (IMAP) – 993
Outgoing Server (SMTP) – 465
Then click on the Outgoing Server tab and checkbox the authentication option and click OK to implement the changes.
After the configuration took place for the setup of IMAP. You would see a message for successful completion.
Conclusion
IMAP is an advanced email server protocol that is widely used by most Email Web clients. But sometimes IMAP Email Server is Not Responding Outlook issue arises because of many technical errors and incorrect configuration. We discussed the fixes that can solve these issues. These situations are inevitable but you can brace yourself for a situation like these if you have a complete download of the mailbox on your computer. It will provide you direct reach to your data at any moment.