Google Inbox Replacement: Shutting Down Experimental Email App Next Year
Google Inbox going away!! After announcing the end of popular and widely used Gmail alternative i.e., Google Inbox. Google has now started pushing Inbox users to switch over to Gmail ahead of mid-2019 closure date. Recently, Google has updated Inbox App for iOS to support iPhone X and soon the company has announced Google Inbox to be discontinued the service by the end of March 2019.
Inbox by Gmail is an email service designed by Google. It is an experimental email App providing impressive features like emails snoozing to check it later, smart reply, high-priority notifications, follow-up nudges, organized folder bundles and many more. In September 2018, Google announced that Google Inbox replacement by Gmail, because of which Inbox users are being pushed to Gmail.
Why Google Inbox Going Away or Shutting Down?
Google defined "Inbox" as a great place to experiment new thoughts and most of the ideas are now migrated directly to the main email application i.e., Gmail. The company quoted that "During the journey of the App in the last four years we have learned a lot in terms of making the email better." Now, the company has decided Google Inbox to Gmail transition along with all the popular Inbox feature to Gmail application. Inbox focused to provide a better experience to the end users while dealing with their email. In order to test these features, Inbox gave Google a test before bringing them to the Gmail. Gmail email application is literally going to be the Google Inbox replacement. But, Google gave a major overhaul to Gmail, wherein Gmail absorbed numerous features of Inbox. As a result, Google says that it is bidding farewell to Inbox so as to focus completely on Gmail. Because of which, Inbox by Gmail is coming to the end days of its service.
So Inbox users, do not get irritated as there are few more months left for Google Inbox to be discontinued or for its official shutting down!
Moreover, Google is offering Inbox users a transition guide so that users can easily acclimatize the change to the new Gmail in a more easier and sophisticated way. The guide will help users to familiarize the Gmail interface for those who haven't checked it for a while.
Google Inbox to Close – The Official Announcements
Matthew Izatt, Product Manager narrated in a post that, "The company is looking forward to taking a more focused approach to providing a world-class experience to the users." When Inbox was launched in October 2014, Google CEO Sundar Pichai said, "The software had taken years in the making." In which, he added that it was solely aimed for those who are dealing with email as their daily chore that may distract from what they really need to do instead of helping us to complete those things.

So now, the days are numbered for those who are using Google Inbox email service. The Inbox by Gmail Twitter account has confirmed the same and hence Inbox users being pushed to Gmail.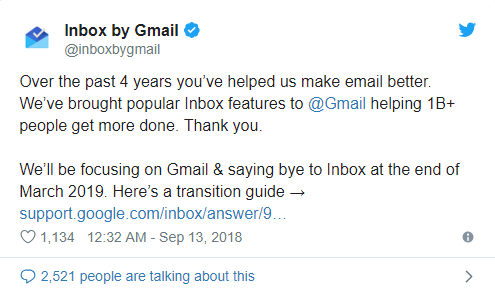 Google Inbox Replacement
In April this year, Google redesigned Gmail with new features, in which most of the features were first tested as Inbox experiences (A Google Inbox to Gmail transition). Google added that everything in Inbox is now ported to the newly updated Gmail, except for one feature i.e., Trip bundles. Trip bundles, which provides a bundle or a groups travel emails such as hotel, flight, restaurant. Over a period of time, this Inbox feature is soon be adapted to Gmail eventually, Thus Gmail will be the proper and exact Google Inbox alternative.
Back in December 2014, Jason Cornwell, Lead Designer answered a query when asked whether Inbox would replace Gmail. He replied by saying,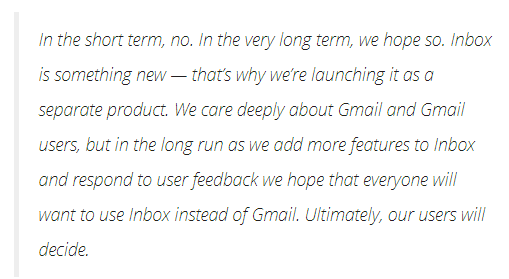 Finally, Google Inbox to be Discontinued!!
So overall it is good that Google is focusing completely on a single email client i.e., Gmail. No doubt, the new Gmail will definitely help the users to easily accept the new interface with its exceptional features. Moreover, after a couple of months, when an Inbox user tries to access it, it will be then abruptly redirected to Gmail. So it can be considered that, Google inbox shutting down or closing will end redirection to Gmail. All Inbox users will be pushed to Gmail account. Gmail will act as Google Inbox alternative or as a replacement.