Techniques to Fix Email Search Not Working In Outlook for Mac Issue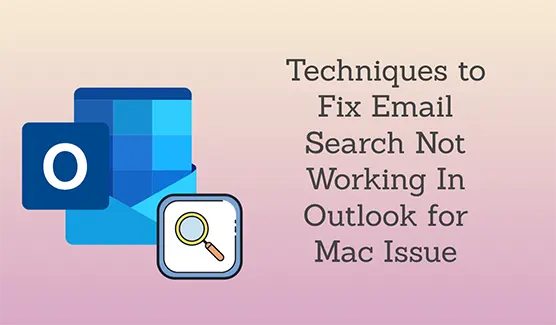 Nowadays Outlook is the most popular email application that is used to send and receive bulk of emails in an organization as well as personal level. It must be maintained and upgraded timely otherwise many issues may arise. Many times, it is difficult for users to execute and understand Outlook search with updated edition of application. 
As Search option, is the most important feature of the Outlook application. It helps to perform a specific search of a defined criterion. It helps in navigating through mails and other components quite proficiently. In the following section, we will discuss email search not working in Outlook for Mac.
Mac Outlook users keep on searching for some alternative because of the multiple issues faced by them like email search is  not working. Therefore, users want some solution to move from Mac Outlook to Windows Outlook. Now, to do the same in a proper way, you can try SysTools Outlook Mac Exporter tool. It is one of the simplest and efficient way of migrating from Mac Outlook to Windows Outlook in just a few simple clicks.
Problem Description
In Outlook 2016 for Mac, users receive a message "No Results," when they try to search specific mail message or task items are not displayed in Task folder. Moreover, when users search for mail items by utilizing Mac OS spotlight search, the search is not successful. They face an issue of email search not working in Outlook for Mac:
Note: While performing the search option, user must be aware of the following facts:
Operating system must include Spotlight Search Option
Spotlight Search should be synchronized with Outlook 2016
When new data is introduced, it takes several minutes for indexing
Causes Behind Email Search Not Working In Outlook for Mac
The problem may arise due to following reasons as mentioned:
Indexing of Spotlight Search is incomplete
The name contains the special characters
Profile or its parent folders are in privacy tab in Spotlight
Index Search of Spotlight is corrupted
Way to Resolve the Problem
Until now, we have discussed the issue and causes behind its occurrence. Now, we will be discussing the methods to solve the problem faced by the users. There are some solutions mentioned below which helps to resolve the issue, i.e. email search not working in Outlook for Mac.
Solution 1: Complete Spotlight Indexing
When the user creates new Outlook profile in Outlook 2016 for Mac or they have imported the new data from PST or OLM files. Then the Spotlight indexing is not completed. In this situation, "No Results" message is displayed. To solve this problem, user should wait for a time to finish the indexing and then search again.
Solution 2: Eliminate Special Characters
If Outlook for Mac 2016 has some special characters such as *, /, >, +, @, etc. then you will get this email search not working in Outlook for Mac. So, users need to change the identity name by following the steps mentioned below:
View Profile Name

Select Go >> Applications.
Click on MS Outlook >> Show Package Contents
Increase Contents, SharedSupport >> Outlook Profile Manager

Change Profile Name

Open Identity folder of Outlook 2016 from the mentioned location:
Now, rename the identity name by removing the special characters
Confirm the changes by again viewing the profile name.
Solution 3: Remove the tab of Privacy
If the Outlook 2016, profile folder are added to Privacy tab then, the Spotlight will not index that folder location. Now, remove the location of these folders from Privacy tab in spotlight and wait for the time until these folders to finish indexing.
Solution 4: Fix Spotlight Index Corruption
If the user is still facing problem then, Spotlight index may get corrupted. To resolve this, user needs to re-index the Spotlight Index by following few steps:
Select Apple menu then, go to system preference >> Spotlight
Click on the privacy tab and now drag the folder, which user wants to index to list of locations that is prevented from Spotlight search
Choose the folder which is added and remove it from the list by clicking on the remove (-) button
Now, quite the preferences of system and the Spotlight will re-index folder contents.
After following the mentioned solutions, if the users still face an issue then, they can uninstall the Outlook 2016 from Mac machine and again reinstall.
Additional Automated Solution 
Well, issues with Mac Outlook also happened due to the corruption of data files. And to fix the corruption of the Mac Outlook. We suggest you choose the SysTools Mac Outlook Recovery.
This is one of the most trusted and effective solutions that give you the option to repair the Mac Outlook database like OLK, OLM data file. So, if you are getting an error due to the corruption issue then this automated solution is the right choice for you.
Conclusion
In the above discussion, various methods to resolve the occurrence of issue, i.e. Email search not working in Outlook for Mac is discussed. According to experts, a user can try these solutions as they will surely improve the functioning of Mac Outlook. In addition, all these workarounds help in boosting the searching process.
Frequently Asked Question
Why is my Outlook for Mac search is not working properly?
There can be several reasons behind it such as:
1. Spotlight search indexing is incomplete
2. Your email name contains special characters
3. Spotlight Index search is corrupted
How to turn on Spotlight on Mac Machine?
1. Go to Finder on your Mac machine
2. Then, choose Apple Menu >> System Preferences
3. Now, you need to choose Spotlight from the top row
4. Select the items that you want to allow Spotlight to index.
How to open Spotlight on Mac Keyboard?
There are few shortcuts that you can use for Spotlight:
1. Command+Space: Open Spotlight menu
2. Command+Option+Space: Open Spotlight in the Finder
3. Escape: Clear Spotlight search box
4. Escape twice: Close Spotlight menu
How to force re-indexing on Spotlight?
1. Go to the System Preferences from the Apple menu.
2. Then, click on the Spotlight >> Privacy tab
3. Simply drag Macintosh HD in this window
4. After that, click on the OK button as the message pop-up
5. Here, choose the drive that you have just added and click on the "-" minus button and remove it from the list.