How to Export Contacts From AOL To Gmail?
Gmail is a secure, convenient and reliable web based email client. It has some advanced features such as spam filtering, ton of storage (10 GB or more) at Server level, two step verification, etc. Moreover, migration from other email accounts to Gmail is not difficult because it allows users to easily import their emails and contacts from other mail services. So, if you are switching from other email provider to Gmail, you can easily import your old emails or contacts to Gmail.
In this blog we have explained how to;
Import emails and contacts to Gmail from AOL
Export Contacts From AOL To Gmail
Import email and contacts to Gmail from AOL
Exporting your mail and contacts into Gmail allows you to keep all your data in one place, when you migrate from AOL to Gmail. After initiating the import process, Gmail automatically import mail that is sent to your AOL for up to 30 days.
You can follow below mentioned steps to Export mail and contacts from AOL to Gmail.
Step1: Open your Gmail account
Step2: Click on setting Gear on the Upper right corner of Gmail and then Click on Settings.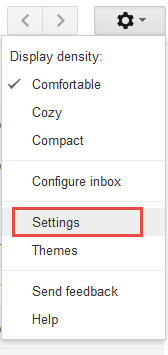 Step3: Click on "Accounts and Import", and then click on "Import mail and contacts".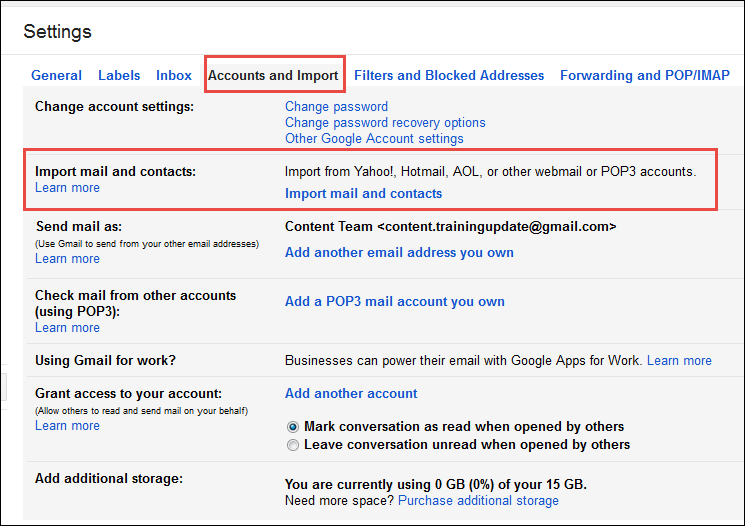 Step 4: Type the AOL email Address below "What account do you want to import from" and then Click on Continue.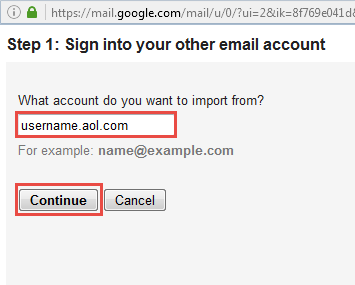 Step 5: Type your password for your AOL mail and then again click on Continue.
Step 6: According to your requirements, Check and uncheck the options for "Import mail", "Import contacts," and "Import new mail for next 30 days" boxes.
Step 7: You can check Add label if you want to add labels to your mails.
This option will label only your mails not your contacts
Emails imported from your AOL mail folder will automatically get label with the same folder name from which they have derived.
Emails from your Drafts, Recently Deleted, and Spam Folder cannot be exported
Note: It might take several hours to import your emails and contacts from AOL to Gmail.
Export Contacts From AOL To Gmail
If you are facing any difficulty in the above mentioned method then you can Export the contacts address Book of your AOL Mail in CSV format and then import this CSV file in Gmail.
Export AOL contacts to CSV
You can manually enter your AOL contacts to your Gmail, if you have only a handful of contacts in your AOL Mail. But you may need to export you AOL contacts to a CSV file if you have a large number of AOL contacts so that you can import the CSV file in Gmail. Follow below mentioned steps to save your AOL contacts or AIM address book to a CSV format.
Log in to your AOL email account.
Select contacts from your AOL mail account or AIM Mail folder list.
Click on Select All from the Top left pane, if you want to select export all contacts.
Click on the Export
Select CSV file format for file type.
Browse the location to save your CSV file.
Click on the Export
Importing Contacts CSV file to Gmail
Step1: Log in to your Gmail account.
Step2: Click on Gmail from the Top Left Corner and then choose Contacts.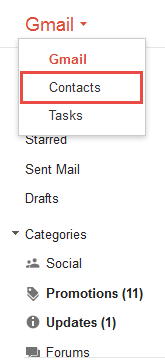 Step3: Click on More and then Select Import.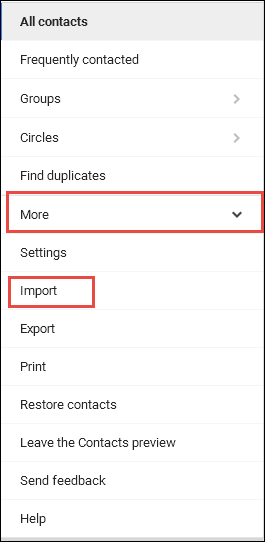 Step4: Select CSV or vCard file.
You can also select AOL to directly Export Contacts from Your AOL Mail. But for that you need to give access of your data to a third party. So it is recommended to import your contacts from the CSV file.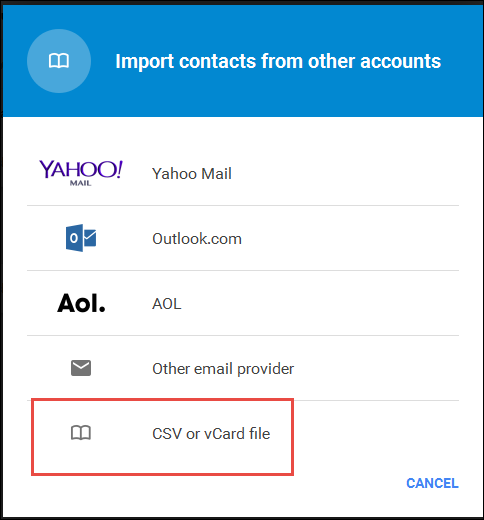 Step 5: Click On the Go To Old Google Contacts, Click on More and then Click on Import.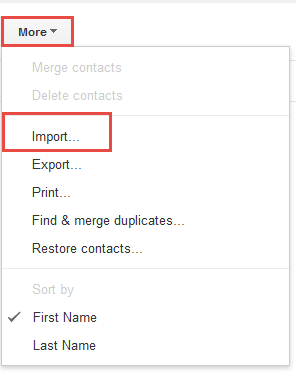 Step 6: Browse the location of your CSV file and then Click on Import.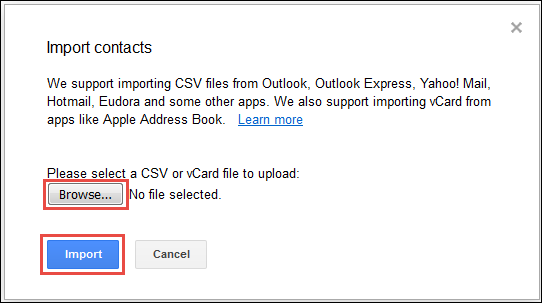 After completing the Import process, Gmail will show you how many contacts were imported. If your old contact list has some attachment or photos, they may not properly import in Gmail. So, it is recommended to keep a copy of your old contacts to keep a backup. Refer one of our blog to convert AOL Favorites to Internet Explorer.
You can easily export your AOL emails to your Gmail account using the first method and Export Contacts from AOL to Gmail by using any of the above mentioned method.