Does Microsoft Backup Office 365 : As Part of Disaster Recovery Plan (DRP)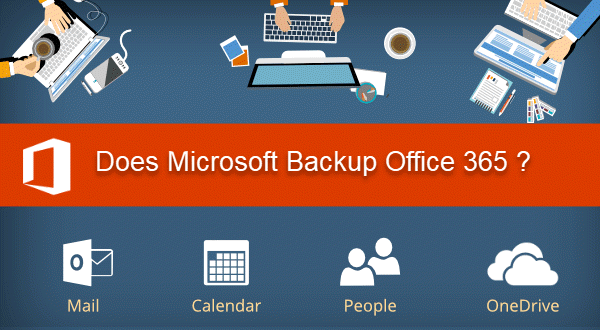 Curious About :
"Does Microsoft Backup Office 365? "
Just because Microsoft solutions are available on cloud, it never implies that your complete data is backed up by Microsoft. The complete O365 solutions including Office 365, Exchange, OneDrive, SharePoint etc. is hosted by Microsoft, but it doesn't supplant your duty to maintain the backup of your data.
If the question is,
"Do I need to Backup Office 365?"
The shortest & the safest answer is YES!
By hosting the infrastructure of Office 365, Microsoft provides a collaborative, dynamic workplace for its customers. Even though, best of the industry security measures, privacy settings and compliance policies are put in place to increase the cloud productivity, data loss & data security are still major concerns during business migrations in cloud.
Microsoft's Backup & Retention Policies
You might not have many options for restoring your data at an event of disaster and it's a sad truth. The Geographically distributed Database Availability Groups are the primary mechanism displayed by Microsoft to protect Office 365-based Exchange Servers. They also provide regular backups of Office 365 servers. To know more about Microsoft retention policy, refer the blog – Microsoft Office 365 Backup Retention Policy – Complete Tutorial. 
But, Why is that ?
These backup process for Office 365 performed by Microsoft is supposed to be used for their internal management only when any ruinous events like natural calamity occurs that leads to wiping out of large volumes of data from cloud storage.
We're sure you're wondering: Does Microsoft Backup Office 365?
A through look on the service level agreement accepted and agreed by Microsoft & their clients for Office 365 services addresses any time availability of your data and not recoverability. This clearly states Microsoft doesn't take the guarantee to backup and protect your data, and it is eventually your own duty.

So, as it is pretty clear that you are responsible to protect your organization's data,
Now let us discuss which is the best solution to Backup & Restore Office 365 ?
Why SysTools Office 365 Backup and Restore ?
This tool to backup & restore Office 365 data ensure that complete data in your Office 365 suite can be backed up and restored with a matter of simple clicks. The data in cloud such as Outlook emails, OneDrive documents, etc. are stored separately and is considered as separate data only.
To perform separate backup of all these category is an almost impossible mission.
So, the effective method to backup & restore all of them is to deploy an backup service that performs beyond what Microsoft offers in terms of Office backup & restore.
SysTools provides email backup & archiving solution for Office 365 customized as per client requirements. The tool to backup & restore Office 365 comes with the guarantee of complete data backup from Office 365, let it be Outlook emails, contacts, calendars information.
Few feature highlight of this end user self-service Office 365 backup & restore tool are:
User can save their IT time & lower the help desk costing
Find & restore  lost files & folders and other content from email , calendar, etc without any technical expertise required
Backup Options available in updated Office 365 Backup & Restore Software
Outlook Backup
OneDrive Backup
Calendar Backup
Automated Daily Backup
Split large PST file for ease of backup & restore
Selective Office 365 mailbox backup
Restore facilitates offered for safe Office 365 Mail, Calendar, and OneDrive
Point-in-time restore
Search based restore
Quick restore mailbox to Office 365
Note: If you do not backup Microsoft cloud data you are at high risk of data loss. Your business can have massive loss and downtime
For the simple reason that :
Microsoft does not provide backup of your Office 365 data. There is no provision to recover accidently or intentionally (malicious attack) deleted or corrupted data. The short life span of recycle bin and the item level recovery options makes it really tough to perform point-in-time recovery of your valuable data.
Also,
Being the storage service providers, OneDrive is prone to many errors & threats including ransomware attacks. CryptoLocker invasion had raised serious threat to various cloud service providers thus Microsoft also.
So, it is always advised :
To get a proper backup & restore plan handy. SysTools can serve your needs better, so, contact support@systoolsgroup.com today for more information about your backup & restore plans.
Frequently Asked Questions –
Q – Does Microsoft backup my data of Office 365 in local system ?
A – No, Office 365 has no facility that keeps a backup copy of O365 on local drive.
Q – Does my Office 365 Tenant need backup ?
A – A backup file is required to prevent yourself from data loss situation.
Q – Which is the best Office 365 backup software?
A – Try SysTools Office 365 Backup tool which cost only 19$ and provides restore feature too.