Get Started with Windows Admin Center : Microsoft Unveils WAC for Admins
When Windows had introduced the preview of " Project Honolulu" in 2017, it was greeted with great enthusiasm. It has been downloaded more than 50 thousand times and got deployed by more than 25 thousand clients. These numbers suffice to show the amount of popularity the project received. Finally, Windows launched the complete version of the project with the name Windows Admin Center. This app helps users to manage servers, clusters, and system from a single console. This post will provide you with all the basic information regarding WAC and let you know how to get started with Windows Admin Center.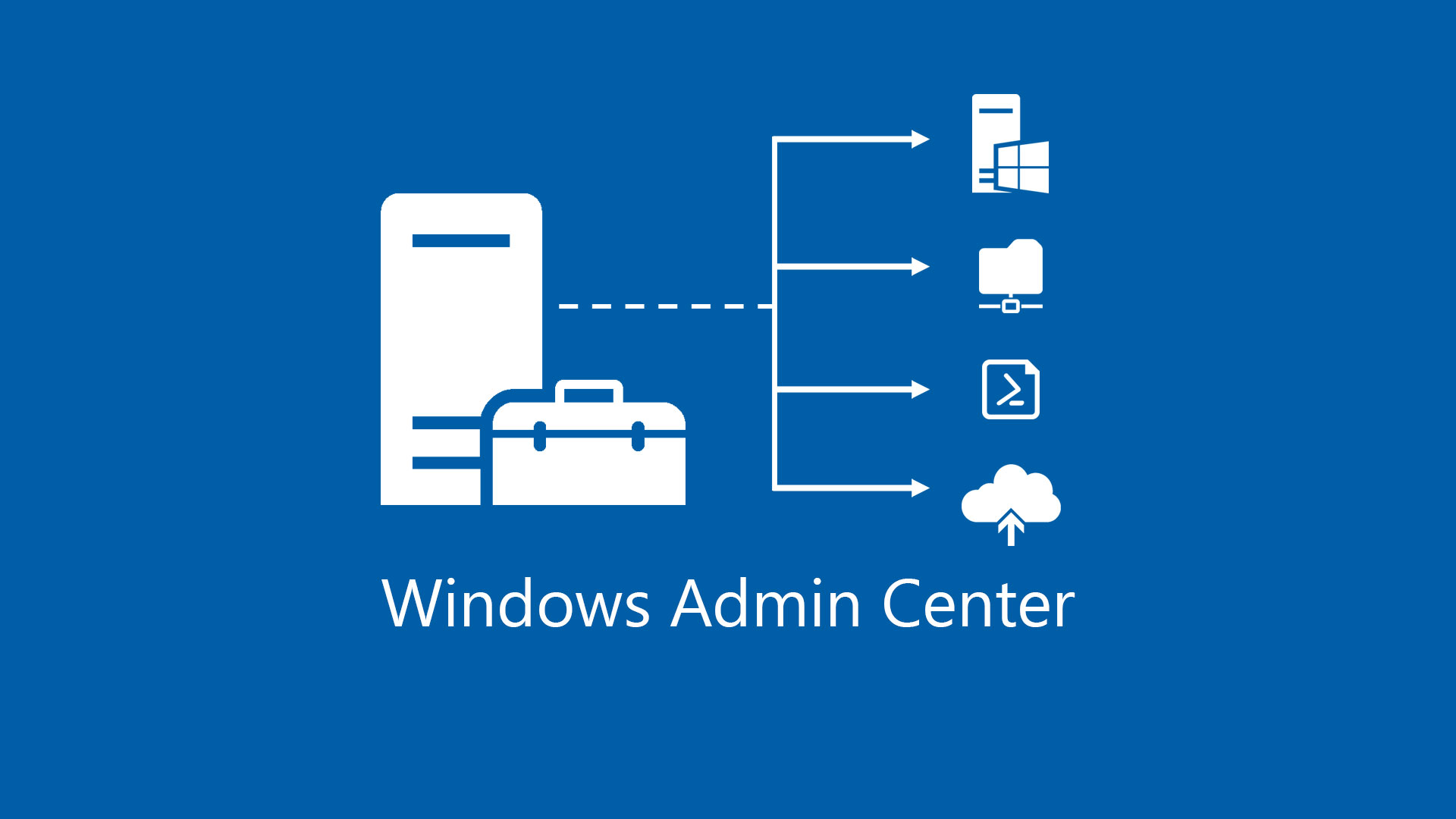 What is Windows Admin Center ?
Windows Admin Center is a browser-based platform or app that brings many consoles together in a simple yet modern centralized console. It works as a hub for multiple consoles that can control and manage servers, hyper-converged infrastructure, clusters, and Windows 10 run machines at the same time. Windows Admins often need to use a variety of consoles to manage disk, device, task, event, server, and so on. Windows Admin Center is a one-stop solution that allows Windows Admins. Eventually, it will spare the Admins from opening large number of consoles or management apps simultaneously. WAC enables users to control Windows Server and Windows 10 deployments in an integrated manner.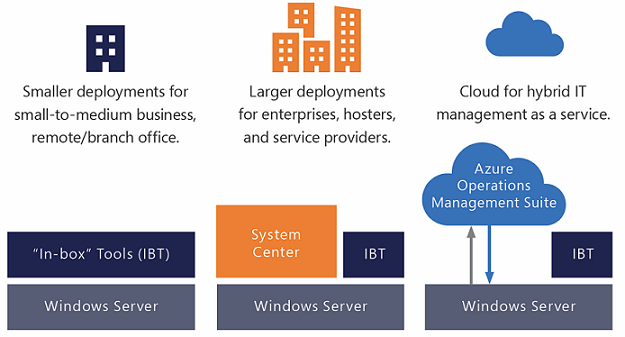 Functionality of WAC
WAC has not been created as a replacement of Microsoft Management Console MMC or the tools used for Remote Server Administration. To manage DNS, Active Directory, IIS and DHCP, users still need to take help of these two tools. WAC is developed to perform tasks like hardware and network settings management, listing and ending processes, editing registry, etc.
Architecture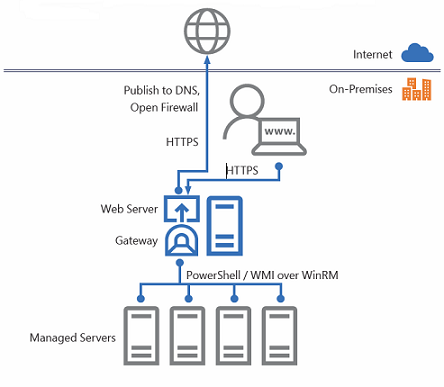 How to Use Windows Admin Center
To use WAC, users have to download and install it in the Server Core. Once they open the app, All Connections screen will appear containing the list of servers that you will be able to manage through WAC. Click on +Add to add servers and clusters (failover and hyper-converged). Then type remote server DNS name import server names from any .txt file.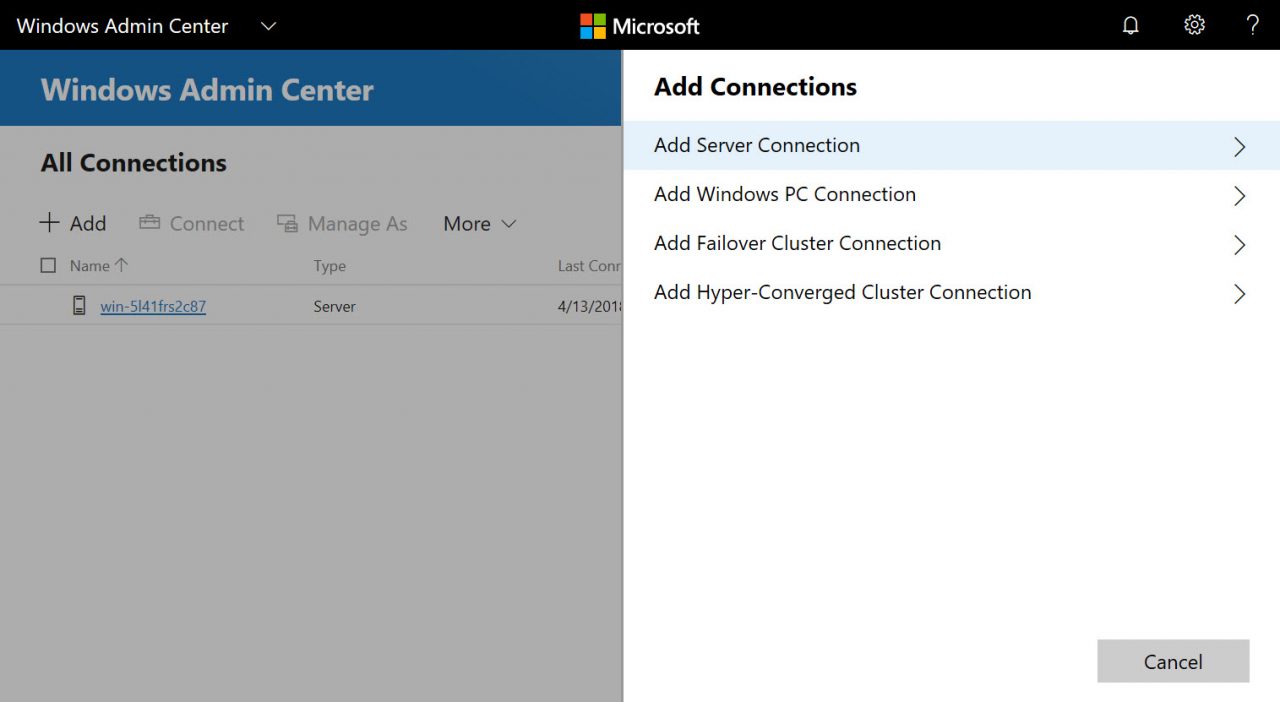 These remote servers and clusters can be authorized by the Windows account you are logged in with, or by manually entering credentials of your account, or by using LAPS credentials.
In order to get connected to a server, click on that Server from the All Connections screen list and enter credentials. You will see a complete summary of your server's health, including information about CPU, memory, disk, and network in graph that gets updated in real-time. Users can go to Settings option to edit variables of system and user environment, as well as to enable or disable Remote Desktop.
RBAC or Role-Based Access Control can also be done from Settings. Currently, three access roles are available in WAC RBAC:
(a) Windows Admin Center Administrators: Users with this role can manage and view most of the WAC tools.
(b) Windows Admin Center Hyper-V-Administrators: Users with this role can manage Hyper-V virtual machines and switches. Their access to rest of the tools is read-only.
(c) Windows Admin Center Readers: These users cannot make any changes to the tools though they can view most WAC tools.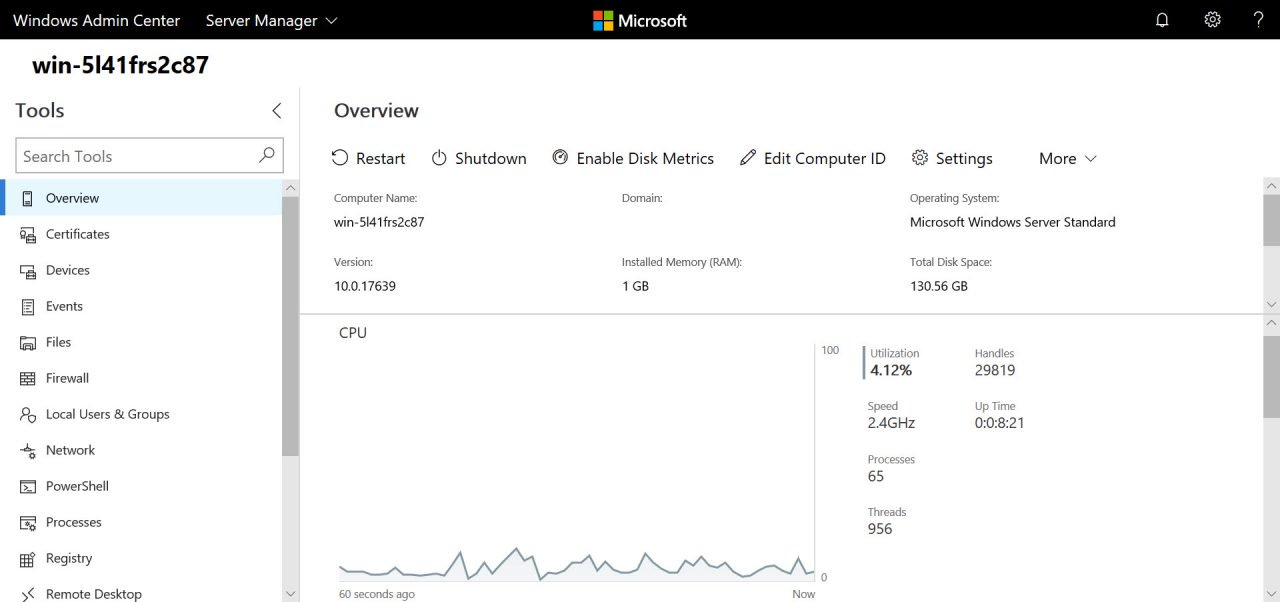 Benefits of using Windows Admin Center
Users can get a number of benefits if they use WAC. Here are some of the major benefits of using this tool:
Extensibility: The biggest advantage of using WAC is its extensibility. Even this tool has been built with the vision that developers from Microsoft and other third-parties can create tools and solutions apart from what WAC offers now. Using the SDK by Microsoft, tools can be developed for WAC.
Known Functionality: WAC users will find it easy to use as the app has some Windows Server management tools Admins are already using. The reason behind this familiarity is that WAC is a product of evolution. As WAC is developed centering Microsoft Management Console (MMC), it is normal for the users of MMC to find WAC's platform familiar.
Simple Installation Process: WAC is very easy to install and operate. Simply download and install on your Windows 10 system to start managing the very moment. Or, you may install it on the Exchange Server 2016 as a gateway. Thus, your whole organization can use it from their browser. Ultimately, it can be connected and used from anywhere.
Hybrid Capabilities: WAC has the power to manage both physical and virtual machines (running on both hypervisor or cloud.) WAC also contains Azure Site Recovery integration and supports Azure Active Directory.
More Secured Management Platform: Using Windows Admin Center will make your Management Platform more secured. Admins can now check all management actions that have been performed in their environment.
Availability and Compatibility
WAC is a completely free of cost service. Anyone with a valid Windows Server or Windows 10 can download and use this tool. It is compatible to run on upcoming 2019 version of Windows Server. Besides, Windows Server 2012 and newer version users will be able to run this app too. It also does not require Internet connection and Microsoft Azure. Only Microsoft Edge and Google Chrome are officially supported by WAC.