The Latest Windows 10 Update is Slow and Causes Blue Screen Death

Have you ever wondered why it is important to install the Windows update?
The answer to this question is very simple because the update will help to fix all the issues of Windows computer like network security, miscellaneous software as well as other common issue and bug can create computer vulnerability.
But what will you do when you update your system to get rid of all the vulnerability of your system? And you will find that the latest Windows 10 update causing the problem and it is the reason for your system slow down, blue screen death which is the greatest fear for all Windows users.
Therefore, in this article, we are going to discuss some of the latest Windows10 update issues 2020 that create some major issues for Windows users.
Windows 10 Update KB4551762
Windows 10 Update KB4549951
Let's start it…
Windows 10 Update KB4551762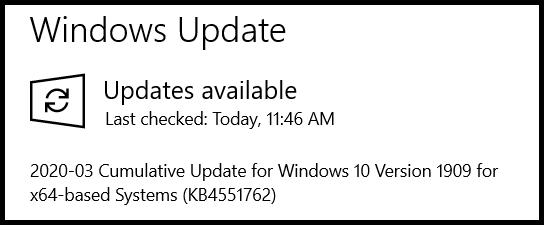 It is sad but it is true because according to user comments on Microsoft forum, Feedback Hub and Reddit, the latest Windows update KB4551762 which was released on March 12 is creating some major system issues like a black screen with a spinning circle of dots, system slowdowns, BSOD, audio problems, the app not starting and many more.
According to Microsoft, the update KB4551762 comes after a security vulnerability in SMBv3. And also they say that the latest release update of Microsoft server message block 3.1.1 protocol issue that provides shared access to file and printer. But besides resolving the bugs the new Windows 10 KB4551762 update creates more issues. Hence, when users notice all these issues, then to fix the issues they simply uninstall the patch.
Windows 10 Update KB4549951

We know that Microsoft is not a stranger to releasing an update that causes problems. So as their history they released another Windows 10 update that is KB4549951 on April 14, 2020, to introduce several security fixes.
But several users found that it introduces more problems than correct and they reported the problems on Microsoft forum and Feedback Hub.
Some of the main issues are listed below related to Windows 10 KB4549951 Update.
Some of the users getting installation issues,

Broken Bluetooth, Wi-Fi connectivity, Microphone issue, and Bad System Performance.

Microsoft's patch also causes error 'Blue Screen of Death' to appear on the screen, which is a complete system crash issue.

In addition to these major issues, users have reported files being deleted or moved to other folders following the update.
"This latest Windows 10 KB4549951 update is a disaster. After updating I have noticed that some of my files, pictures, documents which were saved in system drive are deleted and as well as my apps which I downloaded from Windows Store,"

User Review
The Bad News for Windows Users
As we know that the whole world is fighting from the COVID 19 pandemic. So, due to that Microsoft will hold all the optional Windows 10 updates for both client and server products. The Windows maker said that it has taken this decision to prioritize security and keep customers protected and productive during the ongoing Coronavirus global pandemic.
The company adds that it will only release the critical security patches. So do not need to worry about all the critical and security-related updates that will be released by Microsoft. 

Conclusion
In the area of desktop and laptop computers and the OS market, Microsoft Windows is a big name. Microsoft holds more the 70% market of computer operating systems globally. After reaching this stage Microsoft latest Windows 10 update still causing problems.