WhatsApp Launches 8 New Amazing Features in 2018
WhatsApp Messenger is a free end-to-end encrypted instant messaging and Voice over IP (VoIP) service. It is a versatile and feature-packed app that uses the internet to send messages, pictures, audio, video or document files. Due to its quick working speed, wide-ranging cross-platform support, voice as well as video call support and many other astonishing features, it is gaining more popularity among Android, iPhone, and Windows smartphones users.
WhatsApp investigates every possibility and updates its features regularly to keep increasing the user engagement via providing more New Whatsapp Features to its users. Currently, WhatsApp has 1.2 billion users and it is diligent in launching the new features for making the online communication more feasible. As WhatsApp is laden with many eminent features, however, it is more important to stay in touch with the latest features that are added to it. Hence, in order to update users, we have compiled some major features that WhatsApp has unveiled in the year 2018. So, let us get started with New Whatsapp Update.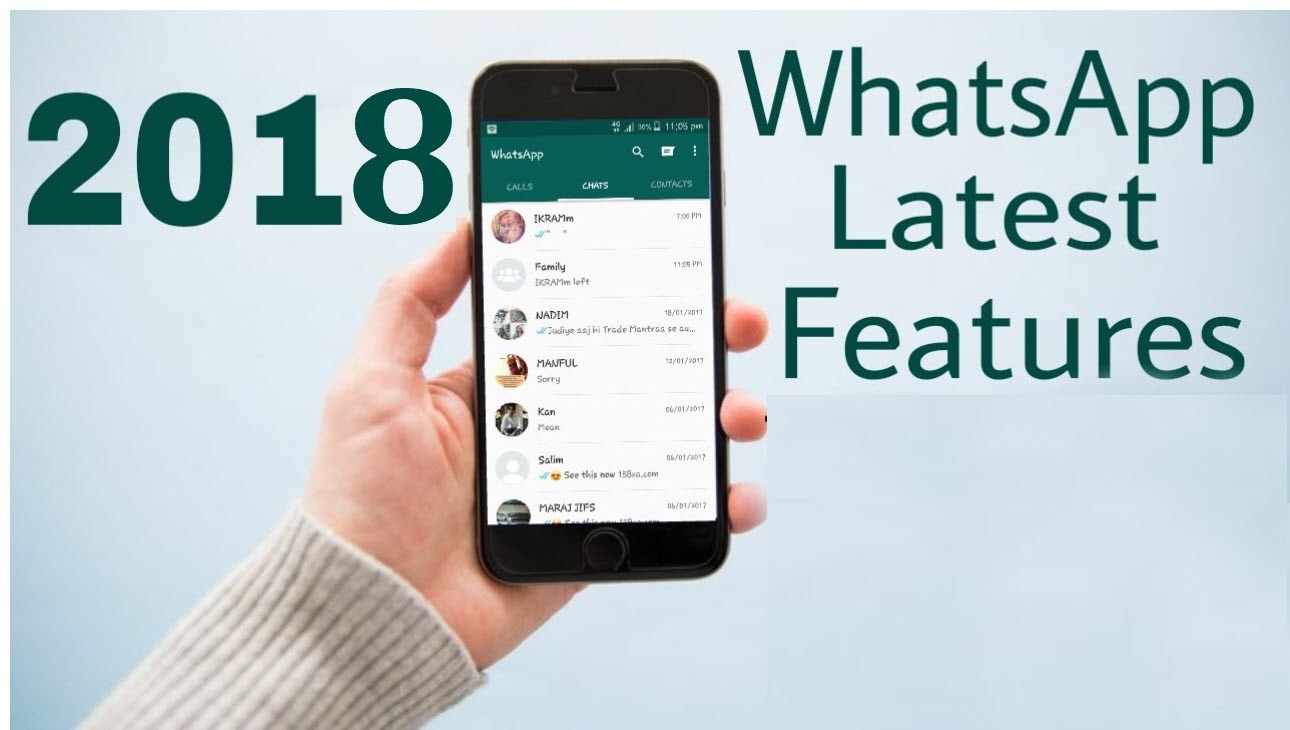 Some New & Upcoming Whatsapp Features in 2018
1: 'Saved Voice Messages' Feature
WhatsApp has revealed a 2.18.123 Beta feature for Android phone users. This freshly updated feature is named as 'Saved Voice Messages'. Till now, while using the voice recording feature of WhatsApp, you were not able to leave the chat window without losing the whole voice message that was recording. But now, if you are recording an audio file to send someone and something happens during this and you have to leave the recording in middle then, this New Whatsapp Update will save the voice recording file. This will make utilizing the feature extremely convenient as you would not need to re-record everything once again. To access the previously saved audio messages, just navigate to the chat screen, and you will get all the recordings there.

2: Add Time and Location Stickers
WhatsApp has rolled out one New Whatsapp Update for iOS and Android versions: Add Time and Location Stickers. This feature of WhatsApp allows to add the location and time stickers to any picture or video while sharing. Users just need to choose an image from their smartphone gallery and afterward tap on the smiley symbol in the application. Then, users will get a dial clock or time sticker that will display the time and location. After that, you can tap on the sticker and share the photo or video with your companions. iPhone users can share these media files with both individual and group chats.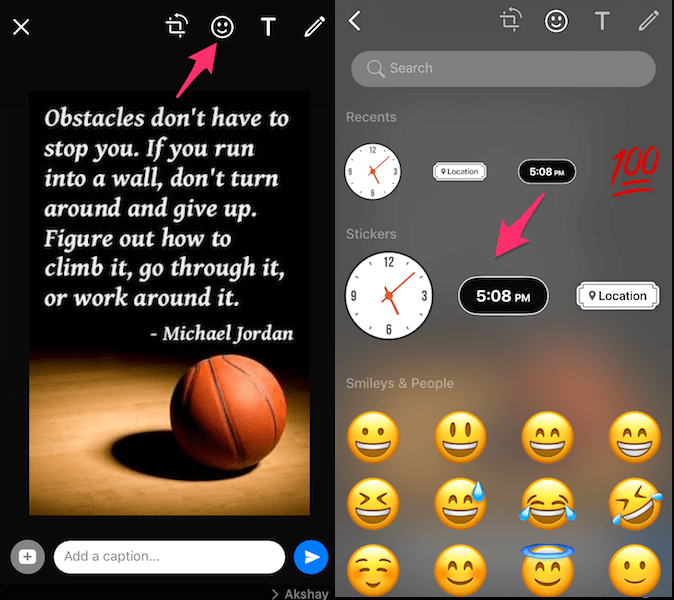 3. 'Restrict Group' feature for Admins
The "Restrict Group" is one of the New Whatsapp Features for Android, iOS, and Windows Phone gives the power to group administrator to restrict group members from sending messages, images, videos and any other data item in the group. The Restricted WhatsApp group, force every group member (else Admin) to stop chatting. Only the group admin will be allowed to send any message to the group after using this New Whatsapp Update and all other members will only be able to read those messages. Only group admins can enable the Restricted Group Settings. This function disables all the chatting features for non-admins, that means no one will be able to send anything to the group, except admin. If a non-admin member really wants to send anything to the group then, they can use the Message Admin button. After that, when the Admin will approve the message then, it will be transmitted to the group.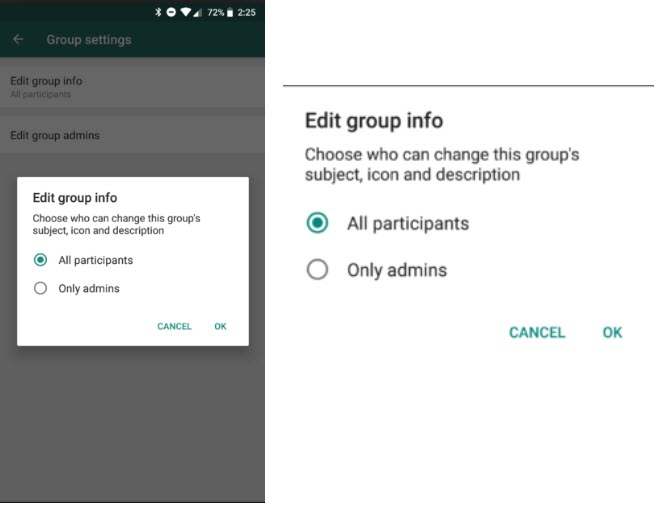 4. High Priority Notification
The 'High Priority Notification' is a New Whatsapp Feature is available only for Android beta users. This feature is similar to pinned chats feature and it is designed to help users to manage push notifications in the better way. Via this, any incoming notification can be pinned on the top of user notification center. This New Whatsapp Update is available for private and group chats. One can enable the 'High Priority Notification' feature, from the Notifications Settings menu. There are many smartphones that comprise other applications with the similar feature, in that case, the notifications will be displayed in a chronological order. This feature is located in the notifications setting in the WhatsApp version 2.18.117 on Android.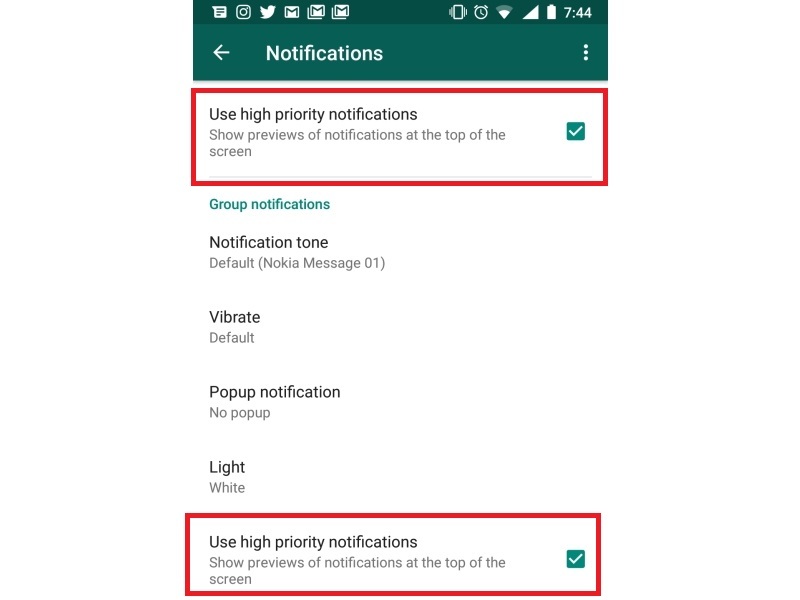 5. Re-download old images and videos
WhatsApp for Android beta version 2.18.113 allows to re-download old images and videos and this feature is currently not available on iOS. Now, users can re-download the deleted media from their servers. Media files of three months ago can also be re-downloaded. This means WhatsApp continues to save our media on their servers even if the user downloads it. This is a great feature to recover files that you have accidentally deleted from the WhatsApp album. It is essential to note that the re-downloading feature is only available for the files from chats that have not been deleted. If user binned the original conversation, after that all its content will vanish away.
6. Enable Group Calls
Whatsapp in Upcoming features is extending its voice Call & Video Call feature to an entirely new level with this New Whatsapp Feature "Enabling Group Calls". Currently, Whatsapp supports to provide person-to-person conversation only. In Upcoming beta version, Whatsapp is going to include this Group Call features to enable group conversations for its users.
7. Switch from Voice to Video Calling Mode
In Upcoming Whatsapp Features, you will be getting a New Whatsapp Update where you can switch instantly from voice call to video call without any interruption in current call, You will be provided with an option which will enable you to switch between two Mode
8. Export Instagram Stories to Whatsapp
With Recent changes in Facebook, that allows users to export Instagram stories into Facebook. Whatsapp is also introducing the same to its new set of features. Since Whatsapp & Instagram run differently on 2 different verification, one with mobile number & latter with email-id. This Upcoming WhatsApp Feature will be enabled by a code which will link it to other Third Party Application.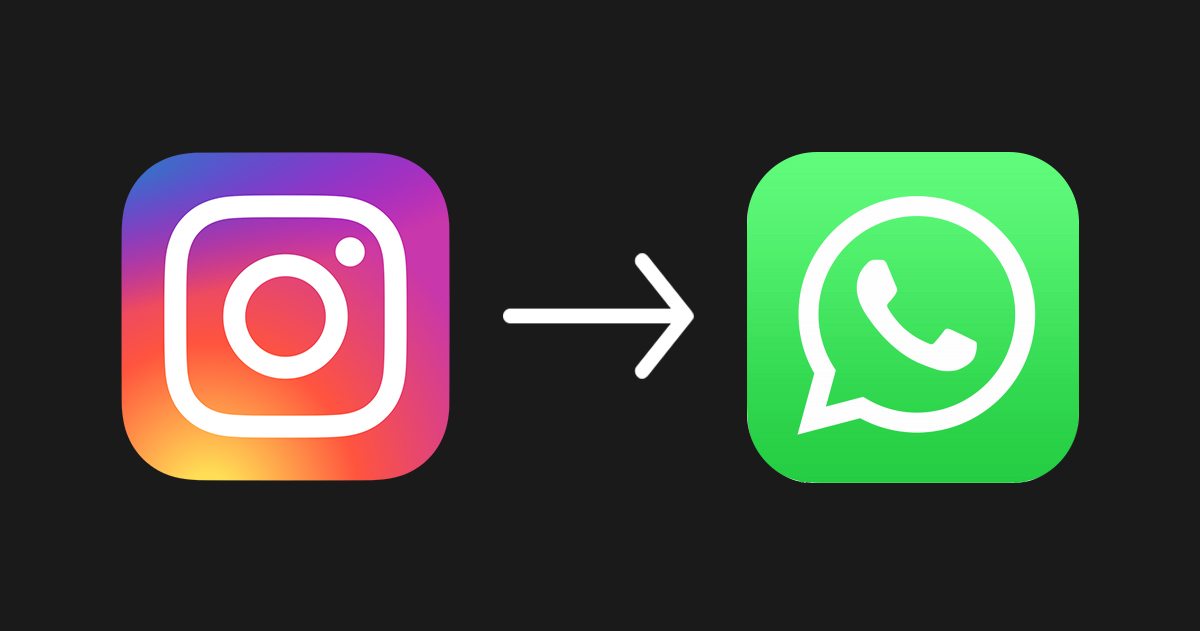 The Final Words
In the above blog, we have discussed some New Whatsapp Features that were released the year 2018 and how these New Whatsapp Update will be useful for users. As WhatsApp adds many new features to make it handier so, now users can enjoy the online communication from mobile as well as computer devices.