How to Unlock PDF for Copying – Remove Copy Paste Protection
"Can anyone tell me how to remove copy and paste security in Adobe PDF or how to unlock PDF for copying? I have downloaded several PDF files online and need to prepare a final note. Unfortunately, all the files are copy-protected or restricted, which means I am unable to copy anything from those files. It is not possible for me to manually type all the data from those files. Therefore, I decided to unlock PDF for copying content. Please suggest any solution for the same."
"I am a Mac OS user, and my task revolves around PDF file data. Some days ago, I came across some old business reports that I have to upload on our official site. But those files are copy-protected PDF files. Since these files were created by old employees, the passwords are not retrievable. Can anyone tell me how to remove copy protection from PDF documents on a Mac? If you know, kindly tell me."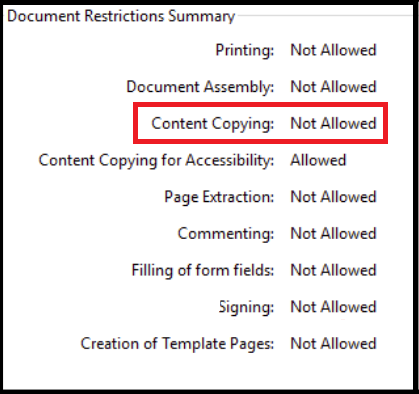 In any document processing, copying plays an important role. The same thing applies to PDF file, which is a popular format of document management. PDF file users often need to copy the text/data from PDF files and move to other places. But the problem arises when the owner of the PDF file restricts the copying action and the users are unable to copy from PDF. Do not worry, as we will introduce some reliable solutions to this problem. Read on to know how to unlock copy paste in PDF without password.
Quick Steps to Unlock PDF for Copying
Download the unlocking software.
Click the Add Files or Folder button to select the PDF file.
After that, click the Change button to select a location.
Click on "Unlock" option to unlock PDF for copying.
How to Remove Copy Protection from PDF Document?
Users can choose from manual and automated methods to  to perform the task. Here, we will describe both so that users can choose as per their needs.
Unlock PDF for Copying  with Adobe Acrobat Pro
If you are a subscriber of Adobe Acrobat Pro, then you can use this manual technique by following these simple steps:
Open the PDF file with copy restriction with Adobe Acrobat Pro.
On the top left corner, click on the Lock icon.
Select "Permission Details" and in the "Security Methods" menu, choose "No Security".
Enter the Permission password and after that restrictions will be removed.
Now save the file at any desired location.
The biggest disadvantage of this method is that the users need to know the permission password.
Best Alternative Solution to Remove Copy Protection from PDF
In case you do not know the password used to set up the copy restriction, go for SysTools PDF Password Unlocker Software. This application can easily remove all types of restrictions, including copy restrictions. And it does not require you to enter the password.
So, this is a program that does not need password for restriction removal. If you are a newbie with little or no technical experience, you can use this software. It includes an interactive user interface that does not require technical knowledge. Any technical or non-technical user can easily remove copy protection from PDF file using this software.
Working Steps of this Software
1: Launch the software to unlock copy and paste in PDF on Windows & Mac.

2: Select and add a PDF file.
3: The tool will load the file and display the available permission status.
4: Choose the location to save the file and click on Unlock.
5: The file will be unlocked and the current restriction status will be displayed.
So you can see that in five short steps, you can remove copy paste protection from PDF files from copying, printing, editing, etc., restrictions. Now let us know why you should choose this software for restriction removal.
Top Features of the Software
Remove All Restrictions: This tool can remove any type of restriction enabled in a PDF file including copy, print, editing, signature, form fill up, comment, and extraction.
Password not Required: This robust software can unlock PDF for copying without asking for the restriction password. This is helpful when you forget the owner level or permission password.
Cost-Effective Software: This application is available at an affordable rate. It is available in three different licenses.
Batch PDF File Unlocker: If you purchase the Business or Enterprise license, you can unlock multiple PDF files in a batch.
Preview Permission Status: Before and after unlocking, the tool will display the current status of all the permissions.
Data Integrity Retention: While removing restrictions, the data integrity of the PDF files is completely maintained.
Final Words
If you are looking for trusted methods to unlock PDF for copying text, this is the right blog for you. Here some commonly used methods have been discussed that allow you to copy-paste text from locked PDF documents. The manual technique requires the original permission password, which is often unavailable. Therefore, you should use the professional software described in the blog. This application can efficiently unlock copy and paste in PDF along with printing, editing, commenting, signing, etc., without asking for a permission password.
Frequently Asked Questions
Q: How to unlock multiple PDFs for copying?
The best way to remove copy protection from PDF files in bulk is to opt for the professional software. Adobe only processes one PDF at a time for this task.
Q: Is it possible to use Adobe Reader to unlock PDF for copy-paste?
No, you need to upgrade to Pro DC. Because Adobe Reader only helps in reading PDF files.
Q: Along with copying what are the other restrictions that I can remove?
Printing, editing, signing, commenting, form filling restrictions can be removed.