100 Million Quora Users Lose Personal Data in a Latest Data Breach Attack
The World has seen another attack on mass personal data as around 100 million Quora members faced data breach. Quora is a question and answer website where anyone can ask anything, but to answer, you need to have a Quora account. Now, in the latest data hacking attack, these Quora account holders faced a severe data breach. Quora authorities sent this following message to their 100 million users when Quora data breach was detected:

Though the Anonymous Quora users are safe, account holders need to go through a round of password reset. Quora asserted that account settings, personal information, and activities, as well as any imported data from linked networks like Facebook or Google, have been hacked. Quora also claimed that "it is confident that no partner's financial information has been compromised." They have also claimed to have identified the main cause of the Quora data breach and "has taken steps to state the issue, although the investigation is ongoing and we'll continue to make security improvements."
What Got Compromised in Quora Data Breach
If you are wondering what exactly this data breach may have cost your privacy, here is the list of things that got breached, as per Quora:
Information about users and their Quora accounts: name, email ID, user ID, IP address, encrypted password, other personal data, settings of Quora account.
Public activities and contents: questions, answers, comments, blogs, drafts, upvote.
Imported data from a user authorized linked networks: contact and demographic information, interesting topics, an access token (invalid now).
Non-public activities and contents: Downvotes, thanks, requests to answer personal messages, editing suggestions.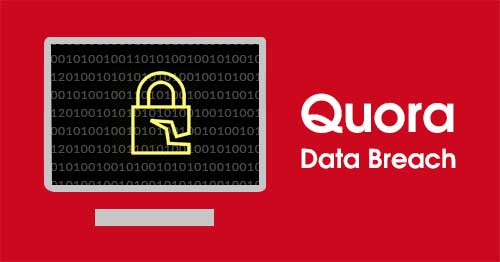 How to Know If Your Quora Account Has Been Hacked?
In case you are wondering if you are among the unfortunate ones, here is a way to know. Try logging in to Quora, and if your data has been compromised, you will be asked to log in again by resetting your password. Besides, Quora said that they have informed all the affected users and will notify the users by email if anything new comes up during their ongoing investigation regarding Quora data breach.
What to Do If Your Quora Data Got Compromised?
If you have been confirmed by Quora about data compromise, you must change your Quora password at once. However, we suggest every Quora user change their respective passwords. If you use the same password for other websites, you need to change those too for the sake of your security. Try using different passwords for every website. As Quora doesn't collect credit card information or social security numbers, you may not need to worry about any identity theft.
Previous Instances of Quora Data Breach Email
Quora is the latest company to fall prey to the data breach attacks. Only a week ago, hotel chain Marriott customers got informed that the hotel database faces an attack and their data is at risk. Marriott authority has also taken legal actions in this matter. Earlier, Uber and Facebook faced such attacks and personal information of millions of worldwide customers was compromised.
How to Remain Safe from Data Breach?
Data Breach has become such a common incident these days that it is simply impossible to become remain out of its scope. So, what we have to do is to take the maximum precaution on our behalf. Choose a password that is easy to remember but is difficult to easily guess. Apart from this, do not use your birthdate, contact number, credit card number, social security number or any other personal identifier as your password.
Also, setting a unique password for each and every website account is the one rule you need to abide by. Whenever possible, turn on two-factor verification feature. We also recommend you to use a dedicated email id for password recovery of all of your accounts. Make sure that same ID is not being used for any other purpose and does not contain information that works as your identifier.
Concluding Words
Living in today's age means accepting the fact that your online data is not safe anywhere. Since we cannot trust the companies regarding data security, it comes down to us to ensure maximum security possible for the data. As users, we need to understand the value of our personal data and keep them safe from hackers. Even if it means providing incorrect personal information, so be it.