'Outlook Mobile Gets New Enterprise Management Features' Announced at Ignite 2018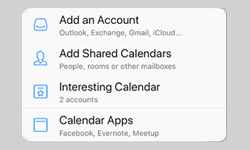 Outlook is a feature-rich and efficient email client used on both personal and professional level. Nowadays, usage of Microsoft Outlook's apps is also increasing day by day. Thus, to provide more ease of use to the Outlook app users, Microsoft has announced some change to improve Outlook Mobile and make it an enterprise-first solution.
Microsoft is going to add several new enterprise capabilities for Outlook mobile with support for Microsoft Information Protection native labeling, Microsoft teams integration, improved mobile device management, miscellaneous calendar, notifications, sharing improvements etc. Lets us check out the features which are going to be integrated into Outlook Mobile.
List of New Features of Outlook Mobile
In the below-mentioned section, we are going to introduce some features which are going to be added in Outlook Mobile by Microsoft. This will make Outlook Mobile more user-friendly and high-performance application.
1. Sensitivity Labels
With sensitivity labels, the user will be able to classify and label Outlook mobile emails. This helps to make sure that any sensitive information is handled with compliance with organization policies. Microsoft Information Protection native labeling in Outlook is going to be introduced by Microsoft for both iOS and Android users. This will help to implement a common set of protection policies and actions across Microsoft 365 apps. By the end of this year, this feature will be available in the preview to commercial Outlook mobile customers.
For Example, the administrator can specify the custom sensitivity labels such as General or Company Confidential. Additionally, specifying some corresponding actions such as adding a footer to emails or encrypting emails etc. On the other hand, the user will be then able to add a 'Company Confidential' label to the email so that it can only be opened by recipients who are permitted to decrypt the message.
2. Only Corporate accounts are added to Outlook Mobile
Now, the admins can ensure that only corporate account is added to Outlook mobile. This helps the employees to eliminate the risk of using personal accounts on company devices. The admin can specify the type of account allowed. For instance, the admin can specify the corporate email and OneDrive for Business accounts are allowed in Outlook mobile.
3. Scale Deployments and Enforce Consistency
As an admin can you sync contacts to a corporate server? Log in using TouchID or fingerprint reader? Like Focused Inbox? For a admins working in an organization, all these options become very important. Now, the admins will be able to customize Outlook mobile configuration settings such as sync, contacts saving, biometrics and even mailbox option same as Focused Inbox.
4. Faster Account Setup
Microsoft Outlook Mobile will soon be able to provide faster account setup for modern authentication capable accounts. This feature will ensure that employees make use of the correct work account setup information to get them up and running with Outlook Mobile in no time. Moreover, a new app configuration policy interface in the Microsoft Intune (Microsoft's cloud-based management solution) has been refreshed with the ability to push account setup details for Exchange customers.
5. Scanning via Office Lens
For Android users, Microsoft is providing Office Lens feature, using which the user will be able to snap pictures of whiteboards, papers, photos, and business cards. After that, the user can also extract the relevant data from them automatically. This is Microsoft's artificially intelligent document-scanning technique.
6. Marking Favorites for Notifications
Do you want to be notified when your boss sends you an email? If yes, then you will like this new Microsoft Outlook feature. With this feature, the user will be able to prioritize notifications from select contacts by marking them 'favorites'.
7. Calendar Sharing and Search
Microsoft will also provide new Calendar feature to Mobile Outlook. This feature will help them to get more information from the calendar only. Such as company events, workers who are out of office, booked conference rooms, team sessions etc. Moreover, online teams meetings will become part of calendar events in 2019.
Summing Up
Microsoft always works to provides best when it comes to technology. Recently, Microsoft has made an announcement that Outlook mobile gets new enterprise management features. Thus, in the above section, we have explained some of the features so that all the Outlook Mobile users can get an idea about the new features and improvements in Outlook Mobile.