How to Open Attachments in a PDF File?
Adobe Reader (formerly called Acrobat Reader) is the only PDF file viewer software that helps users to open and interact with any kind of PDF content. Thus in order to open and view PDF files, any Adobe Acrobat edition is to be installed in the machine. The topic of discussion here is how to view and open attachments in a PDF file. The PDF format carries embedded attachments and that attachment can be anything. It can be a PDF itself, XLS/XLSX, and DOC/DOCX, PPT/PPTX file, image files, or even file types from different email platforms.
However, once the user converts any emails to PDF format, they can open and view that email in PDF format, but to open the email attachment, they need the specific application that supports that attachment. For e.g. if the user wants to open an XLS file that is attached in the PDF then the machine should have an Excel application running. Now, in the up-coming section, we have discussed the steps to view Adobe PDF file attachments. So, let's get started.
How to Open and View PDF Attachments?
If users want to know how to open attachments in a PDF file then they can easily open & view them with a supportive application like Adobe Acrobat Reader.
Visual representation of the process to open / view PDF attachment is given below, enjoy!
First Open PDF file you have saved anywhere in the machine by using Adobe Reader.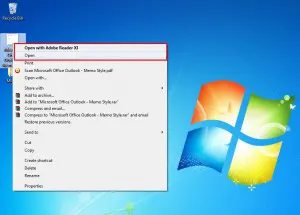 Click on Attachment Icon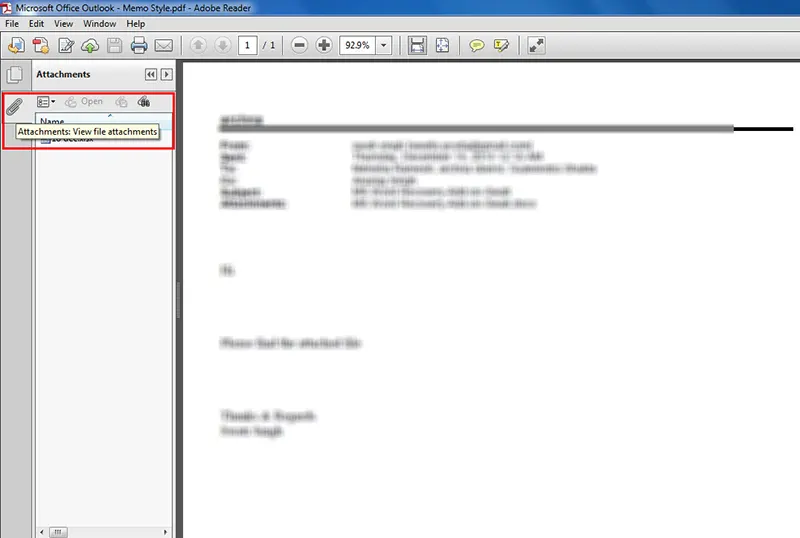 Clicking on the attachment icon will display all the attachments that are embedded in the PDF.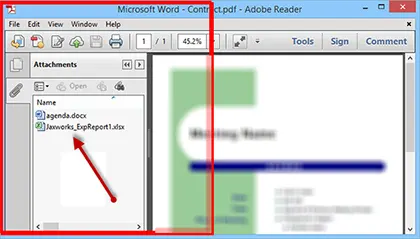 Select any of the attachment, right-click on it and it will display the options to complete the PDF attachment view process initiated. 3 options will be given as Open attachments, Save Attachments, and Search Attachments.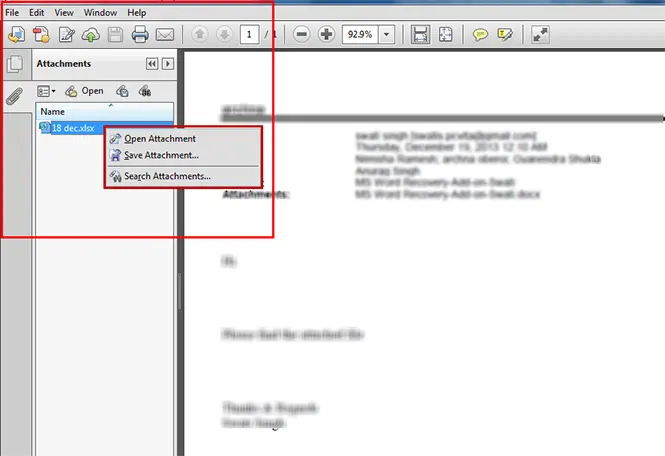 Select Open Attachment option and get into the warning message about the risk of opening the attachment with 3 options provided
Open this file
Always allow opening files of this type
Never allow opening files of this type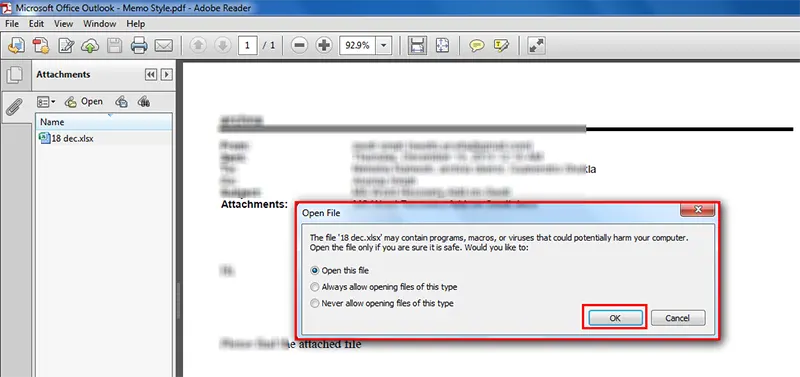 Select Open this file option and click OK to open and view PDF attachments easily.

File Attachment Annotations
From the earlier version itself (PDF 1.3), PDF supports file attachment annotations, and this help user to transform any needed document to PDF attachments. Attachments can include links or any other kind of file format. Once the PDF is created with attachments, the user can open and save that file. The process of opening any attachment from PDF works like, once the user open the attachment, it will automatically run the application that supports the file format. So it is said to open and view an attachment the related application should be installed in the machine. Now let us see how to make PDF attachments visible?
Considering the security risk of opening file formats as they can contain a malicious virus, Adobe had added some file formats to the blacklist that include EXE, INF, RAR, VBS, and ZIP file like formats that will not be opened on any attempt. So if you have any of these file types as a PDF attachment, then sorry to say, Adobe will not help you to open them.
How to Make PDF Attachments Visible?
When users open attachments in a PDF file, it will be displayed in the attachment pane by default. If you are unable to view PDF attachment then you can follow either of the two processes mentioned:
 Click the View>> navigation pane>>select show attachments>> select attachment from attachment Panel>> open it
 Choose File>>Properties>>Initial View Tab>>Attachment Pane and Page>>Show Menu >> Click OK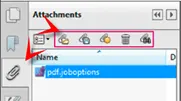 PDF Attachment Icons
PDF indicates the attachments embedded in it through attachment icons. Those icons represent the type of file format that has been attached to help users define the supportive application to open it. 4 icons are generally proposed by PDF for Graph, Paperclip, Pushpin, and Tag. When users click on any of the icon displayed, then Adobe will automatically run the application to support viewing the file content.

Different versions of Adobe have shown the attachment icon in different locations of the screen. Some of the screenshots to find and view Adobe PDF attachments are given below.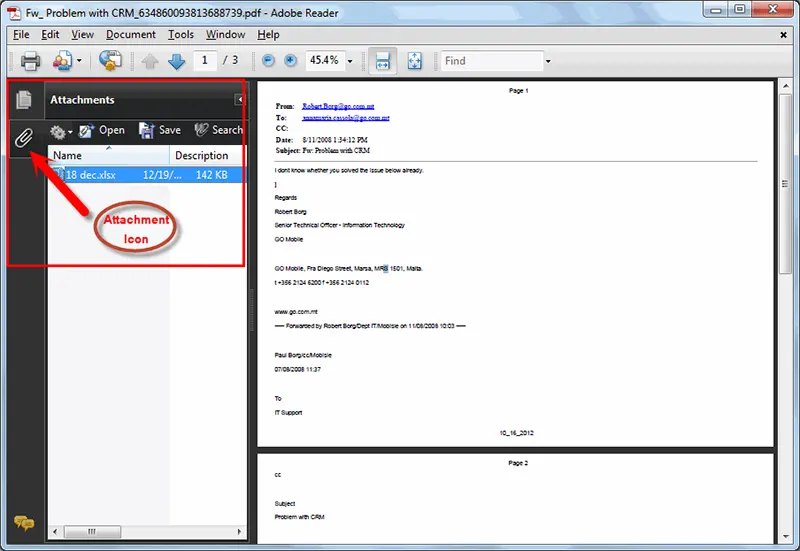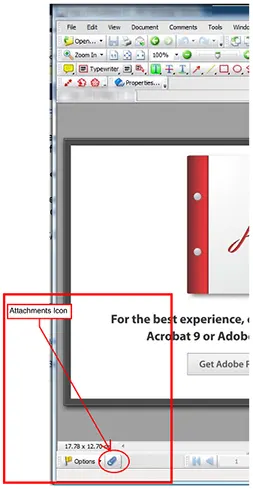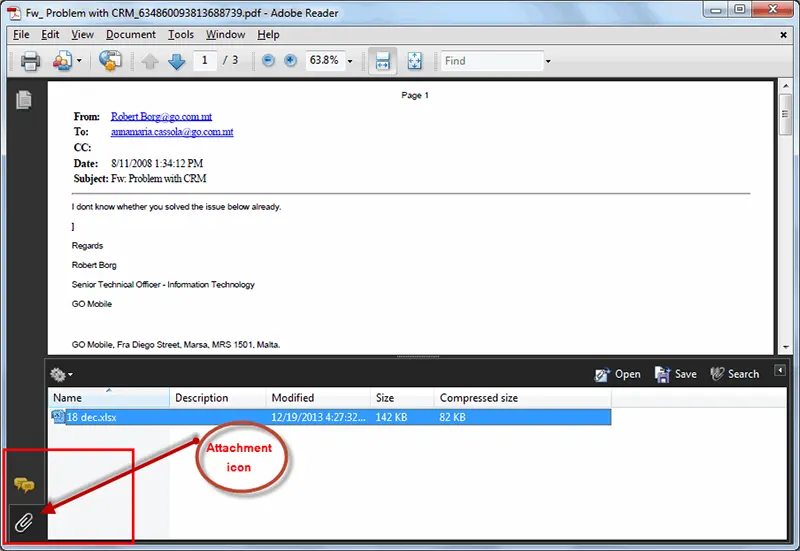 The steps to open and view PDF attachment stays almost the same on any version of the Adobe Reader you are working with. The only thing you want to find out is where is the attachment icon available and then proceed as directed. PDF format saved data is easy to manage and transfer and most of the legal documentation process demand the data submission in PDF format. So, if you converted any said email file type of other databases into PDF format, get the PDF file attachment viewed and opened as mentioned. Now, what if you want to download PDF attachments?. The answer to this query is mentioned below.
Best Solution to Download Attachments from PDF Documents
PDF Attachment Extractor Tool provides the functionality to download all or selective attachments from PDF documents. It is a highly professional program that makes it easy for users to download PDF attachments. Users can free download the demo version of the program from the below-mentioned button to save attachments from PDF documents.
Advanced Features of the Software
1- Option to download PDF attachments of the specific size
2- Provides Include/ Exclude filter to save selected attachments
3- Gives the option to save all attachments in a single folder
4- Provides the support to download attachments from known password-protected PDF
5- Allows to save extracted pictures in PDF, PNG, GIF, TIFF, etc.
6- Provides support to extract data from multiple Adobe PDF files
Steps to Download PDF File Attachments
Follow these simple steps to save attachments from PDF documents:
1- Launch the software & click on "Add Files / Add Folder"

2- Choose the destination location by clicking on "Change"

3- Choose the "Item type" as Attachments & apply filter

4- Finally, click on "Extract" to download attachments from PDF
When it comes to download attachments from secured PDF file SysTools PDF Unlocker can turn helpful. It's because the tool comes with inbuilt abilities to remove any kind of restriction for PDF files.
And, if the user wants to recover data from a corrupted/inaccessible PDF file then SysTools PDF Recovery tool can be the choice. Both tools are made up of perfect algorithms for better  PDF Management. They are highly used by legal professionals and other Govt bodies for any kind of data submission process.
Conclusion
In this write-up, we have discussed how to open attachments in a PDF file. Also, we have covered the steps to make PDF attachments visible. Moreover, if any user wants to download attachments from PDF files then, for that we have covered the professional tool. The software is efficient enough to download PDF attachments in batch.