Office 365 Admin Center is Soon Becoming Microsoft 365 Admin Center
Lately, Microsoft has announced that it is switching Office 365 Admin Center users to Microsoft 365 Admin Center. As Microsoft 365 has now become a complete IT solution that includes Exchange Online, Windows 10, and Security as well as Enterprise Mobility to empower organizations to collaborate and work simultaneously. Before this, Microsoft declared another update that the Microsoft 365 admin center turns into a central location to manage and monitor services, database, devices, applications, and the users across Microsoft 365 deployment. Both Office 365 and Microsoft 365 users can now access new Microsoft 365 admin center. Right away, for O365 administrators it becomes an easier experience, which incorporates with other Microsoft services even without compromising with the control and capabilities.
During this change, the URL links of Office 365 Admin Center management portal will become exchanged out for admin.microsoft.com address. Then, this link will take users to Microsoft 365 admin center management portal as an alternative.
What's New in Microsoft 365 Admin Center?
In case if you have utilized the Office 365 administrator center previously, the experience will feel fundamentally very same. You will find that the navigation is the same with a similar granularity of administration over the environment. Also, there are no modifications in O365 charging and subscription. When you will add new apps and services such as device management then, all those will illuminate in your left navigation screen. Above all, now you will receive all the most recent admin center updates and highlights as they end up accessible.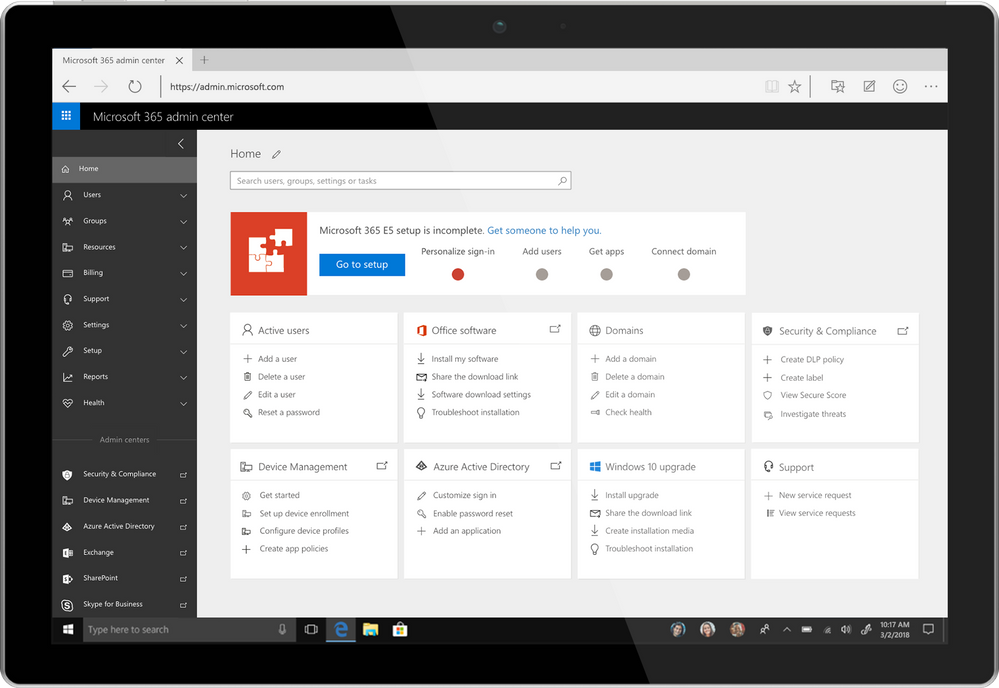 This is the new front entrance to manage and monitor all your Microsoft 365 services and Office 365. However, the new Microsoft 365 Admin Center still incorporates the links for all the specialty admin applications for the services such as SharePoint and OneDrive handily that are coupled in the left navigation pane. At the present time, Microsoft's cloud services experiencing the ill effects of "portal sprawl". Off the highest point, and relying upon what users have subscribed to, the clients just need to isolate entries for the following services:
Office 365
Exchange Online
SharePoint Online
Microsoft Teams
Security & Compliance Center
OneDrive for Business
Skype for Business Online
Bookings
Power BI
Microsoft Stream
Flow
Windows Defender ATP
Azure ATP
PowerApps
StaffHub
Azure (with Azure IP, VMs, Intune, Azure AD, Security Center, and more)
New URL: Same Incredible Experience
For acquiring the new admin center experience, users just need to point their web browser to admin.microsoft.com. Now, this will the new front entryway to manage and control all the Microsoft 365 services and Office 365.
As there are some advantages of independent teams that have control over their admin experience but, it is still better for consumers to have the capacity to accomplish more in a single portal. Eventually, the services included under the Microsoft 365 product branding (such as O365, EM+S, and Windows 10) ought to be manageable through a single portal interface.
More to Come Next
Entry of the Microsoft 365 Admin Center for the organizations will rely upon when it represents the particular Office 365 tenancies or when the Office 365 Admin Center URL of Microsoft swaps out. Microsoft has also announced that in next few weeks they will update the admin center links across Office 365 to utilized new admin.microsoft.com address. Well, it was not stated in the declaration that Microsoft is going to retire its Office 365 Admin Center. So for now, there are no big modifications.