Don't Miss Out These Major New Updates Made by Google!
Google, the search engine giant always keep on updating new features to let users have better experience. Time to time, the new updates offered by Google are always meant to ease down the work of its users. This time to improve the user's experience, Google has introduced some exciting features in Google Drive, Google Docs, and Google Sites.
Now, without letting you guys wait too much, we are going to share all new G Suite updates with the help of this blog.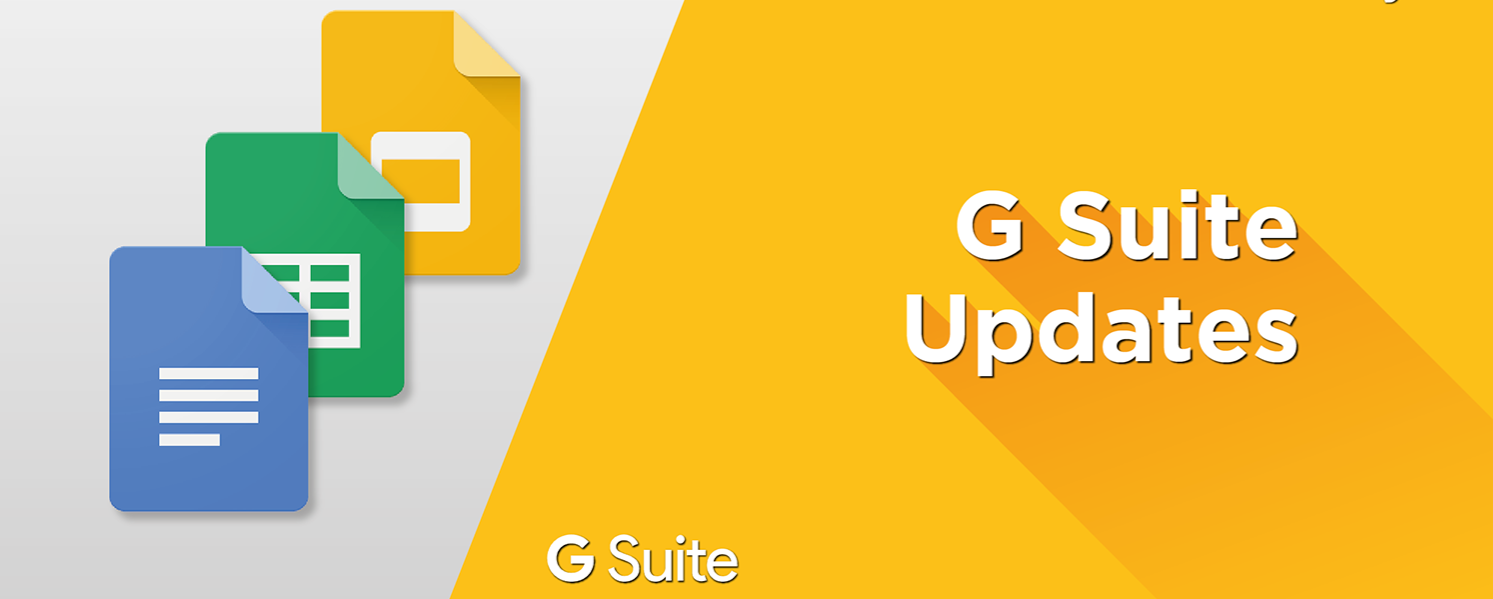 #1: Google Drive "Intelligent Search"
Google has developed an intelligent search filter in Google Drive that let you all look and filters the data in a quick and efficient manner. As you click on the search box in Google Drive, there are multiple options to enhance the search experience.
Suggested Search Queries: On suggested search queries, you can click on a term directly to search for it.
Top Collaborators Name: You can click on any of the names to search for the files that you have collaborated with them.
File types, priority item, and more: In the last, shortcuts for the file types, edit history, priority items, and others are displayed. You can click on any of them as per your choice.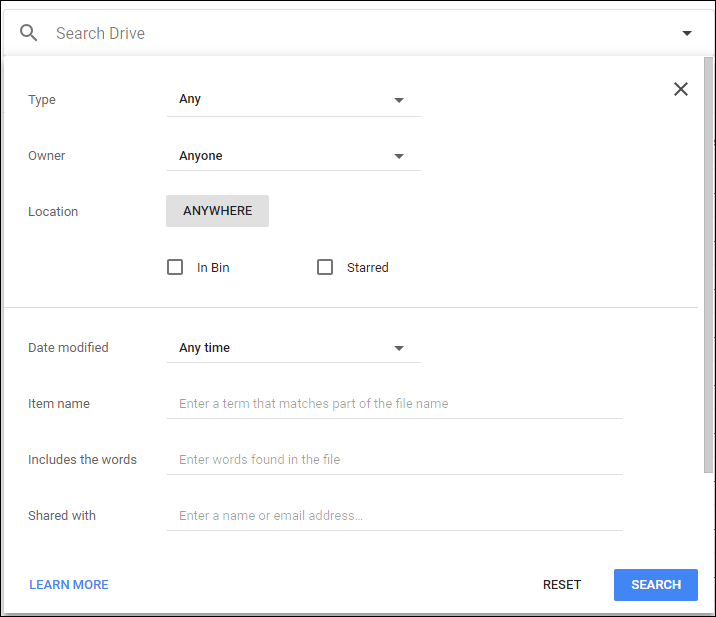 Apart from this, an Advanced Search option is also offered by Google as you click on the search box of Google Drive. Here, you are allowed to search in a smart way by filling the following sections:
Type: Here, you can enter any file type like photo, documents, audio, PDF, etc.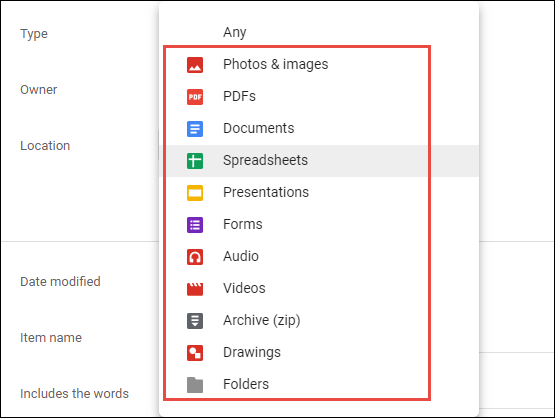 Date modified: You are allowed to search for a file according to the date of modification like today, last 7 days, etc.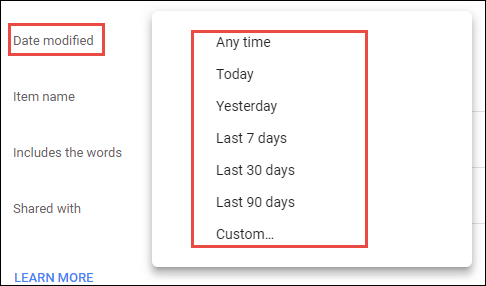 Item name: In this field, you can enter the name of the file for quick results.
Has the words: You can perform a search for some specific words or phrases in the documents.
Owner: You can search by the owner of the file also like owned by me, the specific person, etc.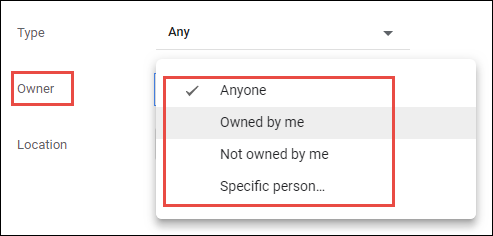 Shared with: Look for file or folder that can be either view or comment or edit by any specific person.
Location: Look for the file in any particular folder of Google Drive like Trash, Starred, My Drive, Shared with me, etc.
Follow up: Search for the file that has Action items assigned to you or Suggestions you own.
After entering all known information, click on the Search button to get the refined searched result.
All these filters can be used to perform advanced machine learning in order to guess what you like to use. The main motive of Google is to improve search results over the time that you can find files without even remembering the specific name or keyword also. It is available for all G Suite editions.
#2: AI Powered Grammar Checker in Google Docs
Another impressive feature offered by Google is artificial intelligence powered grammar suggestions in Google Docs. With the help of machine learning translation techniques, it will become easy for the Docs to find out tricky and advance grammatical errors. It means now along with spelling and grammar check, it is capable to detect complex grammatical errors also and provide suggestions related to same. Make sure that this facility is available for business users only.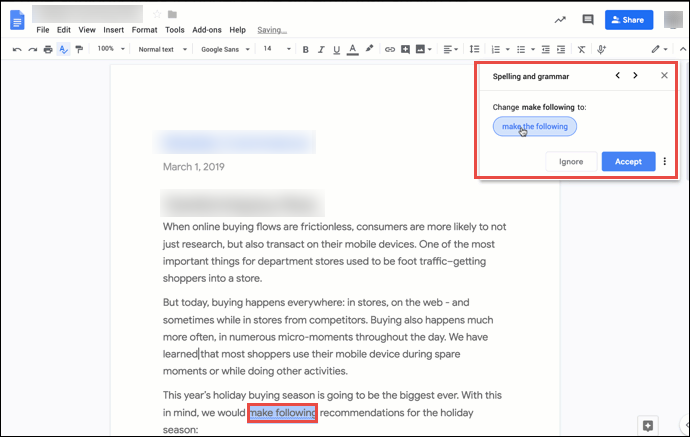 #3: Insert Table of Contents in Google Sites
While preparing a big page in Google Sites, inserting a table of contents will make navigation easy for the users. Therefore, Google now provides an option to insert Table of contents in a page only by one simple click. It will automatically update heading and subheadings as the content is added in the page. When an editor adds or modifies the content or structure of the page, the table of contents will get updated accordingly. This will make maintenance of page very easy and help the editor in organizing content, which is easy for the user to read and understand. However, whenever a user wants, he or she can change the table of content style or remove it according to the requirement. Like all above features, this is also available for G Suite editions.

Final Thoughts
Google always tries to make its users happy and have a great experience while using its services. Therefore, understanding the requirement of users, it keeps on updating the multiple services by adding new enhancements. This time Google has offered new features like intelligent search in Google Drive, AI-powered grammar checker in Google Docs, and insert Table of contents option in Google Sites. All these features are available in different editions of G Suite. This blog has covered all major points related to these new G Suite updates.