Learn What is New in Thunderbird 60: Everything about Thunderbird Features
Thunderbird is a desktop-based email client powered by Mozilla Foundation. Despite being completely free of cost email service provider, it contains many exciting features. Recently, version 60 of Mozilla Thunderbird has been released and it created quite a stir among the users. People are curious to learn what does this updated version contain. Here in this blog, you will find all the information about the new features in Thunderbird 60. Let's begin straight with its latest look.
Brand New Look: The latest update of Thunderbird comes with a new look, that is called the Photon look. All the tabs are square shaped now. There are some inbuilt themes (both light and dark) available with this version. Multiple themes are also available for chat and users will have the WebExtension themes enabled in Thunderbird. The updated version also contains a new Thunderbird logo that will surely give a fresh look.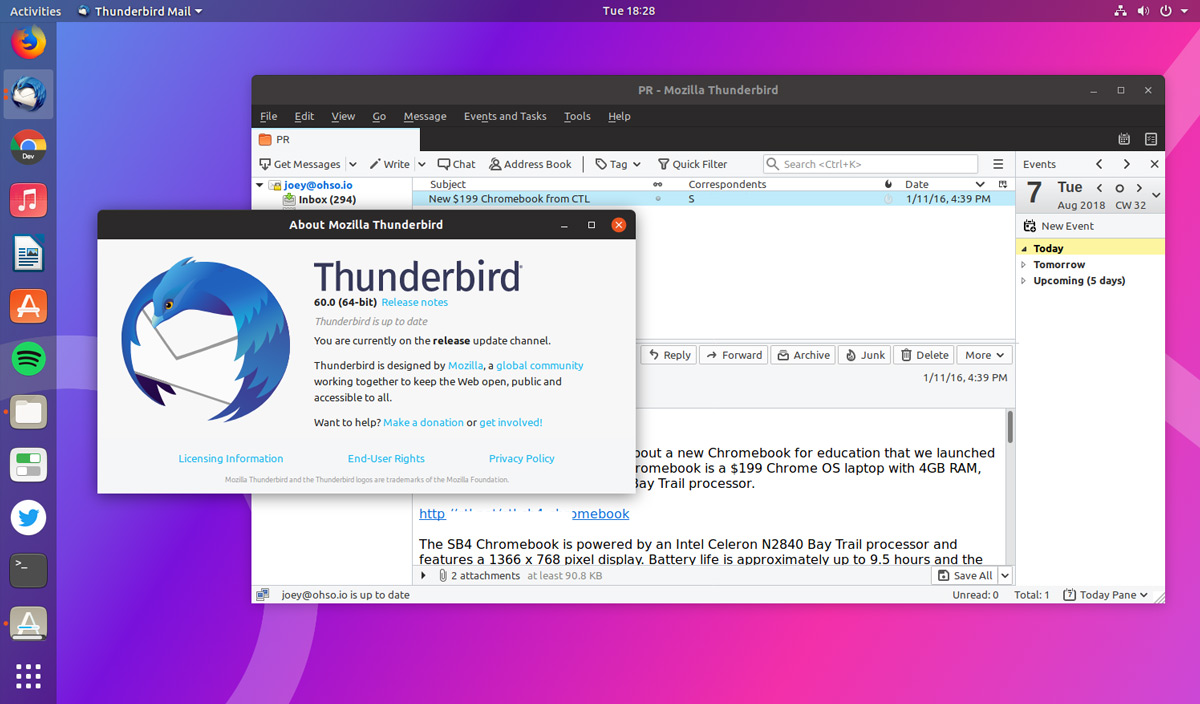 Changes in Compose and Attachments Features: Removal of any recipient has been made easy in this version. If you hover the mouse over address fields like To, Cc, Bcc, Reply-To, Newsgroup after adding an address, it will display an X button. By clicking on that button, the entry of that field (or the field itself in case of the empty field) can be removed without any hassle. While typing, Thunderbird will now show the matched part of the contacts of auto fill list in bold. Thus, users will know why this particular contact has been added to the suggestion list.
The Attach button has moved to the top right corner of the page, just above the Attach pane. Users can toggle between show or hide the attachment pane by clicking on Alt + M in Windows (access keys may vary based on localization) CTRL + M on Mac machines. Attachments added to the pane can be reordered through drag and drop, keyboard shortcuts, or a dialog. If users choose to hide the attachment pane that contains attachments, a paperclip icon will be shown. It will indicate the existence of the attachment and prohibit users from sending the email accidentally.
Improved Calendar: Now, users can cut, copy or delete any particular event or the full series of recurring calendar events. While pasting an event or a task, users can select the destination calendar. Calendar now directly sends notifications about the meeting (the option can also be disabled) and shows event location in day and week views. Email scheduling is also possible for CalDAV servers supporting server-side scheduling. Users can also dismiss the calendar event reminders.
New Features in Thunderbird 60
Apart from the changes discussed in the earlier segments, these are some of the other alterations made in this version:
Add-Ons: There will be no add-on manager tab from now on. A new menu item has been introduced in the Tools menu named Add-on Options to manage all the installed add-ons. Users can also click on the Thunderbird menu bar and click on Add-on to get the list of add-ons.
Date and Time: This version of Thunderbird offers options to set date and time format according to the choice of the users. Now, users can choose between formats designated by the operating system and the installed Thunderbird version (local versions like German).
Address Book: Users can now choose the one address book from the multiple directories as their default address book for Thunderbird. To set, open Address Book menu and right click on the folder that you want to set as your default address book. Then choose Default startup directory option.
Add-On Compatibility Issues
As users can see, version 60 of Thunderbird comes with a significant amount of changes. For his reason, it will not load any add-on automatically unless the author of that add-on has marked that compatible with Thunderbird v60. Till now, authors of more than 130 add-ons have marked those as compatible. In case of any incompatible add-on, contact its author by email or website. Contact info can be found on the add-ons website.
By turning off the automatic compatibility of add-ons, Thunderbird has improved the user experience as non-functional add-ons now cannot crash Thunderbird email. Thunderbird has also made improvement in planning and coding to help the authors in updating their add-ons.
Concluding Thoughts
Here we have discussed what is new in Thunderbird 60. In this latest version, changes have been made to some features for the convenience of the users. Though there are one or two bugs in this version, we hope that Mozilla will get these fixed soon. In a nutshell, this updated version will turn out to be useful for its users and we look forward to getting feedback from Thunderbird users.