Mimecast to Outlook PST Converter for Mimecast Exported Archive
Summary: The entire write-up will help those users who are looking for solutions regarding how to export Mimecast Archive data to Outlook. The content solely declares that the best possible knowledge is imbibed in the article and it helps users with reliable solutions and urges of Mimecast to PST Conversion.
Before reading the solution to move Mimecast archive data to Outlook first we have to understand the whole structure of how Mimecast archives its data and how one can import its data.
So, let's resolve the customer's query first because our prime motto is customer satisfaction.
Technical Brief of Mimecast and Its Archiving Feature
Mimecast provides organizations with security, continuity, and archiving cloud services in mail management. It is designed to secure email, assure access and simplify the duties of managing email.
This Mimecast service is used massively by global users and it works on massively-parallel grid infrastructure for mail storage and processing. The key factors that this service offers are:
Email Security: It refers to all the collective measures taken in securing access and matter of email accounts and its services.
Email Archiving:  It is the process of shifting data that is no longer used and needs to be stored separately by the storage devices for long-term retention.
If we have a look at the other side of the coin i.e., PST
The answer is totally simple i.e., PST files is the proprietary file of MS Outlook that store all the messages and other data items like address books, calendars, contacts, journals, and so on. It is widely used by all types of users like home-based and small-end businesses. It uses ISP to connect to the web.
Before even moving a step forward, let's understand a simple issue faced by an end-user.
"I am working for a forensic company and the parent department is email archiving. As there is some problem inside the organization related to data theft. So, being in a higher technical position I need to figure out who is behind it. I kept track of all the employees' emails and found something fishy in a few emails. Now, the main matter of concern is how to make these emails in a readable form. Is there any way out? Please suggest! All leads shall be appreciated. Thanks in Advance! "
Urge to Convert Mimecast to PST
From the above-written query, it is quite clear that the user has successfully taken archives of emails through Mimecast. Now, his main concern is how to make it in an accessible form. So, let's go through the below section and properly understand the necessity.
MS Outlook has an amazing GUI and provides users with an advanced mailing option making it easier to handle
The PST files are accessible on all versions of MS Outlook making it easier to read/write
If the data is exported from EML format to PST and it faces corruption, it is easier to repair the Outlook PST files via scanpst.exe or any other program.
Well, after knowing the brief details of Mimecast let's move to the section where we get to know how one can export the Mimecast archive data for an email client like Outlook.
How to Import Mimecast Data to Outlook PST
Well, to import the Mimecast data to Outlook you have to follow the two steps. In this section, we are going to explain to you the steps to export Mimecast archive data locally.
How to Export Mimecast Archive Data
Note: Before exporting the data there is some point you have to remember.

For this process, you must have the Super Administrator, Full Administrator
You only have five concurrent export procedures is allowed
1.  First you have to log on to your Administration Console.
2. After this choose the Administration toolbar and click on it.
3. Opt for the Archive or Saved Searches menu item.
4. Now at this point, select the Saved Search Folder from the navigation panel where the saved search is located.
5. After this Right Click on the Saved Search.
6. At this stage click on the Export Search menu item.
7. Choose the Export properties like a reason for the export
8. Select the EML (Standard Journal Format, SJF)
Note:  The Mimecast by default gives you the SJF file which is nothing just a default storage algo of Mimecast. The SJF file sands for Standard Journal Format, and if you open this SJF file, then you will see all the emails are in EML file format.

Also, if you have selected the EML file format for exporting Mimecast archive data, then this option will allow you to include the recipients in the message header.
9. Choose the name of the export file and if you do not mention the file name then set it to Mimecast Export by default.
At last click on Save and Exit to complete the export process. And on the file is downloaded the structure of the exported file is like the below image.

Note: The saved file is in Zip file format and once you open the Zip file all the archived emails in EML file extension. Look out for the below image to understand the folder structure.

Important Points During Exporting Mimecast Archive Data
In this section, we are going to explain to you some of the important points that are very important and always keep things in mind while exporting Mimecast archive data.
Monitor your Export Process
If you are exporting archived data from Mimecast, then you can also monitor the whole archiving process. And to do this you have just done some tweaks to your settings of export process.
1. Login to your Mimecast Administrator Console.
2. Now, click on the Administration toolbar menu.
3. After this select Archive | Export and Updates to display the list o exported items.
At last click on the Export button.
Once the export process is start you will see below-mentioned details.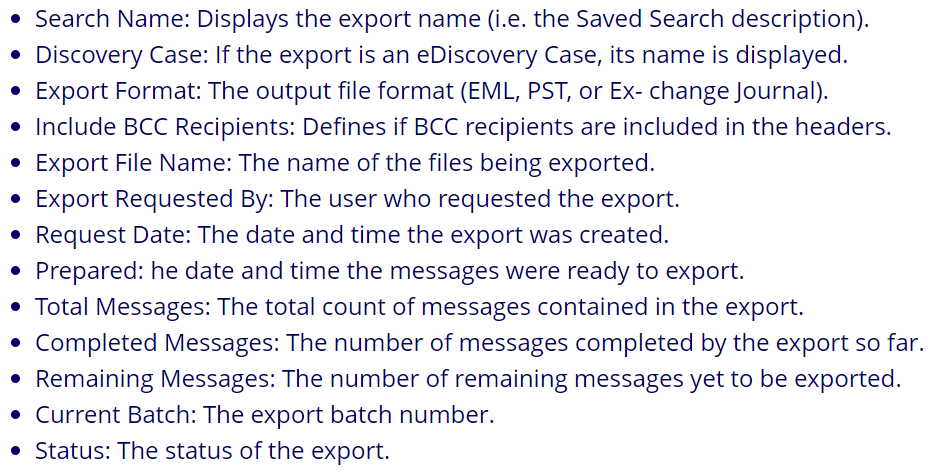 Downloading Export File Restrictions
The Mimecast export process has some limitations which we are going to introduce in this section. Here we mention all the details regarding export process so keep you eye on it.
Mimecast only export file in 10GB batch and each batch consist of a downloadable file of 2GB maximum. Like, if your batch file is 8GB, then you will get four files of 2GB.
Note: If you have more than 10GB files to export, then you have to generate the next export batch for download.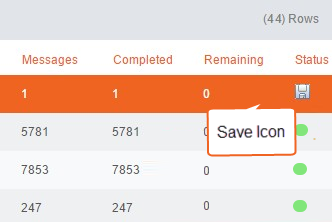 Once the export is complete you are ready to download the file just you have to click on the Save icon under the Status bar.
In Mimecast, the export files are downloaded in smaller parts, and if there is an issue during the export process, then this will show you the message. The download of what has been already exported before moving toward the next batch to export.
Note: Keep in mind that, the exported file must be downloaded within 14 days. Because after 14 days the exported file is marked as already downloaded.

Cancel the Export Process
If you are seeing and Pending or In Process status, then you cancel the export process.
Note: The cancelation process is only done by Super Administrator, Full Administrator or Discovery Officer.
Step of Cancel Export Process
1. Go to the Admin Console and select Administrator toolbar menu.
2. Select Archive | Export and Update option.
3. Select the Export that you want to cancel.
4. At last click on the Cancel Export button to cable the export process.
Step 2: Import Mimecast Data to Outlook
After exporting the Mimecast data you have to convert the EML data into PST. So that you can import the data to Outlook. But unfortunately, to do this job there is no manual method available. So in this situation, you are going to suggest one of the most amazing tools that can help you to complete this task.
Try SysTools EML to PST Converter Tool because nowadays, customers are very sharp-witted and curious to understand the phenomenon beyond any software. We consider customers as an integral part of the organization and keep transparent everything with them. So, we have listed below the specifications of the product to make users understand it easily.
Processor Needed: 1 GHz Processor but 2.4 GHz also works.
Windows Supported: Compatible with all Windows Auspicious
Hard Disk Space: Minimum of 50MB of storage space is required
Required RAM: 1 GB is perfect, but 512 MB also works
Mesmerizing Factor:  Mimecast to PST Converter program is a stand-alone utility because it supports export without using any email client.
Let's have a look at what MimeCast to PST Converter program facilitates the users with:
Displays emails in multiple file formats along with all the attachments
Maintains the internal Folder structure while migrating Mimecast to PST
Provides a flexible interface for auto loading the Mimecast emails archives
Option for selective folders/files to Export Mimecast to PST is available
To import Mimecast to PST, Microsoft Outlook installation is not required
Availability of Mimecast Converter Tool:
The Mimecast to PST Converter program is available in two broad categories like: Demo and Licensed versions. Though, trying a free edition of a tool seems to be easy but it has certain limitations in that it cannot export more than 10 emails.
If we take the case of Paid Version, its best part is that it is not bounded to any limitation and exports numerous files in a single go.
The Final Verdict
The article has been written to make the users aware of the Email Archive service i.e., Mimecast. The content carries a primary aim to make users technically aware of the primary functionalities that MimeCast to PST Converter software offers. So, the users should remain attached to the entire matter and get the program from our website.