Microsoft Enables Digital Payment for India with Microsoft Kaizala App
Microsoft adds another attractive feature to their lineup as they introduce digital payment system in their productivity application called "Kaizala". Now it will provide online payment service besides communication and work management services. Microsoft Kaizala App has been launched initially in July 2017 in several countries of the world. As it is a productivity application, experts have already started to compare it with other similar apps like Slack, Yammer, Workbook by Facebook, etc. Being a product of Microsoft, the expectations are obviously high from this app. First of all, we will know what is digital payment and its importance in today's world.
Digital Payment or online payment means making payment using digital means without an physical interaction with the money itself. Usually when we make transactions through banking applications or other money transfer apps, it is called digital payment. These days, digital payment is quite popular among people of all walks of life as it saves both time and labor. A number of digital payment methods already exist in India and Kaizala is the latest addition to the list. Now, we will explore what this Microsoft Kaizala App is going to offer to its Indian users.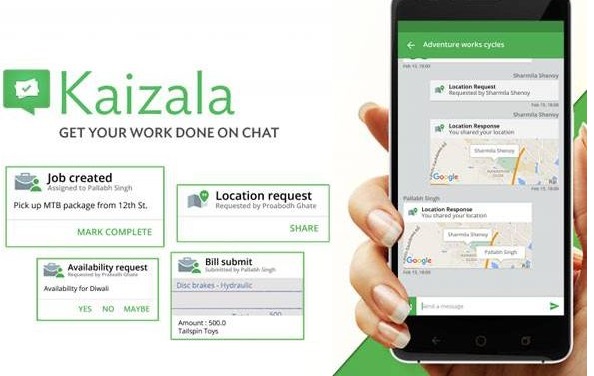 Pay Digitally with Microsoft Kaizala App
Microsoft joins the booming market of digital payments in India by adding the option of digital payment in Kaizala. This service will be provided by using the mobile payment infrastructure of Yes Bank and MobiKwik. To send money quickly using Kaizala, users can use either MobiKwik wallet or Yes Bank UPI. UPI integration on Kaizala makes it compatible with all 86 Indian banks that are members of UPI at the moment.
The biggest benefit of using this Microsoft Kaizala App is that the payment can be made without leaving the app. Through this app, users can make payments to their peers during one to one conversation or group chat. Kaizala app uses the mobile phone number of the users as their unique id.
Integration of digital payment within a messaging and productivity app will only contribute to the more productive management and convenient communication. Apart from online payment service, this mobile-only app offers productivity enhancer, enterprise collaboration portal, and instant messaging service. This app aims at engaging more firstline workers in business workflow. With the help of this application, organizations can reimburse bills, pay micro-payments and different allowances.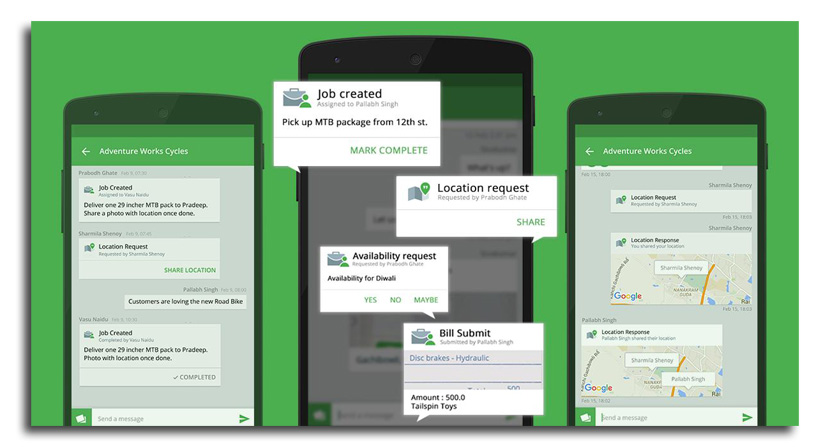 Keeping the Indian Internet scenario in mind, this app has been developed to function even in 2G network. Therefore, people from remote locations can also avail the services of this app. More than 900 organizations and companies in India currently use Microsoft Kaizala App services. Among them, government entities, autonomous organizations, and corporate companies are included. With the introduction of Online Payment, it expects to reach out to more people and organizations.
Versions and Pricing of Microsoft Kaizala
The aim to launch this Microsoft Kaizala App is to make organizational works mobile based. That is why this app functions on mobile phones only. This Microsoft Kaizala features help to coordinate the entire workflow of an organization. Besides, it offers easy mode of communication among all members of that organization.
Microsoft Kaizala App is available on Google Play Store and iOS App Store for free download. The enterprise version of this app is also available with the name "Kaizala Pro" that will cost Rs. 130 per month for every user. Both these applications have been integrated into Office 365 Suite. As the part of early adopter program, present Office 365 account users can enjoy free Kaizala Pro services for 12 months.
Kaizala Pro version users can obtain complete administrative control over the groups. Even works of any extended team or field workers can also be managed using this unified platform. What more – all these can be done using the mobile phone. Some of the additional Microsoft Kaizala pro features are:
Publication of customized actions
Organizational directory
User and group management
Advanced analytics and reporting
Creation of public group
Integration and automation of system
Superior security measures
Final Thoughts
With a number of big players already holding strong positions, Kaizala's entrance into the industry will make it more competitive. With its unique features, Microsoft Kaizala App is expected to put up a strong fight with other digital payment service providers of India. Though it has already made some impact with its latest work management services, it still has a long way to go to gain a superior and revered place.