Mailbird vs Outlook : Compare & Contrast Which One is Better ?
Mailbird is a desktop-based email client for Windows 7, 8 and 10 which is motivated by Sparrow email client for OS X. It has grown and matured over the last few years in comparison with other email clients. It is designed with a simple interface with fast speed, which offers a reliable and efficient platform for email productivity. While comparing Mailbird vs Outlook, it is also a desktop-based email client which is widely used for both professional and personal usage. It is generally used as a stand-alone application which can work with Microsoft Exchange Server and MS SharePoint Server within multiple users in an organization. Both Mailbird and Outlook has its own advanced features with makes a difference. Most of the users find the best email client by understanding the features and specifications which is different for every email client. Considering this point, this blog will help to know about the various Mailbird vs Outlook 2016, 2013 comparison features and functionality of Mailbird and MS Outlook email application & help you decide which one to choose: Mailbird or Outlook!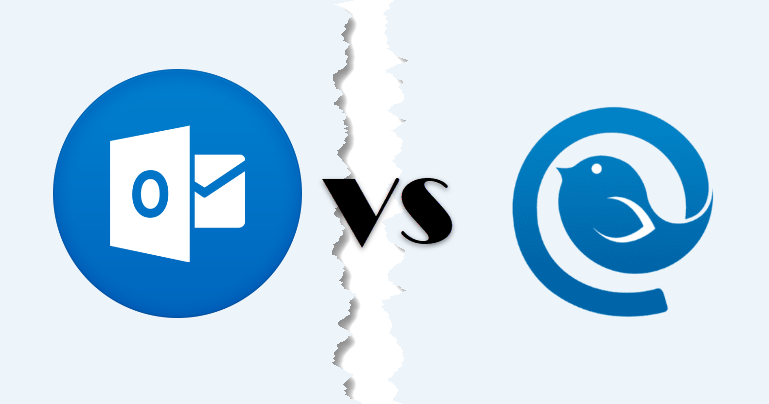 Compare & Contrast Mailbird vs Outlook : Choose amongst the Best!
Outlook Features and Functionality
MS Outlook is designed in such a way that it allows to send/receive the emails quickly. It is also capable to read the emails without been connected to the internet. With this feature, MS Outlook provides fast and effective email communication.
Email Attachment Reminder
It is an another added feature of MS Outlook which reminds the users to add or insert the attachment to an email message. It is extremely useful for those users who tend to forget sending the emails with required attachments.
There is a common need among the users to know that how many users have read the messages sent by them. Knowing this, Outlook has developed this feature and is capable enough to track the status of the sent email messages.
Microsoft Outlook stores all its contacts in the Address book which allows to manage contacts in a seamless way. It helps to alter the saved contacts by editing or changing the contacts information in just a few clicks.
Calendars are mostly used to manage appointments, meetings or events. Outlook provides a customized interface to modify and alter the calendar to add appointments, view scheduled, etc. It also enables to preview current activities and updates the status after the task is completed.
Mailbird Features and Functionality
When comparing Mailbird vs Outlook 2016, Mailbird provides an easy-to-use interface which can be configured as per the requirement of the user. A user is allowed to customize the appearance, font composing, accounts, identities and organize folders
Apart from providing a customized interface, it also offers various integrations which allow a faster access to data. These integrations include apps such as Facebook, Whatsapp, WeChat, Twitter, Contacts, Google Calendar, etc.
Crashing of email client is a common problem. But, most of the users have never experienced a crashing with Mailbird. It provides a flawless working, despite of the number of apps which has been integrated.
It allows to organize the emails, tasks, etc and ensures that no emails are missed. In case of checking emails at any time, a user can schedule an alert or snooze it and later reminds at the specified time.
Mailbird vs Outlook 2016 Comparison of Specifications
| Features | Mailbird | Outlook |
| --- | --- | --- |
| IMAP | Yes | Yes |
| POP3 | Yes | Yes |
| Exchange Support | Yes | Yes |
| Multi-Account | Yes | Yes |
| Platforms | Windows | MacOS, Windows, Android |
| Snooze Emails | Yes | Yes |
| Search | Yes | Yes |
| Threaded | Yes | Yes |
| Unified Inbox | Yes | Yes |
| Free | Yes | No |
Mailbird Pros and Cons
Pros:
Provides a simplified UI which can also be customized. The User experience is also simple and easy-to-use
Both free and paid versions are available. Free versions are helpful for users who need to use the basic app features, though the limit is only for single account
Support touchscreen which ensures an easy control over the device such as tablets or any Windows device
Allows a quick preview of attachments of the emails instead of downloading to open the file
Provides unlimited email account which can be managed in a Mailbird application
Provides Import feature to easily import the emails from the default email client to Mailbird
Cons:
When comparing Mailbird vs Outlook 2016, it does not have a spam filter to prevent spam emails to enter the Inbox folder
Not capable to transfer emails between the accounts as it can lead to data loss
Outlook Pros and Cons
Pros:
Emails can be filtered based on the priority of incoming emails which is set by the user using the "Clutter" feature.
Allows an automatic search using "Smart lookup" feature by Bing search engine without using an external browser
The built-in calendar provides a preplanned approach to manage activities which includes agenda, day and three-day views
Allows to attach email attachments directly from cloud services without downloading the entire file
Integrates a rapid conversion of received emails to a task within the given deadline
Cons:
There is no portable bundle available for Outlook
Does not support any email aliases other than Outlook aliases
Frequent email crashing when the Mail folder size gets increased
Always Go with the Better One!
By reading this blog, one can easily understand the difference between Mailbird vs Outlook email application. Both the email application has its own unique functionalities in terms of user interface and data security which is mentioned in this blog in an understandable way. It is totally on you which one you want to go with Mailbird or Outlook!