Do You Know Google Hangouts Is Shutting Down In 2020 – Dig In Here!
Yes, according to a report from 9 to 5 Google, the days of Google Hangouts for consumers may be coming to an end on 2020 as Google is getting rid of Hangouts. The major problem is that the Hangouts have been suffering from an identity crisis since Google launched it as a replacement for Gchat in 2013. Moreover, in recent years, it also has been losing features as the company stopped updating the app and took away SMS messaging.
Google has started refocusing Hangouts for enterprise two years ago. Additionally, in March 2017, two new services were announced as Hangouts Chat and Hangouts Meet. When it comes to Hangouts Chat, it brings an integrated team messaging system to G Suite locked down with Google Vault and secured to ISO, GDPR, and HIPPA certifications.
On the other hand, Hangouts Meet provides businesses a secure but simplified way to hold conference calls and video chats with employees and outside participants irrespective of the place where they are or the device they are using. Hangouts Meet on G Suite Enterprise works with computers and smartphones and even offers a call-in phone number and speaking from experience. The call-in number feature can be a lifesaver on an important team call. Most of the people do not know that G Suite even sells Hangouts Meet Hardware with cameras, dedicated speaker mics, and touch-panel video displays, which are self-diagnosing when something goes wrong with a call.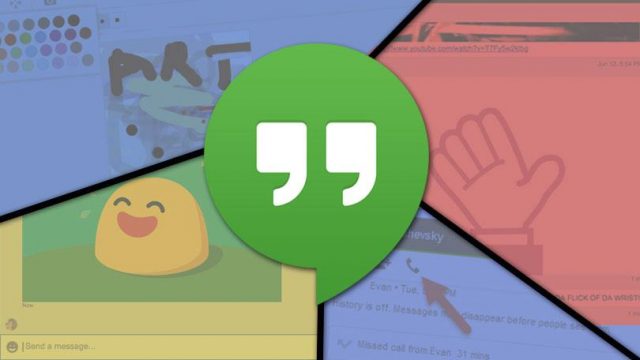 Google Spokespersons Said:
A Google spokesperson issues an official statement confirming how Chat and Meet will be made available for regular users. The company is providing full support to classic Hangouts users until a successful migration to new services.

However, Google Hangouts is shutting down in 2020. Still, it is one of the most consistent cross-platform chat app in the market. At present, Hangouts Chat and Hangouts Meet are G Suite-only, but Google's Product Lead for Hangouts, Scott Johnson emphasized that these will not just be enterprise products. Moreover, he also said repeatedly that users would be upgraded or migrated to Hangouts Chat and Hangouts Meet.
How will be Users get Affected?
Hangouts work best for the people without cell phones and sim card. But presently, most of the users have cell phones and sim cards. Thus, this makes it a quite unnecessary app. Additionally, the loyal users of Hangouts will still be able to use the app, but the transition date is not yet confirmed.
Future of Hangouts
Is Google Hangouts is shutting down in 2020? Absolutely not! Google has stopped updating the app but Hangouts users will be soon able to access their favorite app as it will be integrated into Hangouts Chat and Hangouts Meet.
When Hangouts migrates 'Classic' users to Hangouts Chat and Hangouts Meet, they will continue to see benefits and improvements to the service just as enterprise user will. If when the Chat/Meet migration happens, it just means that the Hangouts team will only have to support two apps for it service, not three. Thus, they should have more time to work on features and fixes.
Final Words
Hangouts are the Google's chat app which was introduced in 2013. Basically, it is a communication platform developed by Google which includes messaging, video, chat, SMS and VOIP features. Now, Google Hangouts is shutting down in 2020. However, this announcement is very disappointing for all the Hangouts users. In any case, now Google is getting rid of Hangouts, it needs to have a viable alternative for the numerous consumers that use Hangouts on a regular basis.