What To Do If Exchange EDB File Too Big?
Microsoft introduced Exchange Server in 1993. EDB files came into existence, with the introduction of Exchange server. The most common issue raised by the many users is Exchange EDB file too big and requires compression. In this blog,solution to to reduce edb file size exchange 2003, 2007, 2010 & 2013  has been discussed and explained.
What Is An EDB File?
EDB stands for Exchange Database file. It is the main repository of Exchange Server database for mailbox data. It includes all data components like email, messages, attachments, folders, etc. These files are formatted using the b-tree structure which provides quick access to many pages at once. Each EDB file has a corresponding STM file which contains the actual SMTP messages.
Why Exchange EDB files too big?
The Exchange EDB files will automatically grow in size as the data within the EDB files will increases. However the EDB files will never compress if the data is removed from them.
Suppose the size of EDB file is 15 GB and we delete 5 GB mailbox or move it to any other database, the size of EDB file will remain 15 GB. However, 5GB white space will be created in the database and that space will be available for the new data to be written without increasing the file size. You can follow the below steps to reduce edb file size exchange 2003, 2007, 2010 & 2013.
Solution: How to Fix Exchange EDB File Too Big?
If your query is .edb File size has grown too large. My server is almost out of space. You can try following methods to reclaim the space.
Create a new Mailbox database and move the data from Old Mailbox to New Mailbox.
Shrink the Database file by performing Offline defrag.
Move the location of the Mailbox Database.
There are some risks in the process of Mailbox migration.It will generate a large transaction log and can take several days to complete the process. In this blog we will explain the steps to defrag the database by using Eseutil and to move the location of a Mailbox database.
Defrag the Exchange Mailbox Database by using Eseutil
Determining free White Space
You can determine the size of the mailbox and available white space by executing following command in Exchange Management Shell.

For example the size of the database named as DB2 is 776.1 MB and it has 330.9 MB white space. You can reclaim that white space by shrinking the file using Eseutil to defrag the mailbox database of Exchange 2003 , 2007.
Prerequisites
In order to defrag Mailbox by using Eseutil, the database should be dismount at the time of defragment. It means users cannot access their email when you are defragging it.
A new file is created during the defrag process and the old file, new file and a temporary file that is generated by Eseutil will exists. So you need some disk space for these file to perform defragmentation. If you don't have free disk space then you can specify a different temporary location while running Eseutil.
Procedure
You can run following command on Exchange Management Shell to navigate and dismount the Mailbox database. Since the Mailbox database should be temporarily Dismount before defragging the database.

You can also dismount the database by Exchange Management Console. For that, select the Mailbox you want to move, Right click on it and then click on Dismount Database.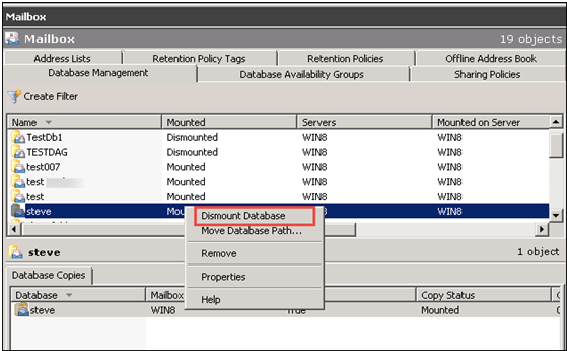 Now run the Eseutil to defrag the EDB file of Exchange 2003 , 2007.

Mount the database by running following command.

Now you can check the database size and available white space of selected mailbox database. You can see the results that file size is small and the white space is gone.
As the Eseutil is completed, run the full backup of the database.
Move the Database by Using Exchange Management Console
Procedure:
Open the Exchange Management Console, in Organization Configuration select Mailbox of Exchange 2010.
Select the Mailbox you want to move, Right click on it and then click on Move Database Path.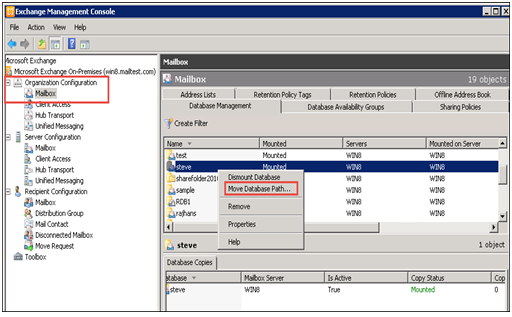 As you click on Move Database path, Move Database Path window will appear where you can enter the new path for the data and log files. After changing the path of EDB files, click on Move which will help you to reduce edb file size Exchange 2010.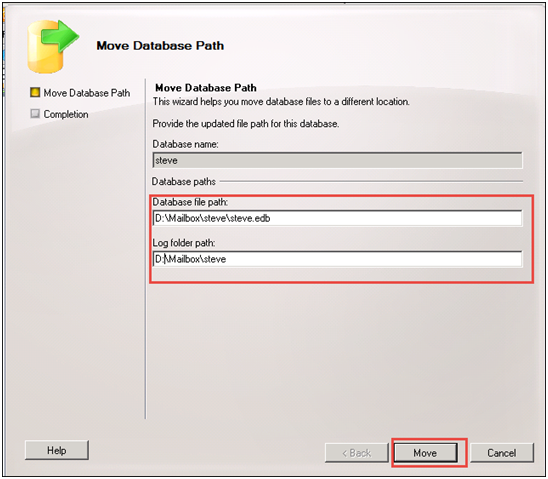 As you click on Move, Microsoft Exchange 2010 window will appear informing you that database must be temporarily dismounted to perform the Move Database operation. You need to click on Yes to continue.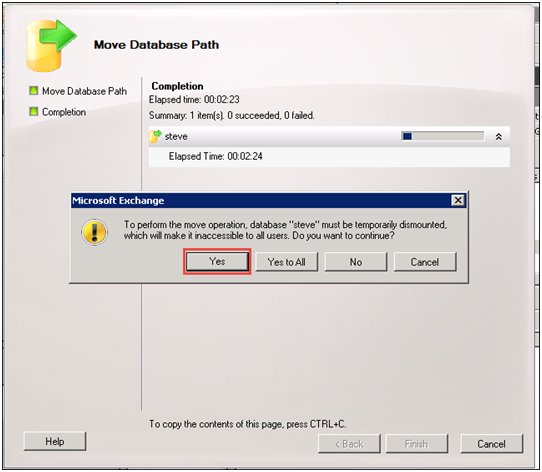 The move operation will take some time depending on the size of the Mailbox. When the Move operation will complete, you can see the completion information. Now, click on finish to close the Wizard.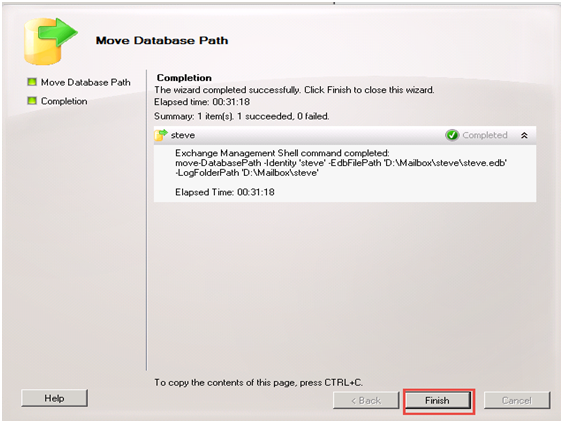 User can use manual method to move the EDB files but these methods are not the complete solution. They are not helpful, if there is any corruption in EDB file. We need a third party tool in the case of corruption of EDB file. EDB to PST converter is one of the best tools which can be used to recover corrupted EDB files.
Move Exchange 2013 Database using EAC
EAC (Exchange Admin Center ) is a web based/online management console for Exchange 2013. It supports to migrate mailbox easily & other services like setting up policies for OWA, an organization of public folders etc. Migration will help users to reduce edb file size Exchange 2013 for the mailboxes that are too large in size.For this you need to perform following steps:
Open Exchange Admin Center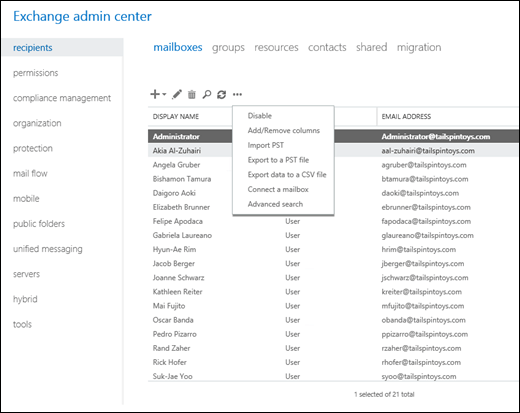 Choose Mailbox Tab & Select the desired mailbox
Right Click & Select Export to choose a recipient for sending notification for task completion.
Click Next >> Finish
Conclusion
We will recommend you to use EDB to PST Converter to recover your EDB files from corruption. This tool is a complete solution which has a great efficiency to fix EDB corruption with full data security. By using this tool; you can convert your Exchange files to PST and also recover your data which has been lost due to corruption.You can download the free version and after verifying the software you can purchase the full version of the software from its official website.