Don't Be A Victim Of Email Phishing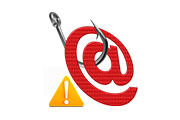 Don't Be A Victim Of Email Phishing
The email snoop threat has been threatened not only individuals but also organizations whether those are small setups or large setups. Email snooping, spamming, and phishing, these three factors bother email users to keep an eye on their email accounts round the clock. This informative page will assist you about how to avoid email snooping so; surely you will not be the next victim of an email snooping scam.
Avoid Getting Phished By Email Snooping
Email phishing is the trick followed by some unwanted individuals for finding your personal or banking information via emails or messages or phone calls.  It is very typical to understand that the mail is not genuine because, these emails look like as sent by legitimate businesses such as telecommunication, finance sector, etc. With email scamming or snooping, you may lose your bank account details, passwords, credit card details, or some other confidential information so better to avoid replying mails those ask to reply with confidential details.
Email Spoofing is other factor due to which one can come across to the condition where email investigation is required. With this concept email intruders alter the text, signature, and other information for your emails.
For Spying the details from where and how your data has been threaten, you will have to be an investigator and always defend yourself from phishing and snooping scams using these tricks:
Never reply unsolicited emails
Never click on links within spammed emails
Don't try to claim on pictures from unknown senders, these files may contain virus to track your computer details
Never fill and revert email with a form tracking personal info
Compare the link to find out that you are redirected to a legitimate site
Directly contact to the business for verifying the email identity
Fraudsters create a sense of urgency so you will react quickly, don't react for such scams to get you to act quickly.
Computer Email Forensic Investigation
Cyber criminals continue to use spear-phishing attacks to compromise Computer Networks along with desire to track your personal information, never respond for the actions done by fraudsters. The science that determines and tracks anything wrong is known as forensic investigation. When this prospect is captured for misuses of emails then, the process to recognize what happened, where happened, and who has done it is called as email forensic investigation.
The activity with which one can collect evidence against an invalid action made by interrupter is known as anti-destruction techniques for computers. Wide range of matters like email snooping, email spamming, property theft, and many more are enlisted to compel users to perform forensic investigation using a commercial help whether it may an expert or external software.
Investigate Spoofed Emails
SysTools Software Organization will be your reliable partner to trace email snooping and other interruptive actions via emails. If emails within PST, OST, EDB, MBOX, and other file formats get snooped or hacked then, email forensic investigation of these corrupt emails using Email Forensic application will be helpful as this tool assists to view email details in different views (Hex view, MIME View, HTML view, Header view).