Things to Know About Microsoft Office 365 Email Archiving Solution
Office 365 is the great Cloud Service of Microsoft, which is used by various organizations in the world. It makes people happy because they can access their emails anytime and at any place. In addition, the interface of Office 365 is simple, well known and user-friendly. The administrator does not require managing the onsite servers. Apart from this, MS Office 365 has an inexpensive In-Place Archive option that helps users to store the data for future use. It offers various advantages like unlimited storage, in-place email archive, set retention policies, etc. But, email archiving solutions for Office 365 lead some drawbacks also. In that case, Microsoft Office 365 email archiving isn't enough and needs an effective alternative solution to fill the gaps. Keep reading this article to know more.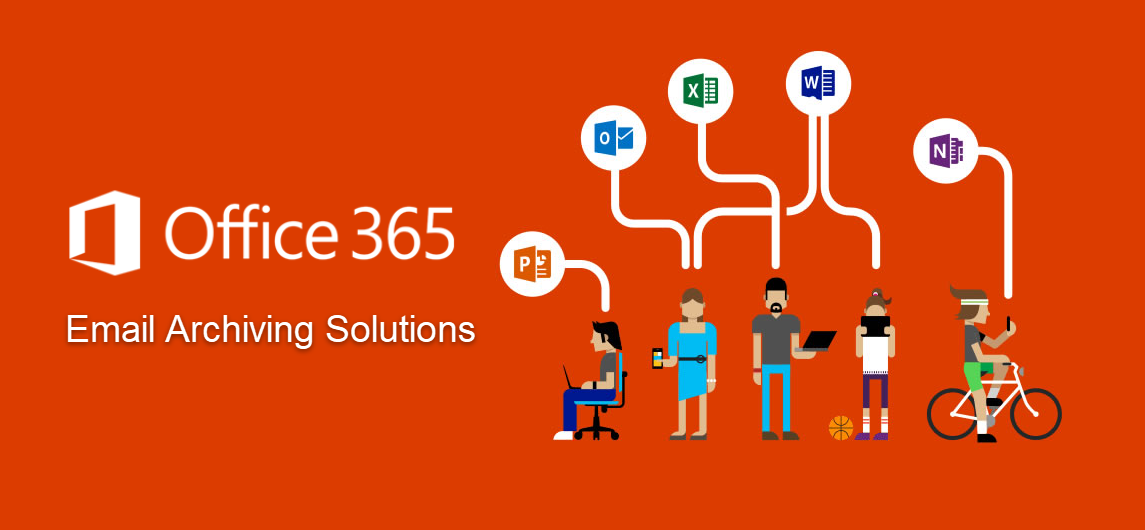 What Features Offered by Office 365 Email Archiving?
There are following features of Office 365's email archiving solution:
Office 365 In Place Archive and Litigation Hold
Minimal eDiscovery features
Set Retention policies
Deleted mailbox recovery
People can manage their archived data within their inbox
Encrypting between clients & Office 365 email archiving process
Encryption between on-premises servers & Office 365 Archiving
Users can access archived email items from Outlook & Outlook Web App
Integrated management interface within the Exchange Administration Center
The Significance of Proactive & Reactive Archiving Abilities
Generally, the archiving policies of Office 365 are made on the corporate level. All small to medium size businesses should archive all the incoming and outgoing email messages across the enterprise. Because there are mainly two reasons for this:
Lost Time: If users require creating judgment call on every email, then it can take a long time. It can lead the reduction in productivity from a business perspective.
Lost Emails: If decision making totally depends on the end user, it means that multiple employees need to make multiple judgment calls. In this case, there are more chances to make the wrong call. It can delete the emails that are required to be saved.
Some Areas Where Office 365 Email Archiving Compliance is Limited
Retention – Office 365 archiving compliance permits an end user to create the final determination on which email messages should be archived and which should be deleted. This as a result rather avoids the thought of containing a retention policy in the first position. Because every end user does not have the knowledge or understanding regarding the ever-changing regulatory needs of the company. However, the retention policies can also not be applied to inactive mailboxes of Office 365.
Discovery – Microsoft Office 365 email archive offers what is known as a role-based multi-mailbox, but it is only given with the inadequate functionality. However, both the main reasons discovery is necessary for either legal or information requests. In these cases, contents are in a shareable format. But, Office 365 archiving does not provide the utility to share the content after discovery. Apart from this, the information regarding Bcc and distribution list recipients may also not be in discovery form.
Costs of Needs – There are several options of Office 365 archiving that tends to meet the acquiescence needs. But, it may become a very costly process. You can pay more amounts and fulfills your basic email archiving needs. But, there is limited space to store the Office 365 data during the archiving procedure.
Legal Hold – The main concern is for legal hold, having the by default absolute and tamper proof archive. It is legally needed under multiple regulations to stay compliant. In addition, it is also required that user's cannot delete or alter the emails.
Microsoft Office 365 Email Archiving Is Not Enough
Today, Office 365 archiving is available for both small and medium business owners. Both in-place archiving and central repository archiving provides very similar and effective archiving of old emails. But, there are some cases, where Office 365 archiving is not enough. Because, it lacks some functionalities that it allows. There are some key features that should be always included by an archiving solution:
Audit Log – It is required to keep audit logs for all the action taken by the users. It is an important feature because it helps an organization to satisfy the strict standards of regulatory observance.
Tags & Comments – Tag and comment option offers business tools to ensure the reasons behind why an email is part of the final selection or not.
Monitoring – This option allows users to search any random emails. It also reviews either some or all email contents that are the important compliance requirement.
Automation – It is a necessary tool for automatic classification of emails. However, an email archiving solution requires giving the simple and easy process to categorize the emails and inform the concerned authority.
Single-Instance Email – An email archiving solution for Office 365 should not only do single-instance of email but also it should de-duplicate the attachments.
A Pro-Active Reply to the Archive Email for Office 365
When Microsoft email archiving process is not sufficient for storing the important data items, people need an appropriate method which can fulfill the all above discussed requirements. In this case, SysTools Office 365 Email Backup utility comes as the best solution in users minds. Because it offers many elevated features and automatically creates copy of entire O365 emails and documents on local network / Computer. This utility allows to schedule auto incremental backup of O365 items. Moreover, you can also archive only the selective data items with the help of date based filter option. During the archiving process, you can also split the size of PST file.
Conclusion
In this write-up, we have discussed the importance of email archiving process in Office 365. As there are many significance of Office 365, but it has some limitations also. Thus, users should try an alternative method to email archiving solutions for Office 365. This tool gives the much better result as compare to email archiving solution.