Tips to Disable & Enable Thunderbird Threaded View on Windows
Thunderbird is a popular email client used by many for sending and receiving email. It is also a personal information manager that deals with user contacts, calendars, notes etc. It provides different ways to manage emails by editing, deleting or sorting them. One such way is to group messages in Thunderbird. It can display each email with the complete conversation taking place between two or more parties. This way the entire dialogue can be read and maintained in a single heading. There is no longer the need to go back and forth in Inbox and Sent Folder. Avoid checking what was said in an old email by implementing the process to Enable Thunderbird Threaded View. This post defines exactly how the threaded view is created and remove threaded view for Thunderbird Application
What is Thunderbird Thread View?
Often users need to refer to complete conversations from a single pane. For this, they opt for grouping messages together with the same subject line. Every new message in this group is added to the bottom of the conversation. This is called Thunderbird email thread view. A Re: prefix needs to be added to the subject line of the message. This will add an email to a particular group. To break out of a conversation, just change the subject line. Otherwise, the conversation continues up till 100 emails are threaded together. Thunderbird allows users an option to reply to emails in a grouped conversation. By default, the emails show up separately in the Inbox folder.
Steps to Create /Enable Thunderbird Threaded View
Manual settings need to be done for Thunderbird enable threaded view. This way all the emails in a single folder will be sorted in Thunderbird email thread view. Following are the ways to create Thunderbird threaded Conversation view and group messages together.
First, launch the Thunderbird Application.
Then, click on the folder that needs to be threaded(e.g. Inbox).
Next, go to View>>Sort By>>Threaded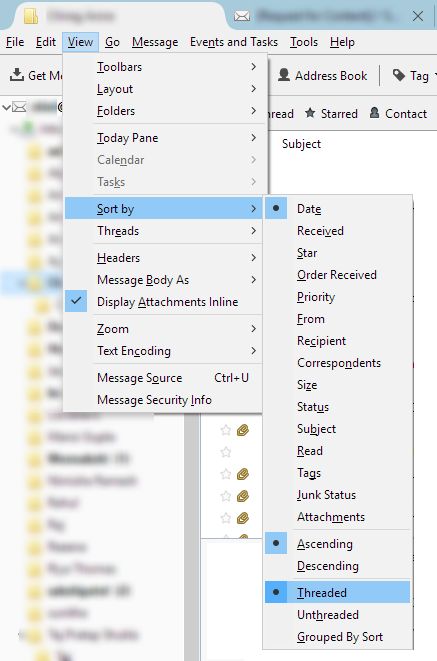 Note: This method to Enable Thunderbird Threaded View is only applicable for a single folder. Each folder has different configurations and needs to be threaded individually.
How to Remove Threaded View in Thunderbird?
In some applications, a threaded view has been configured by mistake. To remove thread view in Thunderbird following steps can be undertaken.
First, launch the Thunderbird Application.
Then, click on the folder that is threaded.
Next, go to View>>Sort By>>Unthreaded.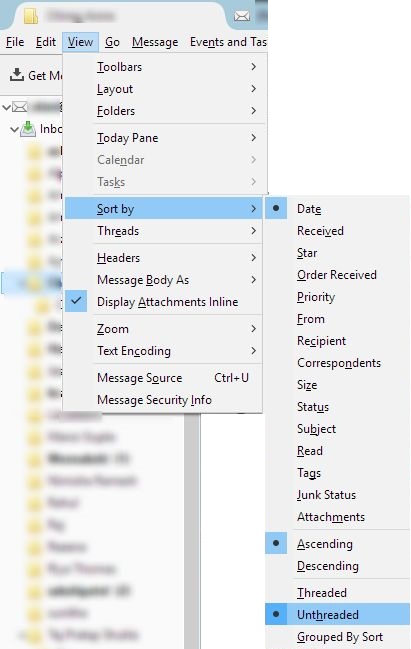 Now, This will remove Thunderbird threaded view.
Methods to Perform Thunderbird Export Thread
Often the need arises to migrate complete conversation to another computer. Users need to access each email in a group without affecting the order through a browser. Legal authorities need to archive complete Thunderbird threaded view for official purpose. Each new customer information needs to stored in a separate folder to safeguard the information within. For such cases, one needs to save conversations in a single file. Following are the steps to export Thunderbird group thread.
First, launch the Thunderbird application.
Then, click on the message that needs to be moved.
Next, right-click on it and go to Save As.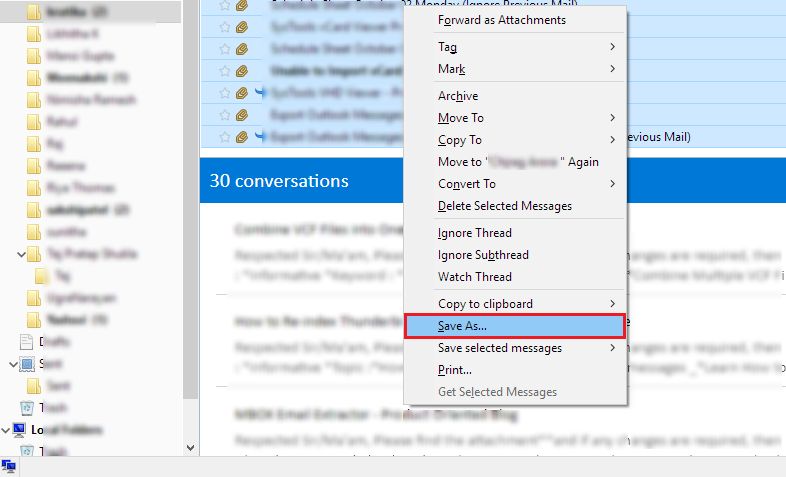 Now, Browse to the folder location where the file will be saved. This will migrate thread from Thunderbird to EML file with .eml extension.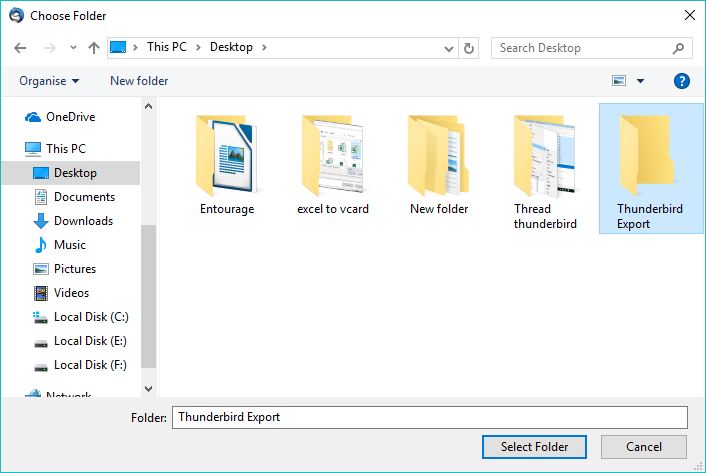 Alternatively, one can try to archive the group messages
To do that, just right-clicking on the email and click on Archive.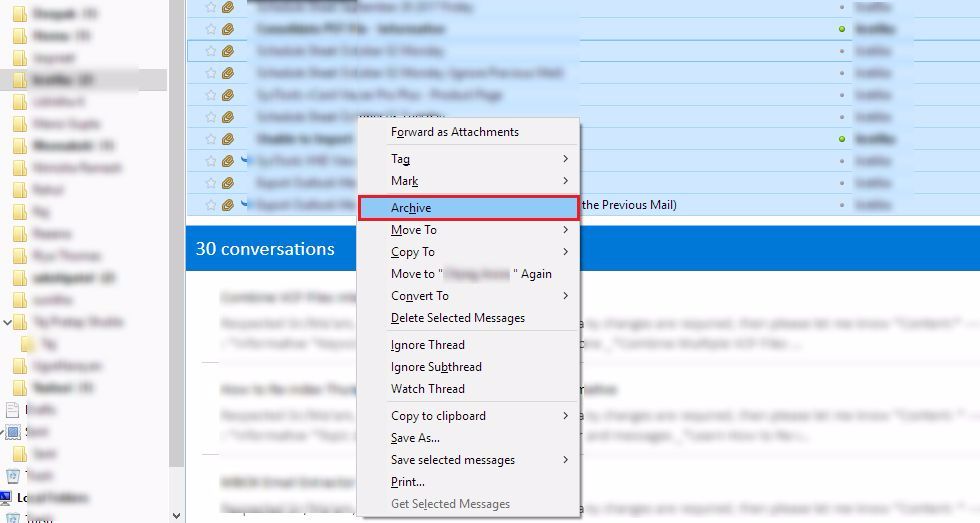 The folder for this can be configured in Options>>Account Settings.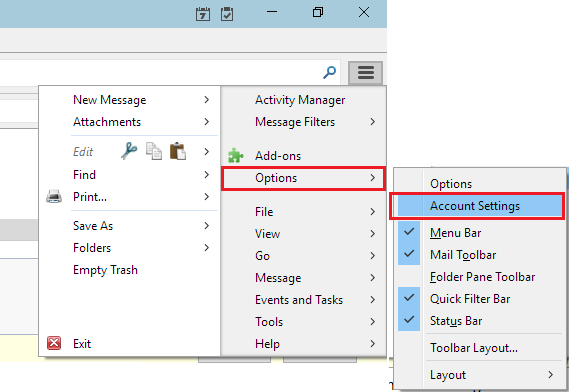 From the Copies and Folders section, go to the Message Archive.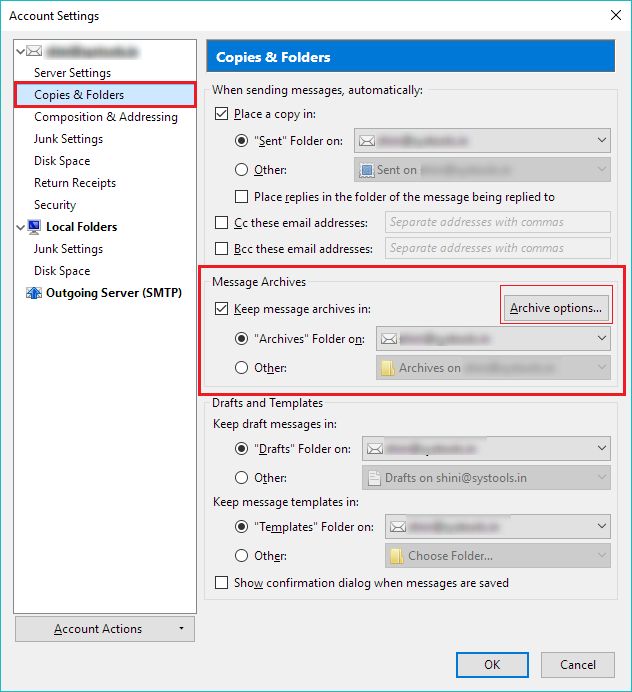 Click on the Keep Message Archive In option and set the desired location for archive files.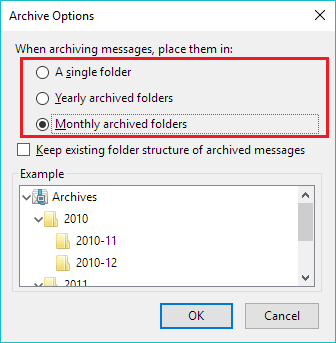 Now, an Archive folder will be present on the left panel of Thunderbird. Right-click on it to find its exact location on the local machine.
Note: All the methods mentioned here for creating, deleting and exporting email files in similar for Windows and Mac computer. It is a universal method applicable to all LINUX, Macintosh and Windows computer.
Final Words
Every organization works with at least one conversation both internally and externally. These emails are essential to keep in the correct threaded format if moving from one email client to another. Any changes in the Thunderbird email thread view may break the conversations going on months with a customer or client. It may take hours to get each information in hand or refer to old conversations. Many clients prefer to reply in the same string. Especially if they are debating over the same topic over the past year or so. Hence, it is important to maintain Thunderbird threaded view by the process to Enable Thunderbird Threaded View.